/ News
The Yamaha MT-15 gets cosmetic enhancements in Thailand - Is it coming to the Philippines next?
A new sleek colorway ties it in with its bigger siblings in Yamaha's MT range of naked bikes.

on May 26, 2022
---
In recent years, Yamaha has greatly expanded their MT naked bike portfolio to include smaller, more beginner-friendly versions, notably in the Asian market. While motorcycles like the MT-07, MT-09, and MT-10 remain quite popular in the western market, smaller versions like the MT-03 and the much smaller MT-15 are ideal for both first-time riders and those searching for a speedy, lightweight naked bike for city usage.
Yamaha has upgraded the MT-15, which is one of Thailand's best-selling premium entry-level bikes. While there are cheaper, more practical alternatives, the MT-15 appeals to the enthusiast community because of its comparable design to the larger Masters of Torque. The new MT-15 for Thailand—and probably the same one that will be released in the Philippines soon—has been upgraded to better integrate with the rest of Yamaha's MT model line. The new Yamaha MT-15 offers discreet hues accented by a dark gray theme with stirring cyan highlights that give it a trendy, youthful vibe, just like its bigger siblings.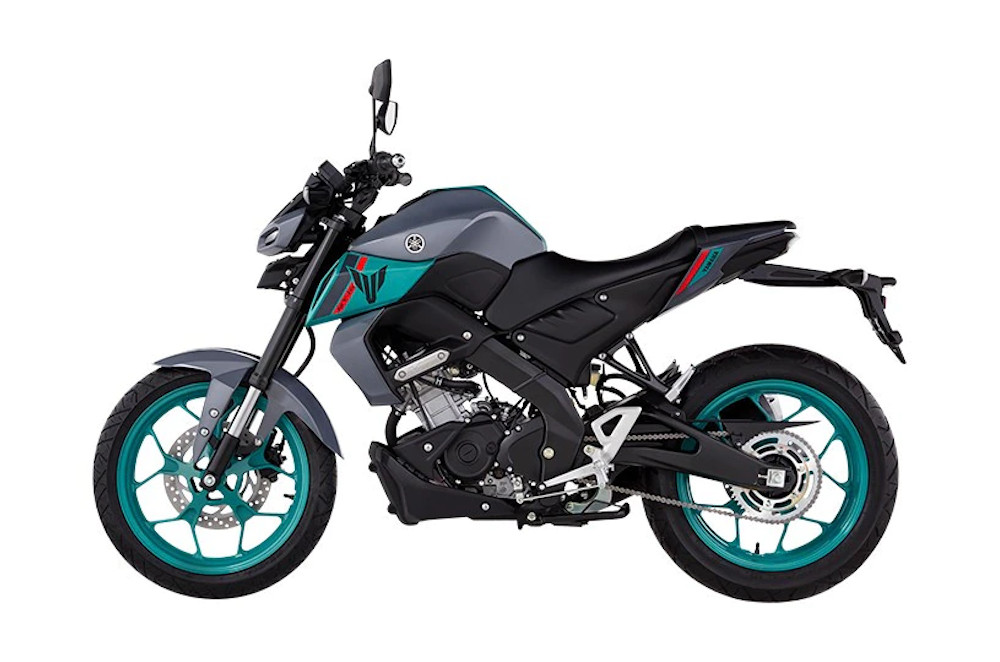 The new model replaces the previous model's anodized gold inverted front forks with anodized black fork legs for a more subtle aesthetic. There are also cyan highlights in the body graphics and, of course, the alloy wheels. Overall, when compared to the rest of the MT line of bikes, the MT-15 fits perfectly in, making it a stronger aspirational bike, particularly for those wishing to move to some of the larger bikes in the model range.
There has been no change in terms of performance. A 155cc liquid-cooled, fuel-injected single cylinder engine continues to power the new MT-15. Thanks to its high-tech engine, the MT-15 has attained class-leading status with 19 horsepower on tap. This compact yet powerful engine has Yamaha's VVA (Variable Valve Actuation) technology, which maximizes performance at higher revs while optimizing fuel economy at lower revs.
---
---
Related Articles
Yamaha is set to invest heavily in a greener future, particularly when it comes to its manufacturing procedures.

Italian motorcycle company Malaguti introduces the Madison 150 in Thailand. This marks the brand's first foray into the Asian market.

The new model also gets traction control, but that feature has been available in local NMAX units since 2020.

QJ Motor, a Chinese motorcycle manufacturer, appears to be getting closer to production with its planned 650 Road Trail adventure bike.

Welcome the Yamaha Mio Fazzio in the Philippines. At just P88,900 the scooter features great value and many features.
---
Latest News
Ducati has launched two electric bikes under the Scrambler brand in the form of the SCR-X and SCR-E GT

Vespa has released a total of six new colors across the Primavera and Sprint model ranges in the Japanese market.

Yamaha is set to invest heavily in a greener future, particularly when it comes to its manufacturing procedures.