/ News
Yamaha introduces hybrid technology with the Ray ZR scooter
This techie little runabout has made its debut in India. Would you like to see it here?

on Jun 21, 2021
---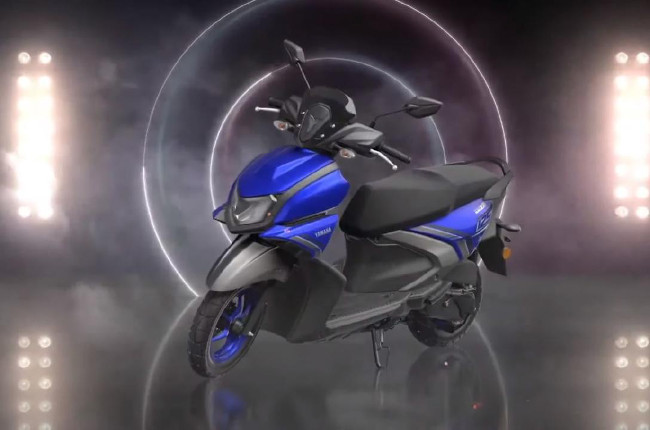 It's very interesting to note that hybrid technology has been around for more than two decades now in the automotive world. However, why is it that every technology never seemed to catch on when it comes to motorcycles? Ever since being green and sustainable became a hip subject in the two wheeled world, fully electric motorcycles but I'm popping up left and right. It's as if the motorcycle industry skipped the whole hybrid game altogether.
Well, as it would turn out, hybrid technology is beginning to make its presence felt in the motorcycle world. Yamaha for one, has launched a new hybrid scooter in the Indian market. Dubbed the Ray ZR, this innovative scooter makes use of some nifty technology which enables it to be even more fuel efficient than ever before. It makes use of what Yamaha is calling a "Smart Motor Generator", which is essentially an electric motor which assists the scooter in taking off from a start.
Now, as the scooter picks up speed and momentum, the electric motor shuts off and hands over all propelling duties to the internal combustion engine. This thereby eliminates the added fuel consumption that would otherwise have gone to launching the vehicle from a stop. As you can see, this is slightly different from what we are used to when it comes to hybrid technology in the automotive world. However, it is clear to see why Yamaha went this route, as this scooter has clearly been built to fit a certain budget.
Other than the hybrid system found on the scooter, the Ray ZR also boasts a host of premium, techie features. For one, it gets LED lights, a digital dashboard, and angular, aggressive bodywork. To make things even better, Yamaha has equipped it with Bluetooth smartphone connectivity via the Y-Connect app, just like the NMAX and Aerox we have locally.
With the introduction of hybrid technology in Yamaha's small displacement scooter lineup, it'll definitely be interesting to see what Team Blue, as well as the rest of the motorcycle industry, has in store for us when it comes to more efficient and sustainable powertrains.
---
---
Related Articles
Suzuki has announced that it plans to launch up to eight electric models by 2030, with the first making its debut as early as 2024.

Yamaha presents its newest neo-retro scooter in the Indonesian market, the Grand Filano.

Yamaha has debuted the 2023 XSR155 in Indonesia in four striking new colorways. We sure hope it comes to the Philippines soon.

Do you think Voge's new SR125 maxi-scooter would make for a capable commuter scooter for Manila's traffic-laden streets?

Yamaha seems to be gearing up to unveil the new YZF-R9 at EICMA 2023.
---
Latest News
In Europe, Suzuki has launched the 2023 Hayabusa in three new liveries.

Moto Morini is working on a new middleweight cruiser with the same engine as that of the Seiemezzo middleweight retro roadsters.

Suzuki has announced that it plans to launch up to eight electric models by 2030, with the first making its debut as early as 2024.