/ News
Yamaha introduces hybrid technology with the Ray ZR scooter
This techie little runabout has made its debut in India. Would you like to see it here?

on Jun 21, 2021
---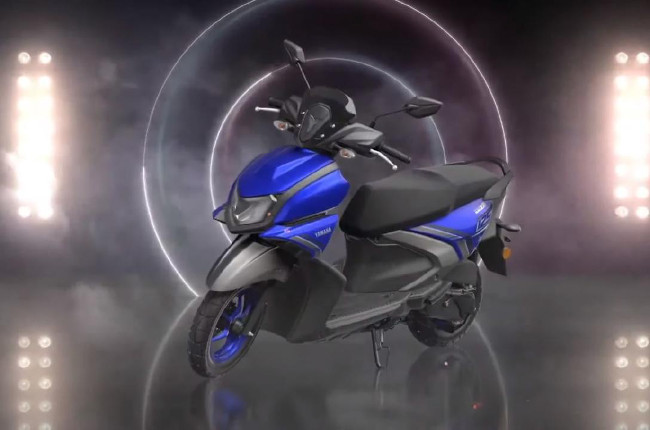 It's very interesting to note that hybrid technology has been around for more than two decades now in the automotive world. However, why is it that every technology never seemed to catch on when it comes to motorcycles? Ever since being green and sustainable became a hip subject in the two wheeled world, fully electric motorcycles but I'm popping up left and right. It's as if the motorcycle industry skipped the whole hybrid game altogether.
Well, as it would turn out, hybrid technology is beginning to make its presence felt in the motorcycle world. Yamaha for one, has launched a new hybrid scooter in the Indian market. Dubbed the Ray ZR, this innovative scooter makes use of some nifty technology which enables it to be even more fuel efficient than ever before. It makes use of what Yamaha is calling a "Smart Motor Generator", which is essentially an electric motor which assists the scooter in taking off from a start.
Now, as the scooter picks up speed and momentum, the electric motor shuts off and hands over all propelling duties to the internal combustion engine. This thereby eliminates the added fuel consumption that would otherwise have gone to launching the vehicle from a stop. As you can see, this is slightly different from what we are used to when it comes to hybrid technology in the automotive world. However, it is clear to see why Yamaha went this route, as this scooter has clearly been built to fit a certain budget.
Other than the hybrid system found on the scooter, the Ray ZR also boasts a host of premium, techie features. For one, it gets LED lights, a digital dashboard, and angular, aggressive bodywork. To make things even better, Yamaha has equipped it with Bluetooth smartphone connectivity via the Y-Connect app, just like the NMAX and Aerox we have locally.
With the introduction of hybrid technology in Yamaha's small displacement scooter lineup, it'll definitely be interesting to see what Team Blue, as well as the rest of the motorcycle industry, has in store for us when it comes to more efficient and sustainable powertrains.
---
---
Related Articles
The send-off party is part of the brand's Hero Creation Program which aims to send a Filipino into MotoGP.

The Japanese motorbike manufacturer is creating a powerful engine for Lexus once more, but this time the engine will run on hydrogen.

The Yamaha FZ 150 can run on both diesel and ethanol, making it an interesting commuter model for the local market.

Taiwanese motorcycle manufacturer SYM introduces the new MMBCU scooter in its home country. Would you like to see this scooter hit the local market?

Two of Yamaha's more popular sportbikes now get one new color treatment each for this model year.
---
Latest News
Kawasaki has updated the Z H2 and Z H2 SE for the 2023 model year with choice upgrades and styling refinements.

BMW updated the S 1000 RR for the 2023 model year with aero upgrades and tweaks to the bike's frame and geometry.

The Honda Rebel 500 and the Honda CB1000R get a few minor updates in the European market.