/ News
Vespa made a Mamba Edition Primavera in honor of Kobe Bryant
A one-of-a-kind Vespa every die-hard Kobe Bryant fan should have.
---
On January 26, 2020, basketball fans across the globe were shocked to learn about the tragic death of NBA Champion and motorcyclist Kobe Bryant in a helicopter crash. His daughter Gianna was on board together with several other people during the tragedy. Certainly, a lot of time has already passed since and a lot has happened in the world, but they're still missed by their families, especially the die-hard Kobe fans.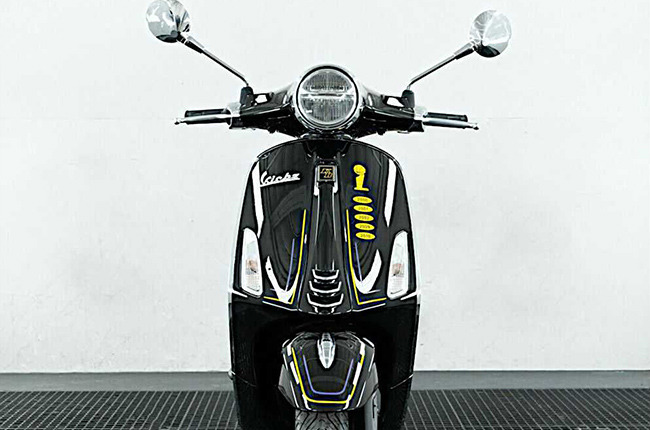 Off the court, people should know that Kobe Bryant was all about giving back in time, talent and funding to his daughter for all the years he spent in the NBA, and to make sure that she, and other girls just like her, would be able to reach their basketball dreams. Vespa, together with German sneaker and streetwear retailer, Kickz, is auctioning off a one-of-a-kind Vespa Primavera that pays homage to Kobe Bryant's career to raise funds to support the all-female Basketball Center of Opladen (BCO).
The project involved teaming up with WNBA player and LA Sparks center Marie Gülich on this auction on which 100 percent of the proceeds will be donated to the Basketball Center of Opladen to help benefit girls achieve their basketball dreams. The BCO is the same center where Gülich started and built her career as a teenager, eventually making it to the WNBA later on in life.
The Kobe Bryant tribute Vespa Primavera features hand-painted, and hand-crafted adornments that give reference to Bryant's successful NBA career. It is painted in all the Laker's jersey colors of black, purple, and gold with little details adorned all over its surface. Its saddle is made of imitation snakeskin, after all, it is also called the Mamba Edition. Its chrome badges are made in Vespa lettering that says "Mamba" and "Kickz" on its side panels. Meanwhile, the front panel is painted with the NBA championship trophy, Bryant's championship years, and his initials placed on the center badge.
Currently, the auction is supposed to run until August 31 on eBay Germany and as of this moment, the bidding has already reached up to 5,150 Euros or about $6,091. If you're serious about owning this scooter, it's a good idea to get in touch with Kickz before placing your bids as its auction details read, "Shipping disclaimer: If you bid for this scooter from a country other than Germany please be advised that shipping costs will have to be paid in full by the buyer." Thus if you're from outside Germany, it's best to clarify with Kickz on how they'll be able to ship this one-of-a-kind Vespa to you.
---
Related Articles
Vespa has revealed its 2023 Primavera Color Vibe series scooters in the global market. The vibrant colorways are sure to be a hit in the local market.

The Primavera (RED) 125 has been released in Japan by Vespa and (RED). Each purchase of the limited-edition scooter will result in a $100 donation to the International Insurance Fund for 500...

Piaggio has active radar reflector technology that could work with autonomous vehicles.

Vespa has commissioned Interbrand to determine the worth of its brand equity. The study has determined it to be around 906 million Euros.

This engine will see use in new models in 2022.
---
Latest News
Harley-Davidson is launching the X350 and X500 in Japan. Would you like to see these mid-sized roadsters in the Philippines?

Moto Guzzi celebrated its rich history during the 2023 Moto Guzzi Open House in Mandello del Lario, Italy.

Yamaha and CFMOTO are now working together on a new joint venture called Zhuzhou CF Yamaha Motor Company (ZCYM).