/ News
Vespa launches special edition Primavera Picnic
Perfect for a fun day under the sun.

on Apr 13, 2021
---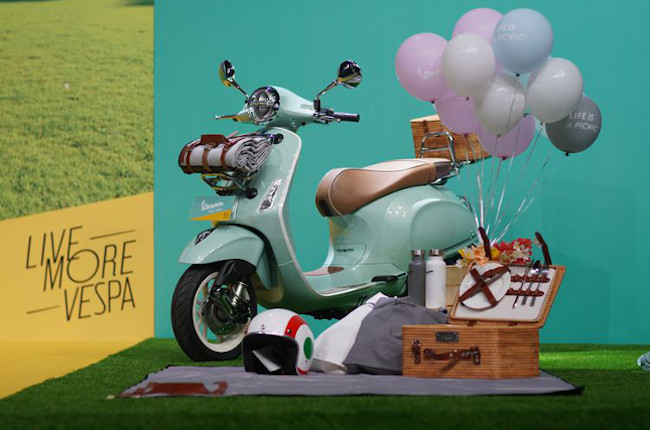 Very few two-wheelers have as much character as that of Vespa. The iconic Italian scooter maker has been in the business for more than half a century. It has produced some of the most iconic scooters the world has ever seen. Vespa has become synonymous with premium and sophisticated scooters. In the Philippine market, Vespa has quite a large following, with enthusiasts taking their charming little scooters for rides all over the country.
Perhaps another thing that makes Vespa extremely special is the fact that it keeps releasing special edition models of their already popular scooters. For instance, the Sprint 150 comes in a variety of color options, as well as special edition variants such as the Racing 60s. As the old saying goes, variety is the spice of life, and Vespa is an expert at spicing up their already exiting model range. That said, the legendary Italian scooter maker has launched a special edition variant of the Primavera dubbed the Picnic. Now, as the name suggests, this new scooter is perfect for, well, going out on picnics.
The special edition scooter gets a whole host of built in features and accessories which make it perfect for an afternoon outdoors. It comes standard with a front-mounted luggage rack, a rear luggage rack, as well as optional extras that add quite a bit of charm to this quirky little scooter. To make things even better, Vespa has released a collection of apparel, accessories, and other items meant to match specifically with the Vespa Primavera Picnic. This includes a picnic basket which can be mounted to either of the two luggage racks, as well as other items which add both style and function.
Now, as far as performance is concerned, this scooter is powered by a 154.8cc single-cylinder engine, as is found in the standard Primavera. This little engine pumps out a decent 12.7 horsepower and 12.8 Nm of torque, making it zippy and stylish little runabout. While no official availability and pricing has been announced by Vespa Philippines just yet, the standard Primavera starts at P185,000.
---
---
Related Articles
Kymco has launched the DTX 125 adventure scooter in Europe. We think it would make a decent runabout in Manila's busy roads.

Suzuki has given the GSX-R1000, GSX-R750, and GSX-R600 minor updates for the 2022 model year.

Kawasaki has updated the Vulcan S in the European market. This means that we could soon see the updated version hit the local market.

Italian motorcycle manufacturer Moto Guzzi has pulled the wraps off its latest creation, the V100 Mandello sport-tourer.

Chinese motorcycle manufacturer Benelli has launched the Tornado 252R sportbike in the Chinese market. The bike is expected to enter the global market soon.
---
Latest News
The 250 CL-X was officially launched in China, with speculation of a 300 CL-X said to be in the books.

Kawasaki has reported that production of the new Z900RS SE retro-style bike will be delayed due to parts shortages caused by the ongoing global pandemic.

Kymco has launched the DTX 125 adventure scooter in Europe. We think it would make a decent runabout in Manila's busy roads.