/ News
Piaggio and Autoliv are developing frame-mounted airbags
Why didn't other manufacturers think of this sooner? Or is it even a good idea to begin with?

on Nov 11, 2021
---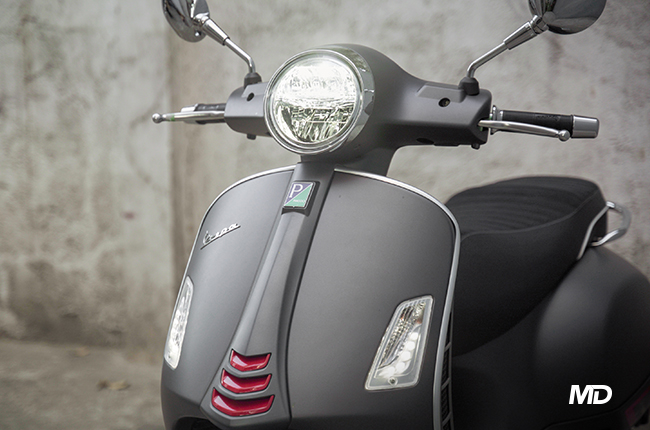 For a while now, airbags have been seeing a lot of use in the automotive space. These safety devices cushion the impact of a crash, and allow the occupant better survival rates should a crash occur.
For motorcycles, however, you wear the airbag, and it will protect your body from an impact in case you are launched from your motorcycle. However, Piaggio and Autoliv are working on something that the bike will wear instead of the rider.
This innovation will allow even more safety for riders, in case an airbag vest is out of reach, or not top of mind when purchasing gear. Sure, you may have ABS, and ASR found in several Vespa scooters, but if those fail, what will catch you? So far, most safety systems on motorcycles are designed to help you keep the bike rubber-side-down. Any safety apparatus after the fact is borne from the rider's foresight and preparedness by way of impact-attenuating gear such as helmets, shoes, pants, gloves, and jackets.
"Autoliv is committed to our vision of Saving More Lives and to providing world-class life-saving solutions for mobility and society. Therefore, we are developing products that specifically protect vulnerable road users. The development of these products is an integral part of our sustainability agenda and an important step towards our goal of saving 100,000 lives a year by 2030."
Autoliv and Piaggio will be banding together to create such an innovation. The airbag will be designed to sense dangerous levels of deceleration that happen in the event of a crash. For now, an agreement has been signed, with the intent to develop the frame-mounted airbags capable of deploying within milliseconds of a crash, much like an automobile-grade unit.
Initial concepts and the crash tests were already developed by Autoliv, and the company shall work with the Piaggio group to hopefully bring the concept into reality and into the market.
---
Related Articles
Welcome the Yamaha Mio Fazzio in the Philippines. At just P88,900 the scooter features great value and many features.

The Primavera (RED) 125 has been released in Japan by Vespa and (RED). Each purchase of the limited-edition scooter will result in a $100 donation to the International Insurance Fund for 500...

Piaggio has active radar reflector technology that could work with autonomous vehicles.

The Honda Vario 160 and Yamaha Aerox 155 are a pair of similar scooters that could potentially rival one another.

Due to major developments in funding and investment, Ola Electric could now have the gas to make it in India, question is, when will the rest of the world follow?
---
Latest News
Yamaha is set to invest heavily in a greener future, particularly when it comes to its manufacturing procedures.

AC Motors brings all of its brands under one roof, and KTM BGC gets a new showroom a block away from the old one.

Indian automotive manufacturer Bajaj, through its EV subsidiary Chetak Technology, has its eyes set on boosting electric two and three-wheeler production.