/ News
Iconic UK motorcycle brand, Triumph is now in the Philippines, thanks to Autohub Group
Autohub Group, vows to keep Triumph motorcycle prices competitive.
---
Triumph is a common brand name among celebrities like Steve Mcqueen, Clint Eastwood, Paul Newman, Marlon Brando, Bob Dylan, and James Dean. What do these guys have in common? At one point in their careers, they owned a Bonneville. Triumph motorcycles always embraced the true meaning of British cool, an iconic motorcycle whose heritage can be traced back to the days of the mods vs rockers in British subculture prevalent during the post-war '60s to '70s. Now, the whole line-up of Triumph motorcycles is now available in the Philippines and they're more affordable than you think, thanks to its official distributor, the Autohub Group.
Autohub is one of the country's leading multi-brand automotive dealerships already carrying motorcycle marquees such as Vespa, UM and now, Triumph. Willy Tee Ten, president of Autohub has been trying to bring in Triumph motorcycles to the Philippines since 2015. Today, after more than five years, they are here to stay. Triumph motorcycles have four categories: classic, adventure, roadsters (naked), and the rocket (2.5-literbikes).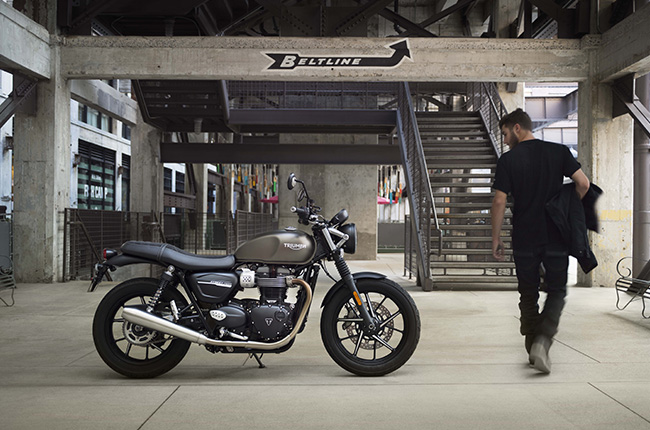 One of their most notable motorcycles is the famous Triumph Bonneville. This is the same motorcycle famous celebrities such as James Dean and Steve Mcqueen rode in movies and eventually, kept as their own. Today, their classic line-up includes the Bonneville Street Twin, a motorcycle that blends the same iconic classic styling with the convenience and safety of modern tech. With a starting price point of Php 670,000, it puts it within the same price range as the Kawasaki Z900RS Café. The competitive pricing is made possible thanks to tax breaks brought to fellow ASEAN country members since Triumph motorcycles are now being manufactured at their assembly plant located in Thailand just outside of Bangkok. Luckily, during the weekend we received an updated price list of their complete lineup of motorcycles.
Street Scrambler prices start at Php 775,000.
Speed Twin prices start at Php 990,000.
Bonneville Bobber prices start at Php 995,000.
Bonneville Speedmaster prices start at Php 995,000.
Bonneville T100 prices start at Php 715,000.
---
---
Related Articles
Triumph is reportedly working on a new Daytona 660 based on the same platform as the massively popular Trident 660.

Triumph has announced that it will continue supplying Moto2 racing engines until 2029, with performance updates in the pipeline.

Triumph has pulled the covers off two special editions of the Tiger 900 – the Tiger 900 GT and Rally Aragon.

Triumph, in partnership with Bajaj, is reportedly developing 250cc iterations of the recently launched Speed 400 and Scrambler 400X.

Triumph has officially pulled the covers off the Speed 400 and Scrambler 400X, two brand new models designed to cater to the entry-level market.
---
Latest News
Aprilia has released the RS 457 in India. When could the new sportbike find its way to the Philippines?

Aprilia has unveiled the SR GT 200 MotoGP Replica in the European market.

Kawasaki has pulled the covers off the Ninja and Z e-1 electric motorcycles in the UK.