/ News
The Husqvarna E-Pilen electric streetfighter debuts at the Munich motor show
The E-Pilen looks sleek, but does it perform like a true Husky?
on Sep 10, 2021
---
We covered the Husqvarna E-Pilen back in April when the Swedish company first teased its enigmatic bike concept. After months of waiting, Husqvarna has officially revealed the electric motorcycle at the IAA Mobility Show 2021 in Munich, Germany.
As the teaser photos hinted, the E-Pilen features minimal fairings and a partially exposed electric motor, which both contribute to that futuristic streetfighter look.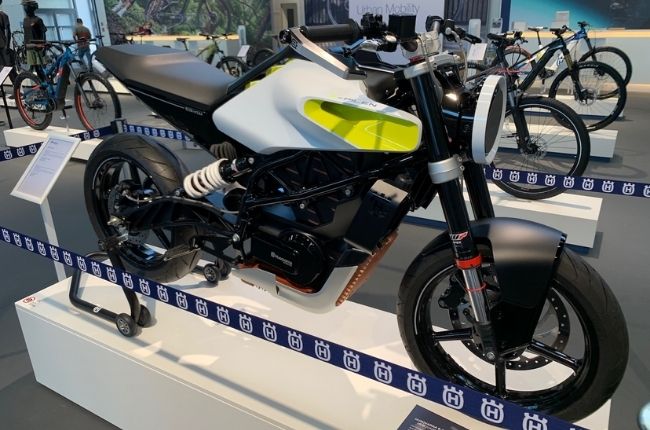 The design looks heavily inspired by Husqvarna's other gas-powered models like the Svartpilen 200 and Vitpilen 401. This is apparent in the body panels and intricate metalwork bolstering the bike's frame.
Looking at where the gas tank should be, we instead see that the E-Pilen packs three removable batteries that can power the bike for up to 100 kilometers in range. Husqvarna designed this electric motorcycle with urban mobility in mind, so the given range should be more than enough for daily commutes or some light city exploration.
The E-Pilen's chain driving motor sits directly below the battery packs. The motor punches out 8 kW of power, which translates to roughly 10.7 hp. This figure puts it at par with a variety of 150cc bikes.
As this is an electric model, we can expect more available torque than what can be found in gas bikes. Top speed has yet to be revealed, but sizing up the motor leads us to believe that it could be anywhere from 100 to 120 km/h.
So, does Husqvarna plan on putting the E-Pilen into production? It certainly seems that way. When KTM acquired the company from BMW in 2013, it was clear that Husqvarna needed a radical change of direction. The brand has since released a number of successful models, but the E-Pilen may be just what it needs to get back in the limelight.
The Husqvarna E-Pilen is expected to launch in 2022. There's no word yet on price or full specifications, but more will be revealed as we inch closer to the release date.
---
Related Articles
Big names are banding together to create a more sustainable electric future.

BMW has revealed two new electric models in the form of the i Vision AMBY e-bike and Vision AMBY e-motorcycle.

World renowned toy car brand Hot Wheels has teamed up with electric motorcycle maker SUPER73 to launch a new collaborative e-bike.

A trip to Iceland sends chills through your computer screen.

Husqvarna and KTM continue to enjoy successful market performance in the Philippines, largely due to its continuous expansion in terms of local manufacturing capabilities.
---
Latest News
Recently retired racing veteran Valentino Rossi is set to launch a new range of eMTBs.

Kawasaki is investing $265 million towards improving operations by streamlining its capacity, as well as venturing into electric power and alternative fuels over the course of the next five...

Be right back, still picking up our jaws from the floor.