/ News
Husqvarna is developing a Vitpilen and Svartpilen 501
How would you like to see a parallel-twin engine in the Vitpilen and Svartpilen platform?

on May 17, 2021
---
KTM has been putting in the hours in developing new and exciting motorcycles to attract the next generation of motorcyclists. Boasting an impressive repertoire of bikes with varying degrees of performance, riding purposes, and price tags, there's definitely a KTM that's suited to all types of motorcyclists. KTM's sister company, Husqvarna, has similarly been hard at work, expanding its model lineup as well. Last year, the company debuted the Vitpilen and Svartpilen range in the local market, and it's safe to say that Pinoy enthusiasts are totally digging the neo-retro styling.
The Husqvarna Vitpilen and Svartpilen share the same platform as their Orange siblings. However, they make use of a whole different design language. If KTM is all about loud colorways, sharp edges, and aggressive styling, Husqvarna takes the more subtle and subdued approach, focusing more on heritage, classic styling, and elegant bodywork. If KTM is all about that youthful, athletic energy, Husqvarna takes a step back, and offers a more refined visual experience. Underneath its elegant and retro-inspired skin, however, lies the same heart found in KTM's machines.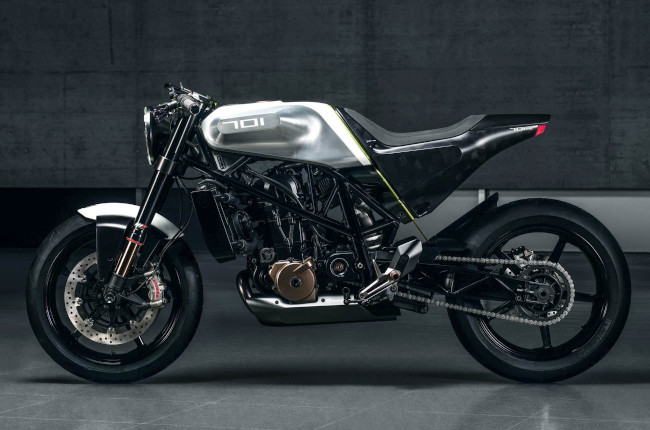 The same can definitely be said for Husqvarna's upcoming range of naked bikes—the Vitpilen 501 and Svartpilen 501. Now, we're all well aware that KTM has been developing a 490 platform for some time now. In fact, there have been recent developments on the platform, with the company's Indian partner, Bajaj Auto, pulling the trigger on a new production facility geared specifically towards the production of KTM and Husqvarna bikes. That said, KTM and Husqvarna parent company, Pierer Mobility, has hit two birds with one stone with the upcoming 490 platform.
That's right, apart from launching a whole new range of KTM 490 bikes consisting of the 490 Duke, 490 Adventure, and RC 490, Husqvarna has also adopted the 490 platform for its Vitpilen and Svartpilen, this time bearing the 501 moniker. At this point in time, however, the exact specs and performance figures of the upcoming 500cc motor have yet to be confirmed. We do know, however, that it will come in a parallel-twin configuration, and have a displacement of around 500cc. Given KTM and Husqvarna's trend of loading their bikes full of tech, we can expect the upcoming 501 series of Huskies to be pretty tech-laden, and full of premium features, as well.
---
---
Related Articles
CFMOTO has released the new 250 CL-X in China. It's expected to make its way to other markets in either 250 or 300 trim levels.

Aprilia has released the 2022 RSV4 Factory in a gorgeous black colorway called Ultra Dark.

Honda has revised the CBR1000RR for the 2022 model year. The updated bike has entered the US market and serves as the base model to the CBR1000RR-R Fireblade SP.

To celebrate the 50th anniversary of Kawasaki's iconic Z series, the company has released limited edition liveries for the Z650 and Z900 RS models.

Bajaj will be inaugurating a new manufacturing facility in India dedicated solely to the production of electric vehicles. The factory will manufacture EVs both for India and the global marke...
---
Latest News
Up by 14.8 percent over its sales in 2020, BMW Motorrad marks 2021 as its best-ever year with 194,261 units sold.

Vespa has commissioned Interbrand to determine the worth of its brand equity. The study has determined it to be around 906 million Euros.

Yamaha has launched the Fazzio hybrid scooter in Indonesia. Its retro styling and accessible price point make it an enticing option for those looking for a practical commuter.