/ News
Iconic British Manufacturer Norton Slated To Make A Comeback Soon
We could soon see four new bikes bearing the iconic nameplate.

on May 16, 2021
---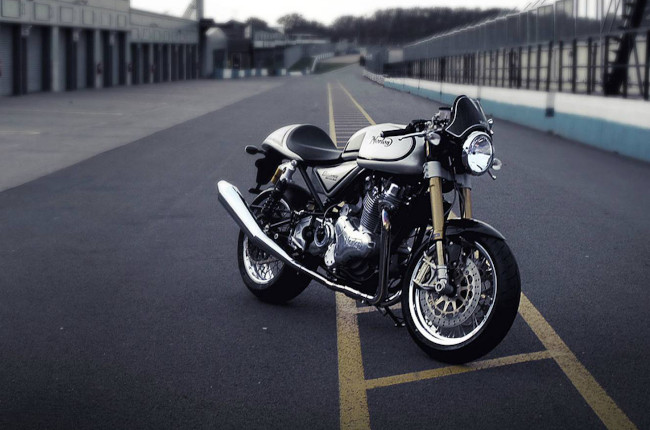 Younger motorcycle enthusiasts may not be familiar with iconic British manufacturer Norton. Known for machines like the Commando 961 back in the sixties, Norton was the brand of choice of a lot of performance-oriented motorcycle enthusiasts back in the day. However, Norton's journey was laden with lots of hurdles, and the company ended up suspending operations, exchanging hands a couple of times, and eventually fading out of the spotlight and into the abyss of memory.
While Norton tried to make a comeback in the early 2000s, it for the most part, failed to capture the attention of the global audience. However, this time around, the winds of change may be in Norton's favor. In April last year, Indian motorcycle giant TVS acquired all of Norton's assets, and has invested heavily into the company's revival. With Norton's road to recovery riddled with challenges, TVS had not disclosed a specific timeline as to the launch of Norton. However, reports from multiple Indian motorcycle publications suggest that Norton could be launching in the Indian market in the near future.
At present, Norton holds the trademarks to four models which are expected to launch in India soon—the Commando, Atlas, Manx, and Fastback. If TVS decides to hold true to Norton's heritage, then we can expect these bikes to sport sophisticated retro styling and mid-capacity engines within the 600cc to 1,200cc range. If and when Norton makes a comeback, there's no doubt that it will give Royal Enfield, which has pretty much been basking in its dominance for a few years now, a run for its money.
Should the Norton revival go according to plan, TVS has much to gain as it would likely strengthen its market share in the premium segment in India. It will, however, need to put up with fellow Indian motorcycle giant Hero MotoCorp, who is currently working with Harley-Davidson to bolster the latter's foothold in the Indian market. Not to mention the upcoming 300cc cruiser being jointly developed by Harley-Davidson and QJ Motors of China.
---
Related Articles
CFMOTO has released the new 250 CL-X in China. It's expected to make its way to other markets in either 250 or 300 trim levels.

Aprilia has released the 2022 RSV4 Factory in a gorgeous black colorway called Ultra Dark.

Honda has revised the CBR1000RR for the 2022 model year. The updated bike has entered the US market and serves as the base model to the CBR1000RR-R Fireblade SP.

To celebrate the 50th anniversary of Kawasaki's iconic Z series, the company has released limited edition liveries for the Z650 and Z900 RS models.

Bajaj will be inaugurating a new manufacturing facility in India dedicated solely to the production of electric vehicles. The factory will manufacture EVs both for India and the global marke...
---
Latest News
Up by 14.8 percent over its sales in 2020, BMW Motorrad marks 2021 as its best-ever year with 194,261 units sold.

Vespa has commissioned Interbrand to determine the worth of its brand equity. The study has determined it to be around 906 million Euros.

Yamaha has launched the Fazzio hybrid scooter in Indonesia. Its retro styling and accessible price point make it an enticing option for those looking for a practical commuter.