/ News
Honda unveils the race-ready CBR600RR
Behold the track-only baby Fireblade from HRC.
---
Honda Racing Corporation (HRC), the motorcycle racing division of Honda motorcycles has just unveiled its track-exclusive, race-ready CBR600RR. Dubbed the 'baby Fireblade', Honda has given this racebike some MotoGP worthy upgrades by giving it some class-leading performance and enough power to even outrun some stock liter bikes. With the news of its release, a lot of interest has been generated about its arrival and now, Honda will start offering its middleweight racing sportbike to authorized dealers in Japan this month.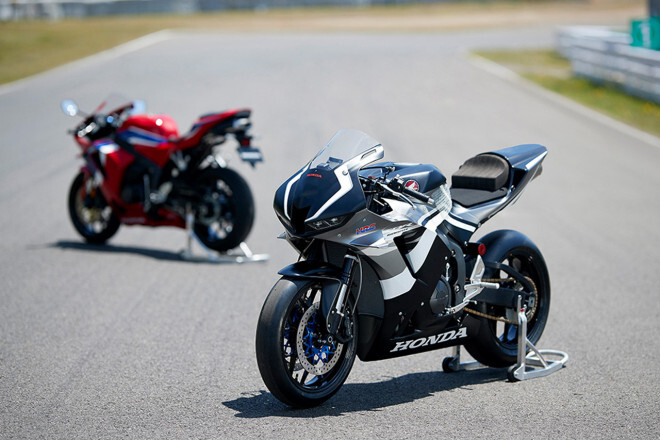 Honda did some serious tinkering on the CBR600RR to achieve its HRC-spec modifications by giving the already powerful middleweight a boost in power. Its 599 cc inline-four engine has been modified to rev up to 14,000 RPM. To achieve this, lighter materials were used for its camshafts, valve springs, and crankshaft, which also helped reduce the bike's overall weight. Its intake and exhaust efficiency were also increased by enlarging the diameter of the throttle bore and reshaping the inlet port for its intake system. Thus, the size and thickness of the different parts of its exhaust pipe also had to be tweaked in order to optimize it with the change of its valve timing. All of these upgrades resulted in an increase of power to 120 hp, compared to its predecessor's power delivery of 113 hp.
In addition, it's inertial measurement unit (IMU) has now been tweaked to enhance its ABS and traction control systems. It now runs with a ride-by-wire throttle system, and features selectable riding modes. It's electronics now include a wheelie control as well as an engine braking control. The CBR600RR also now comes with aerodynamic winglets, new LED lights all around, TFT dash, and a slipper clutch.
To make sure that the bike wouldn't be used on public roads, interested buyers will not be given a vehicle identification number, making it ineligible for vehicle registration. Neither will its parts be covered by a warranty. After all, a machine with this kind of power and performance is meant to be exclusively used for the track. The 2021 Honda CBR600RR still comes as a Japan model meant to be sold exclusively to racers made available starting September 25. It will be priced at ¥1,606,000 with taxes included, which is somewhere around P740,000.
---
Related Articles
A spokesperson from Honda announced that the Honda CBR650RR teased last week in a video isn't destined to be sold in the U.S.A. or Europe.

The CBR600RR middleweight sportbike will be finally coming back with a new teaser video showing off its brand new look and capabilities.

Japanese sources point out to a new CBR600RR due to be released late this year with Fireblade stylings and major electronic updates.

Young Machine suggested that the new Honda CBR600RR-R, was originally set to unveil last March at the Moto GP Thai Grand Prix.
---
Latest News
TVS has launched the new Ntorq 125 Race XP scooter, featuring a powerful smartphone app that augments the rider experience.

It's not crash protection, but it'll do!

Ducati is expected to roll out a new and improved Streetfighter V4 SP, featuring a similar kit as its fully faired sibling.