/ News
The BMW R18 concept is nearing its set launch date
Its debut in April is no longer a rumor.

on Mar 10, 2020
---
Motorcycle lovers have been anticipating the production of the new BMW R18 ever since its concept debuted in the Handbuilt Motorcycle Show in Austin, Texas. They first decided to commission a custom project with Custom Works Zon for the Mooneyes show in Yokohama. A few months later, another custom build was commissioned to Revival Cycles showcased at the Handbuilt Motorcycle Show. This is where they first announced the new BMW R18 concept. It was clear that BMW Motorrad was looking to compete with the cruiser segment on which Harley Davidsons and Indians dominated the market.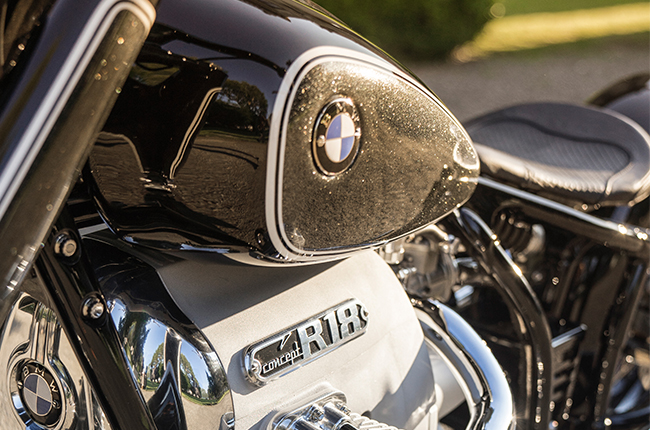 However, it's not the first time that the German manufacturer tried to penetrate the cruiser market segment. In 1997, they looked at the American market and came up with R12 Montauk and debuted it by appearing in a James Bond movie, "Tomorrow Never Dies". This time, however, the concept of their new motorcycle no longer looked at the big American cruisers. Instead, it looked into its own past and drew their inspiration from their very own timeless R5.
Now, the secret's out. With 1,800 cc's total displacement or 900 cc's per cylinder on their iconic boxer twin engines, the R18 engine has a behemoth of a powerplant. And the concept itself looks gorgeous. On the cruiser, style machine flows a seamless line from the top of the tank down the triangular frame on which a faux hardtail cleverly conceals the rear suspension right below the single bucket seat. The teardrop tank flows smoothly through the same lines of the frame on which the twin boxer engine sits. Now, they're officially launching its first production version set to debut on April 3, 2020, at the Handbuilt Motorcycle Show in Austin, Texas. The same show where they first showcased one of the one-off builds by Revival Cycle. everyone is excited about it. Let's just hope that the production version would not digress too much from the original concept, and that it makes its way to the Philippine shores soon after.
---
Related Articles
Despite a challenging first quarter, BMW Motorrad's sales report for the month of June shows an impressive performance by the brand.

BMW unveils its new active cruise control system going against Ducati, Kawasaki, and KTM who are also developing their own technology.

BMW is the first bike manufacturer to cancel its participation in Intermot and EICMA.

Launch of BMW's new F900 R, canceled in lieu of COVID-19 pandemic

New bikes, new products, new ways to get started riding.
---
Latest News
Segway has pulled the covers off of its new electric hydrogen hybrid motorcycle concept.

Vespa has launched the special edition Primavera Picnic, for those looking for a leisurely day outdoors

The Suzuki Hayabusa could be launching in the Philippines soon. The super sportbike is beginning to enter the Asian market.