/ Tips & Advice
Why your next motorcycle should be an adventure bike
Dreaming of an adventure? Discover the joys of owning and riding an adventure bike.

on Jun 11, 2021
---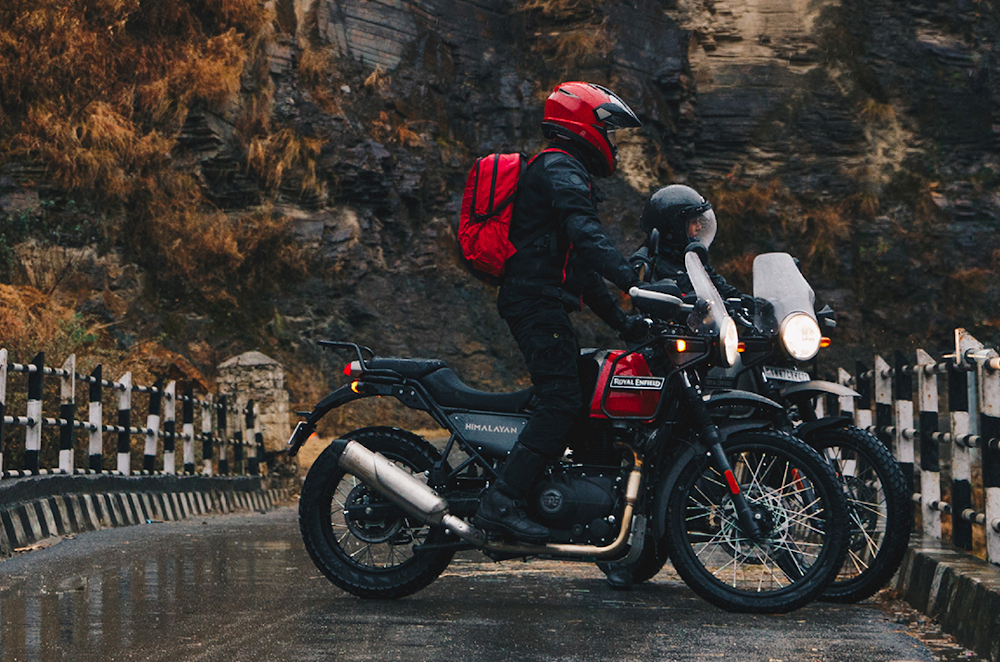 Choosing a motorcycle can sometimes feel like committing to a partner—it means that over the next few months or years, you will be dedicating yourself to a certain lifestyle afforded to you by the capabilities of the motorcycle you might get. Sportbikes will grant you the capability to enjoy blasts through the twisties, naked bikes will be great all-rounders for shorter stints, and the list goes on. Adventure bikes, however, have their own allure being machines designed to do it all. The lifestyle afforded to you by an adventure bike is a fun-filled and enjoyable one, and here are a few reasons why an adventure bike should be among your top considerations for your next motorcycle.
Comfort
Adventure bikes are designed to have a spacious rider triangle for off-road riding and a very comfortable ergonomics package for long-distance touring. Because of this, adventure bikes are generally very comfortable machines to be on, with an ample bend on the knee and a wide and assertive stance on the handlebar. This provides the rider a relaxed and upright seating position which is a great contrast to the more aggressive ergonomics of sportier machines. Adventure bikes, as seen on bikes like the BMW R 1250 GS and the KTM 790 Adventure R, also come with other items which may elevate the comfort experience, such as wind protection, adjustable seats, Bluetooth connectivity, and more.
Versatility
Adventure bikes are the epitome of do-it-all machines in the world of motorcycling. Your standard Royal Enfield Himalayan and Honda CB500X are usable enough for daily duties, they can be used to venture off-road, they are happy to rack up many kilometers for touring, and can also be used for carving up the twisties through your favorite roads. The experiences which can be gained on the saddle of an adventure bike is certainly much greater than other motorcycle body styles in the market. If you're looking to spice up your time on the saddle with variety and diversity, an adventure bike may be the perfect and most versatile machine for a variety of riding.
Reliability
It's easy to imagine that adventure bikes tackle intermediate off-road trails, cross rivers, and haul luggage through a long trip—and they do so without easily breaking parts and components. Adventure bikes are some of the most reliable motorcycles you can get in the market precisely because they're built to handle such extreme riding conditions. We've seen examples of different adventure bikes achieving north of 6 digits on the odometer without any catastrophic failures, and we've also seen adventure bikes get absolutely thrashed on the trail and can still be ridden through the highways back home without any issues. If you're looking for a motorcycle that won't give you headaches, an adventure bike makes a strong case.
Modern tech
While motorcycle technology may not be everyone's cup of tea, we find it very cool to see many different features and technologies trickle into the world of adventure riding. Many adventure tourers come with standard windshield adjustments, luggage options, ABS, and traction control, but we're now seeing mid-range to top-of-the-line adventure bikes come with advanced tech like off-road slide control, wheelie control, variable valve lift control, electronically adjustable suspension, dual-clutch transmissions, and so much more. The world of adventure riding has so much to offer and so much to savor when it comes to modern tech.
Although, there are some adventure motorcycles like the Royal Enfield Himalayan that have a back-to-basics approach. It's a simpler bike, but that doesn't set the tone for the rest of the industry since most adventurers have a long spec list just for the tech alone.
---
Related Articles
Here are a few reasons why you need a dual-sport motorcycle in your garage, and a few reasons why they're the most versatile machines on two wheels.

Here are a few things that make the Kawasaki Versys 650 a bulletproof choice when it comes to those looking for practicality, dependability, and value for money.

Suzuki recently debuted the V-Strom 250 SX. Here are a few reasons why this bike is an excellent beginner-focused ADV.

Here are a few things we really like about the Kawasaki Versys 1000, and why it should be among your choices if you're in the market for a liter-class tourer.

Every pro is matched with a few cons, here are 5 pros and cons related to the R 1250 GS.
---
Latest Features
KTM has teamed up with RIDE ACADEMi to offer advanced street-riding skills to everyday riders.

Want to ride a big bike but don't want to break the bank? These 5 affordable models may be worth considering.

Floating discs or solid discs—which one is better and is it worth upgrading to aftermarket rotors?