Ducati is known the world over for making some of the most desirable and highly sought after motorcycles in the market. This legendary Italian motorcycle manufacturer has an extremely impressive repertoire of bikes in its stable. From beginner friendly offerings to advanced, powerful machines, Ducati has it all.
While Ducati's offerings are indeed on the more premium side of things, that isn't to say that it doesn't have some beginner friendly offerings. With a fleet of motorcycles designed to fit the needs of a variety of riders, it's safe to say that there is a Ducati for every rider out there, provided that they have to budget. Having said that, let's take a closer look at some of Ducati's models, and see which of them are a perfect fit for your lifestyle.
The beginner - Ducati Scrambler Sixty2
The first bike on our list is the most affordable and most beginner-friendly offering in Ducati's model range. The Scrambler Sixty2 is a throwback to Ducati's retro-styled machine, albeit in a smaller, more approachable package. It packs a beginner-friendly 399cc 90-degree V-twin. Registered as a 400cc unit here in the Philippines, the Scrambler Sixty2 is unquestionably expressway-legal, and an excellent first step to those looking to go down the big bike road aboard a Ducati machine.
The Sixty2 is also the most affordable bike in Ducati's model range at just P499,000. However, just like other Ducatis, it doesn't skimp on performance and style. It gets unmistakable retro-styling, and a decently powerful engine equipped with Desmodromic valve timing producing a decent 40 horsepower—more than enough to provide an exciting ride in the city or on the highway.
The adventurer- Ducati Multistrada V4
The next bike on our list is quite the leap forward from the Scrambler Sixty2. Arguably the most versatile bike to roll off the factory of the House of Borgo Panigale, the Multistrada V4 is a bike of many firsts for Ducati. For starters, it's the first time Ducati has fitted a four-cylinder engine in a Multistrada. To make things even better, the Italian manufacturer has done away with its Desmodromic valve actuation, in favor of a conventional valve-spring actuated setup. This drastically increases service life and lowers the cost of valve adjustments.
The Multistrada V4 also gets a massive array of tech features including a six-axis IMU which unlocks a whole host of techie features for the bike. Its 1,158cc 90-degree V4 engine pumps out an impressive 170 horsepower, making this machine quite the performer both on and off-road. Prices start at P1,490,000 for the base model.
The track rat - Ducati Panigale V4 S
If you were to ask any trackday aficionado what their dream bike would be, chances are a good number of them would say the Ducati Panigale V4 S. Understandably so, as the Panigale V4 S is what many consider to be the culmination of Ducati's rich heritage of racing technology. The Panigale V4 is equipped with a slew of super high-end electronic features, and a fire-breathing 1,103cc V4 engine which produces a healthy spread of power all across the rev range.
The Ducati Panigale V4 S is arguably one of the most potent production sportbikes out there. With 214 horsepower and 124 Nm of torque on tap, this bike is by no means a beginner-friendly machine, and requires a skilled and experienced rider to bring out its true potential. The bike's P1,995,000 starting price tag is nothing to scoff at, either.
The superbike for the street - Ducati Streetfighter V4 S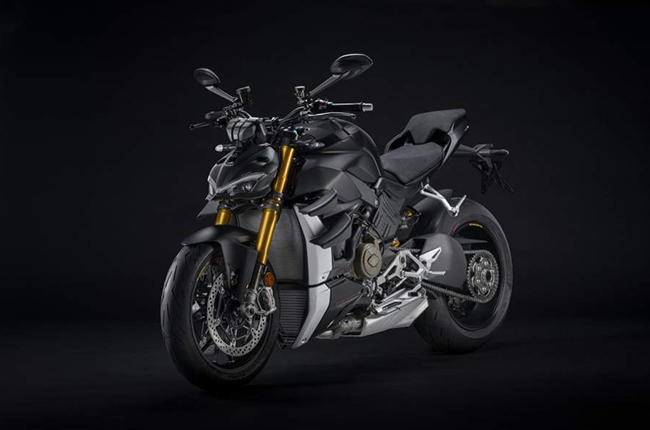 What if you really want the performance of the Ducati Panigale V4 S, but wrapped in a package that's more comfortable and street-oriented, then perhaps the Streetfighter V4 S is the bike for you. This bike features all the same groundbreaking performance and technology found on its fully-faired sibling, yet in an upright ergonomic package that's engineered for street use.
Just like the Panigale V4 S, the Streetfighter V4 S is equipped with a 1,103cc, 90-degree V4 engine. It's been tuned to offer more street-friendly power, and produces 208 horsepower and 123 Nm of torque. It also gets a complete set of electronic rider-aids powered by a six-axis IMU, thus offering a safety net for when things go sideways. Prices for this groundbreaking naked bike start at P1,350,000, all the way to P1,550,000 for the top-of-the-line version.
The daily rider - Ducati Monster 821
The last bike on our list is none other than the good old Ducati Monster 821. While a new and updated Monster has already been launched in the global market, the bike has yet to make its way to local shores, as such, for the moment, we're stuck with the Monster 821. This bike has been one of Ducati's best-selling models thanks to its approachable and versatile package.
Powering the Monster is an 821cc 90-degree Testastretta V-twin motor churning out a healthy 109 horsepower and 86 Nm of torque. It gets street-oriented upright ergonomics making for a comfortable ride around town and on the highway. It gets some basic electronic rider aids such as traction control and ABS, as well as a steering damper and a slipper clutch. In the local market, the Monster 821 retails for P855,000 for the base model, and P910,000 for the top-of-the-line Stealth variant.
---
---
Related Articles
There are a lot of exciting new bikes in store for us in 2023. Here are our top 5 picks in the adventure segment.

Is made-in-China really that bad? It turns out not really, as today's Chinese motorcycles are surprisingly well-equipped and capable of competing with mainstream rivals.

Here are a couple of reasons why the Honda CB500F should be your first big bike.

Here are a few tips to decide if you should get a big bike or small bike depending on your lifestyle.

Here are a few reasons why the CFMOTO 400 GT is hard to beat when it comes to the entry-level sport-tourer segment.
---
Latest Features
There are a lot of exciting new bikes in store for us in 2023. Here are our top 5 picks in the adventure segment.

Let's take a closer look at two popular neo-retro naked bikes available in the market—the Honda CB650R and the Kawasaki Z650RS.

Here are a few reasons why you need a dual-sport motorcycle in your garage, and a few reasons why they're the most versatile machines on two wheels.