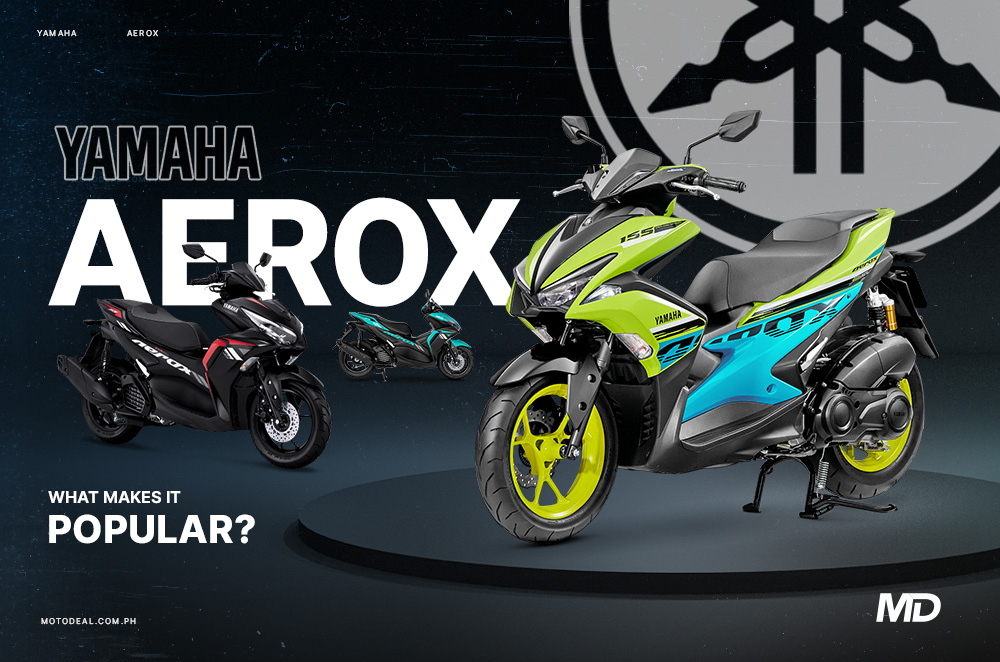 In the local market, scooters and lightweight commuter motorcycles dominate the two-wheeled segment. These dependable and easy-to-use vehicles are lauded for their affordability and practicality. These days, scooters have become sportier, more stylish, and more high-tech, thanks to manufacturers paying more attention to the rapidly growing Asian market. As a result, scooters are no longer the boring, lackluster vehicles devoid of character they once were.
Yamaha has long been the market leader in the Philippines with the likes of the Yamaha NMAX and Aerox selling like hotcakes. Although its competitors have similarly specced machines, there's just something about Yamaha which seems to capture the hearts and minds of the Filipino motorcyclist. Let's take a look at what makes the Yamaha Aerox such a popular scooter.
Performance
It goes without saying that scooters are about the furthest thing away from performance-oriented machines. However, that's not to say that performance isn't something buyers consider. Ever since the dawn of time, people have always wanted to make things go faster—be it a car, a food processor, or even time itself. That said, the Yamaha Aerox indeed boasts some pretty impressive performance figures. In fact, you could say that it's the best in its class.
It comes equipped with Yamaha's famed 155cc single-cylinder, liquid-cooled engine. Pumping out around 15 horsepower, this engine is both punchy and economical thanks to Yamaha's Variable Valve Actuation (VVA) technology, which has been designed to minimize fuel consumption at low RPMs while boosting performance at the upper reaches of the rev range.
Features
As far as features are concerned, the Yamaha Aerox is also at the top of its game. It comes clad in aggressively styled bodywork which has clearly been inspired by Yamaha's sportbikes, thanks to its sharp and sporty lines. It gets LED lighting, a fully digital instrument panel, and of course, ample storage space—a feature that has propelled scooters into stardom. The Yamaha Aerox S also gets a high tech mobile phone connectivity feature. Riders can pair their smartphones with the scooter via Yamaha's Y-Connect mobile application. The app then showcases all of the bike's vital information such as service intervals, fuel efficiency, and even on-the-fly engine diagnostics.
Price
As far as pricing is concerned, the Yamaha Aerox is a premium, yet affordable scooter which adds value to the scooter market thanks to its impressive performance and features. The Aerox is available in two variants, with the standard version retailing for P112,900. The top of the line Aerox S, which comes equipped with Yamaha's smartphone Bluetooth connectivity feature via the Y-Connect application, comes with a sticker price of P132,900.
---
---
Related Articles
Here are a few reasons why the Yamaha XSR155 is one of the best value-for-money neo-retro bikes in the market.

Here are a few reasons why the new Yamaha XSR900 is better than ever before, and why it's worth your hard-earned cash.

If you're in the market for a new commuter motorcycle, chances are you're either looking at a scooter or underbone. Read on to learn more about each type.

Scooters are growing tremendously in popularity. Here are a few reasons why you should get one.

Honda's ADV 150 has changed the game in the popular scooter segment, and shows no signs of slowing down. Here's why it's one of the best scooters currently available.
---
Latest Features
Here are a few reasons why the Royal Enfield Continenta GT 650 is the best beginner-friendly cafe-racer in the market.

If your motorcycle is out of warranty, it's now your duty to make sure you stay on top of its maintenance no matter what, or run the risk of facing a hefty repair bill.

Here are a few reasons why the Yamaha XSR155 is one of the best value-for-money neo-retro bikes in the market.