/ Featured Article
Top 5 Small Displacement Sportbikes in the Philippines
The sportbike feel without overwhelming power or an overwhelming price tag.
---
Sportbikes are arguably one of the coolest things you'd see on the road. These machines are translations of their track learnings from hundreds of races they've participated in. The sheer power of the engines these motorcycles have underneath those full fairings are sometimes enough to race a Bugatti down a drag strip. Sometimes being the operative word, coz not all of us are equipped with the skills and experience to handle such power. For those who enjoy the look and feel of a fully-faired sportbike, but without the power that's too much to handle or the price tag that drains even your soul, here are the top 5 small-displacement sportbikes available in the Philippines in no particular order.
Suzuki GSX R150
Suzuki is no stranger to fast motorcycles. For a time, the Hayabusa used to hold the number one spot among the fastest bikes in the world, and their GSX-R1000s had the same reputation for speed and performance, so much that their hooligan riders earned their own monikers, the Busa boys and the Gixxers. These days, you can still be a Gixxer, but with a much more subdued motor and without the notoriety. The Suzuki GSX R150 has the same sporty feel and MotoGP inspired look from its bigger siblings. It's powered by a 147 cc single-cylinder engine that churns out a much more manageable output of 19 hp and 14 Nm of torque mated to a six-speed transmission. With a price tag of P156,000, you'd still have a looker of a sportbike, with a GSX-R badge nonetheless.
Yamaha YZF R15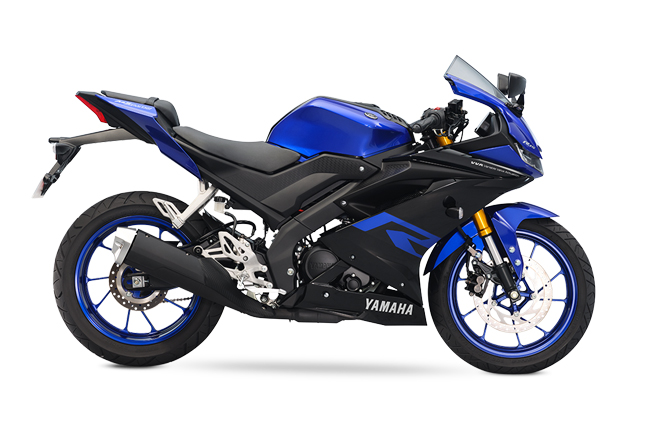 No other person has made an impact on Yamaha's racing success as much as the Italian track legend, Valentino Rossi who paved the way for the development of the very first YZF-R1 back in 1998. Since then, his success on the track led to the constant improvement of the motorcycle. If you're not as fast as Valentino Rossi, you can still have a YZF-R15. With the same aggressive lines and crouched stance that a Yamaha sportbike gives, the R15 still isn't short with goodies for a small-displacement sportbike like an LED headlamp, and a digital display. Powered by a 155 cc liquid-cooled 4-stroke single-cylinder engine with 19hp and 15 Nm of torque. This race-inspired Yamaha sportbike is priced at P164,000, which isn't a far reach if you aspire to be like Rossi.
KTM RC200
KTM Motorcycles have been known for their reliable adventure bikes and dirt riding motocross machines. However, it just so happens that KTM still participates in MotoGP and World Superbike Championships (WSBK) races. However, the last true "Made in Austria" sportbike, the RC8 1190, has been out of production since the early 2010s. It was considered by some, as the perfect liter bike. While trying to find an RC8 1190 could be really tricky nowadays, a smaller KTM in the form of the RC200 isn't. While it's not even close to being a liter bike, KTM didn't scrimp on features and tech on the RC200. It is powered by a punchy single-cylinder, liquid-cooled 200 cc engine that can churn out a hefty 25 hp and 20 Nm of torque to get you out of tight situations. It also features a full digital display, ABS, and a rev alert that prompts you to shift gears. It's the bike with among the most features and with the most power from this list and it's still priced within the same range of P162,000. It may not be the "Made in Austria" perfect liter bike, but it sure looks just as good, and to note, you're also getting a race-bred frame chassis, which is uber important in the twisties.
Honda CBR150R
Marc Marquez is now considered one of the most successful motorcycle racers to have competed in MotoGP joining the likes of Mike Hailwood and Valentino Rossi to win world championships in three different categories. His weapon of choice had a Honda badge whenever he would be tearing up the track. The CBR150R may not be the same championship-winning motorcycle that Marquez raced with, but at least it carries the same badge, and with the same build quality reliability that the country's number one motorcycle brand carries. It is powered by a 4-stroke 149 cc engine capable of an output of 17 hp and 14 Nm of torque. With a price tag starting at P152,900, you'd get more value for money with all the features you get including a full LED lighting system in the front and rear, a fully digital instrument panel, and preload-adjustable suspension systems, something you'd usually find in much bigger sportbikes.
Kawasaki Bajaj Rouser RS 200
Kawasaki's Ninja lineup of sportbikes has been seeing a lot of success in the country. After all, if you're a true child of the 80s, how could you have missed the famous Kawasaki Ninja GPZ 900R that Tom Cruise's character Maverick, used to woo Kelly McGillis, who played Charlie in the original Top Gun. It was the Kawasaki badge after all that bears the record for the fastest street-legal motorcycle in the world, the Kawasaki Ninja H2. If their Ninja line up is still a bit too much for you, luckily, Kawasaki entered into a partnership with Bajaj Motorcycles to produce the Kawasaki Bajaj Rouser RS 200 as another more affordable option of a sportbike. While it may not have the same Ninja badge, it still has the same fully-faired look of a sportbike. It is powered by a 4-valve, 200cc, Digital Triple Spark Ignition (DTS-I) engine capable of churning out 24.13 hp and 18.2 Nm of peak torque. Thanks to its partnership with Bajaj, it also happens to be the most affordable from this list with a price tag of P125,000.
---
Related Articles
Here are our top five picks for motorcycles in the middle to heavy-middleweight segment that offers exceptional value.

Here are a few reasons why you should consider the Peugeot Django 150 as your next retro-style city commuter.

Here are our top 5 picks for the best hyper naked bikes you can buy in the Philippines.

Here are some of the riders that you may encounter on the roads of the Philippines.

Let's help you choose your CFMOTO.
---
Latest Features
Let's take a moment to discuss the dangers of overloading your motorcycle, and the safety and mechanical issues that may arise due to this.

Here are some of our experiences with Japanese and European motorcycle ownership that are worth sharing.

KTM has teamed up with RIDE ACADEMi to offer advanced street-riding skills to everyday riders.