Riding a motorcycle on a daily basis presents itself with numerous challenges. As opposed to our four-wheeled counterparts, a lot more detail and planning goes into choosing the two-wheeled lifestyle, especially if you're one who relies on his or her motorcycle to get to your destination daily.
Now, we understand that the daily commute presents a unique set of challenges, and varies from person to person. Numerous factors such as traffic, distance, terrain, and passage through toll-roads must be considered when choosing your commuter motorcycle. With this in mind, here's a rundown of the 5 best commuter bikes for specific types of commuting.
Yamaha NMAX - the urban commuter
The Yamaha NMAX has been the Japanese company's best-selling model for quite a long time now. Looking at the overall package the scooter presents itself with, it's easy to see why. Featuring Yamaha's acclaimed 155cc, single-cylinder, liquid-cooled engine, the NMAX offers both fuel efficiency and adequate power thanks to cutting edge technology. Yamaha's Variable Valve Actuation (VVA) provides additional grunt at the mid to high rev range, while keeping things efficient and docile down low.
The Yamaha NMAX features comfortable ergonomics which make it a very tractable and practical machine to use on a daily basis. Although equipped with rather stiff suspension which prefers paved and manicured roads, the Yamaha NMAX still manages to stay composed even on bumpy, pothole-laden roads. Starting at P119,900 for the base model, the NMAX is a very capable scooter with incredible value for money.
Honda ADV 150 - go beyond paved roads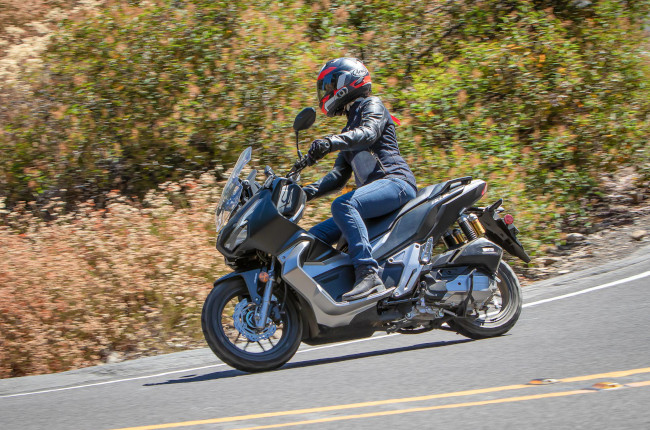 When Honda launched the much-awaited ADV 150 adventure scooter in the Philippines last year, it captured the attention of both scooter and dual-sport enthusiasts. The first dual-sport scooter in the country, the ADV 150 boasts all the agility and maneuverability of an urban scooter, with the long suspension travel and go-anywhere capability of a lightweight dual-sport motorcycle.
The Honda ADV 150 is the perfect scooter for those whose daily commute involves traversing through unpaved roads, or tight urban environments full of speed-bumps, potholes, and blemishes. The scooter's Showa long-travel suspension does a magnificent job at soaking up all the bumps, keeping the rider comfortable and composed. As expected, the Honda ADV 150 occupies the more premium segment when it comes to price, starting at P149,000.
Yamaha MT-15 - the sporty commuter
Big bike fans who either do not have the budget for a big bike, or find riding a big bike on a daily basis too difficult and impractical will be best served by the Yamaha MT-15. Boasting cutting-edge looks and impressive performance, this bike is Yamaha's smallest offering in the Master of Torque (MT) model range. Equipped with a 155cc single-cylinder, liquid-cooled engine, the MT-15 pumps out an exhilarating 19 horsepower, lending itself to sportier riding within the city.
The Yamaha MT-15 is decked out with loads of premium features such as gold inverted forks, an LCD instrument panel, and the unmistakable LED headlight. To top it all off, its big bike styling can easily have it mistaken for one of its bigger siblings, the MT-07 and MT-09. Starting at P159,000, this bike is a solid premium offering for the sporty daily commuter.
Honda CRF150L - tackle any terrain
If your daily commute involves tackling rural terrain and the occasional gravel road, then it goes without saying that a tall and slender dual-sport motorcycle is the right bike for you. Honda makes an incredibly capable dual-sport in the form of the CRF150L. Equipped with inverted Showa forks, a preload-adjustable rear monoshock, and 21-inch front and 19-inch rear wheels, the CRF150L is a purpose-built off-roadie which just so happens to be street-legal.
Equipped with a 149cc single-cylinder engine, the CRF150L features fuel injection technology, making it more powerful and efficient than other, more rudimentary dual-sports. Priced at P134,900, this bike is best suited for use in rural areas such as farms, gravel roads, and trails.
CFMOTO 400 NK - go the distance
Of course, we can't forget those of you who rely on the numerous expressways within the Greater Manila Area to get to where you need to go. Onboard a motorcycle, accessing these roads would require you to have at least 400cc of displacement. Luckily, CFMOTO makes the perfect motorcycle in the form of the 400 NK. Equipped with a 400.4cc parallel-twin engine, there's no question about this bike's expressway legality.
The CFMOTO 400 NK is also friendly for first time big bike riders, thanks to its docile power delivery. Its low seat-height also enables riders to confidently plant both feet on the ground, making up for the bike's hefty 206 kg weight. Perhaps the strongest case the CFMOTO 400 NK makes for itself would be its price point. With a sticker price of just P219,800, this bike makes for a solid highway-legal commuter which can go the distance.
---
Related Articles
The Yamaha MT-09 packs amazing value for the asking price. If you're looking for a reason to purchase the MT-09, here are 5.

Is the Kawasaki Ninja 650 worth your hard-earned money? Read on to find out.

If you're looking to commute on a two-wheeled machine, you may want to consider a scooter as your daily workhorse.

If you've just started out on two wheels and are looking to use your machine for day-to-day duties, here are a few tips that may help you out.

Thinking of daily-riding a supersport bike? Read on to see if it's for you.
---
Latest Features
Liquid-cooled motorcycles need coolant to manage engine temps. Here's how to check your bike's coolant level.

The world of motorcycle cleaning goes well beyond a water and soap. Here are some intermediate tips and tricks for motorcycle cleaning and detailing.

Yamaha NMAX or Honda ADV 150? Read on to find out which scooter is best fit for your lifestyle.