The allure of riding a premium, big displacement motorcycle is one that is all too hard to shake off. What with the worsening traffic conditions in the Metro and increasingly scarce parking amenities, the best way to get around in style is undoubtedly on a big bike.
With the middleweight big bike segment growing constantly over the past few years, customers are bestowed the luxury of choice. To add to that, technology found in premium high-performance machines has trickled down onto middleweight offerings. Of course, we wouldn't recommend hopping onto a big bike as your first whiff of the two-wheeled experience, but these are bikes that are considerably more approachable as opposed to their high powered siblings.
Kawasaki Z400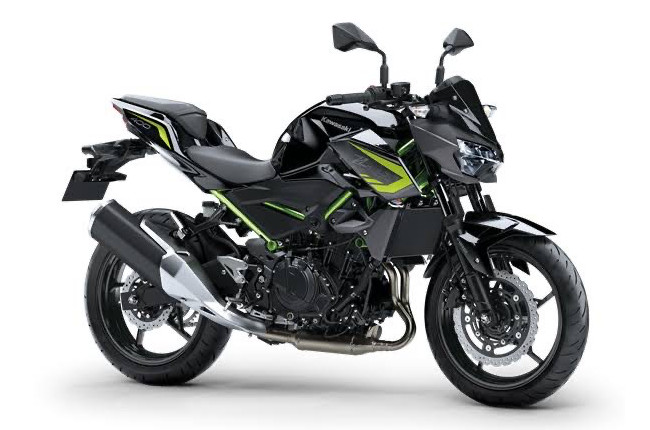 Starting out this list we have an entry from one of the most popular big bike manufacturers in the Philippines, Kawasaki. The Japanese brand has seen massive success with their Ninja 400 sportbike among street riders and track day aficionados alike. Powered by Kawasaki's ever-reliable 399cc 180-degree parallel twin, the Z400 delivers all the peppiness and linear acceleration as its fully-faired sibling, albeit in a more comfortable and commuter-friendly package.
The Kawasaki Z400 churns out a respectable 44 horsepower, more than adequate for long, cross country rides, as well as spirited rides on twisty mountain roads. In fact, the Z400 is one of the most powerful bikes in the segment, and weighing in at only 165 kg, is guaranteed to be a hoot to ride. Priced at P298,000 pesos, the Z400 sits in the middle of the price range for its segment.
KTM 390 Duke
The next entry on our list of beginner-friendly big bikes comes from the Austrian orange giant, KTM. The brand has built its reputation and transformed itself from a forlorn European dirt bike manufacturer to the biggest motorcycle manufacturer outside of Asia. Now assembled in the Philippines, the KTM 390 Duke presents itself as one of the more premium bikes in its segment. Equipped with features found on more premium machines, a full-color TFT dash, programmable ABS, and LED lights are all standard fare for the 390 Duke.
Breathing life into the bike's lightweight 153 kg curb weight is a spritely and overly-excited 373cc single-cylinder engine pumping out 42 horsepower. To add to this, the 390 Duke is equipped with 43mm inverted forks and a preload-adjustable mono-shock from WP. To sweeten the deal even further, the 390 Duke is registered with the LTO as 400cc, meaning it's one hundred percent expressway legal. The KTM 390 Duke is priced at P268,000 and is also offered in Special Edition and Touring Edition trims for P300,000 each.
CFMoto 400NK
The next bike on our list is actually the most popular 400cc-class motorcycle on our platform. A relatively new player in the local market, CFMoto has seen tremendous success since its initial launch in 2017. Its most popular model, the 400NK, continues to sell like hot cakes simply because of its bare-bones platform and extremely affordable price.
For just P215,000, you get a 400.4cc motorcycle guaranteed entry into the expressways. Apart from this, the bike comes with a 180-degree parallel twin similar to that of the Kawasaki Z400. The 400NK produces 41 horsepower and has a low seat height of 795mm, making it friendly for beginners. Perhaps the biggest downside for the 400NK would be its daunting 206 kg curb weight. Other components include an ABS system by Continental, J.Juan brakes, and a Bosch EFI system.
Kawasaki Bajaj Dominar 400
It can be argued that the Kawasaki Bajaj Dominar 400 is the bike that gave big displacement performance to the masses. With an engine similar to that of the KTM 390 Duke, the Dominar 400's 373cc single-cylinder engine pumps out 40 horsepower.
The Kawasaki Bajaj Dominar 400 is priced at just P175,000 and presents itself with remarkable value for money. Weighing in at 187 kg, it's no featherweight. However, it does make for a confident ride at both low and high speeds.
Benelli Leoncino 500
The newest player in the entry-level big bike segment comes to us from Benelli. With its Italian origins, the Leoncino 500 quite possibly boasts the best fit and finish in its class. To add to this, the bike's 500cc parallel-twin engine gives it the most power in the entry-level class, at 46 horsepower. Perhaps one of the most striking features about the Leoncino 500 would be its retro styling, with its unmistakable round headlight, and scrambler-esque body lines.
The Benelli Leoncino 500 is also the dearest among the lot at P349,000. However, given the bike's bump in displacement and premium componentry, the price is somewhat justifiable.
So there you have it, our list of the top 5 most beginner-friendly big bikes. If you're in the market for your first big bike, be sure to drop by the dealerships of the bikes mentioned above. Also, be sure to check out more details about these bikes on our site.
---
Related Articles
Here are a few things that make the CFMOTO ST Papio 125 an attractive mini-bike that's worthy of a second glance.

Here are 5 reasons why the CFMOTO 400 NK makes for an excellent beginner-friendly big bike.

The Kawasaki ZX-25R is a precision engineered machine designed for the race track. However, it isn't too bad of a street bike either. Here are a few reasons why this bike is the ultimate beg...

Find out what all the talk is about with the CFMOTO 300SR.

Here are 3 reasons why the CFMOTO 400 NK makes for a great deal.
---
Latest Features
Here are 5 reasons why Vespas are amazing scooters, and worth your hard earned money.

Riding a motorcycle has many health benefits that include a strong core, and better posture as well as calorie burn.

Here's a list of what to prepare before a weekend ride on your motorcycle.