/ Featured Article
Top 5 affordable motorcycles from premium brands
Motorcycles from premium brands don't always have to be pricey.
---
It takes decades for a motorcycle company to run from a backyard shed into a symbol of freedom on the open road. It takes even generations to go from producing clip-on bicycle engines to being one of the most recognized marques in the industry. These are the typical humble beginnings of brands such as Harley-Davidson and Ducati that once had their own struggles before becoming the beloved motorcycle brands we know today. That gives them a justification to put a premium on the price of their motorcycles today. However, not all motorcycles from the more premium brands such as BMW and Ducati should be out of our reach. We give you a list of 5 affordable motorcycles from premier marque manufacturers.
Moto Guzzi V7 III Stone - P650,000
The Moto Guzzi V7 has been in production since it was first unveiled in 1967. Featuring the company's first transverse V-Twin engine with a shaft final drive, It went on to break several speed records at Monza in 1969. It has a timeless design and the signature transverse V-Twin rumble that only a true Italian modern classic from Mandello del Lario can bring you. The Moto Guzzi V7 III Stone is powered by a 744 cc 90° V‐twin engine that churns out 52 hp and 60 Nm of torque. With a price of P650,000, it may be the least affordable from the list but with its stunning good looks and exquisite Italian craftsmanship, it's hard to say that it's the least desirable.
Harley-Davidson Street 750 - P573,000
The Harley-Davidson brand has been one of the most iconic American motorcycle brands which adapted a Screamin' Eagle® as a symbol of their success which endured past generations of their founders. The Street 750 was first introduced in 2014 as a solid choice to get into the "Harley-Davidson Club" with a motorcycle that was both more affordable and easier to handle than its big-bore V-Twin counterparts that usually commanded a higher price. The Harley-Davidson Street 750 is light enough for everyday cruising around the city and yet powerful enough to stretch across the highway for those longer rides. With a price point of P573,000, it's the perfect Harley-Davidson for commuters that want a little more presence on the road, and yet light enough to maneuver through city traffic.
Scrambler Ducati Sixty2 - P499,000
When Ducati introduced their very first Scrambler way back in 1962, it was powered by a single-cylinder 250 cc engine that was predominantly built for the road but with some off-road capabilities. It had a simple engine design that was easy to repair, fairly durable, and made to appeal to young people as an all-purpose bike. After more than 50 years, they reintroduced the Scrambler Sixty2. Although technically, the Scrambler Sixty2 is a smaller version Scrambler Icon, it is still powered by the same Desmodromic engine technology that was developed by Fabio Taglioni for Ducati since 1954. The Scrambler Sixty2 runs on a 399 cc displacement engine capable of producing 40 hp and 34 Nm of torque. It follows the same silhouette of the Scrambler Icon giving it a timeless classic design that would surely give you more attention from bystanders. With a price tag just shy of half a million or P499,000, you get to ride one of the most recognizable Italian motorcycle brands.
KTM 390 Duke - P289,000
KTM is an Austrian powerhouse of a motorcycle brand with roots tracing to motocross racing and thrives at rally racing where the team has been dominating the Dakar Rally for the past 18 years now. Clearly, with origins tracing in off-road and rally racing, KTM built the 390 Duke as a capable streetfighter with supermoto capabilities. The 390 Duke is loaded with technology and features such as ride-by-wire throttle, slipper clutch, and switchable supermoto riding mode. It is powered by a 373 cc single-cylinder engine capable of producing 43hp and 37Nm of torque mated to a 6-speed manual transmission. Its powerband is perfect for commuting around the city, and yet highway-legal to take down the Skyway. With a price tag kept affordable at P289,000, you can thank KTM's assembly plant in Sta. Rosa Laguna for keeping the bike's price within reach.
BMW G 310 R - P260,000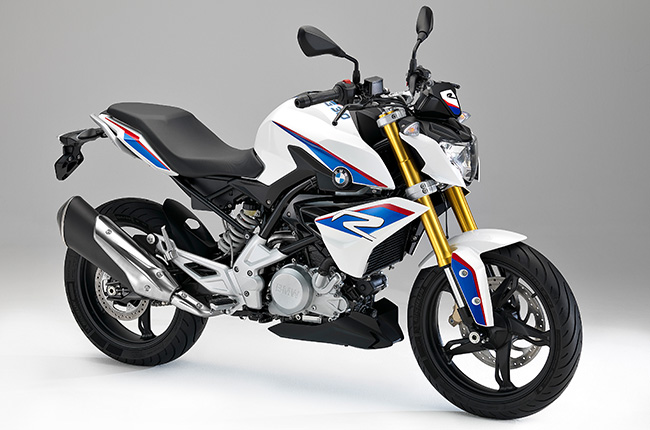 The BMW badge is one of the most recognized badges in the automotive industry, both with motorcycles, and automobiles. With origins in aviation and aircraft engines, the brand's business shifted to building motorcycles after being banned from producing aircraft components after the first world war. However, taking their expertise from aviation into motorcycle production allowed BMW to produce its first motorcycle in 1923, five years before it made its first car. Thus, the BMW badge commands quality German craftsmanship and engineering. However, today, that same BMW badge is offered for a much affordable price through the BMW G 310 R. It is powered by a 331 cc single-cylinder engine capable of producing 34 hp and 28 Nm of torque. Built as a naked streetfighter, with aggressive looks resembling the F900R, and yet it gets the same respect only a BMW badge can give. With the most affordable price on the list at P260,000, it still bears an emblem that's synonymous with a respectable quality build and heritage.
---
Related Articles
Here are our top five picks for motorcycles in the middle to heavy-middleweight segment that offers exceptional value.

Here are a few reasons why you should consider the Peugeot Django 150 as your next retro-style city commuter.

Here are our top 5 picks for the best hyper naked bikes you can buy in the Philippines.

Here are some of the riders that you may encounter on the roads of the Philippines.

Let's help you choose your CFMOTO.
---
Latest Features
KTM has teamed up with RIDE ACADEMi to offer advanced street-riding skills to everyday riders.

Want to ride a big bike but don't want to break the bank? These 5 affordable models may be worth considering.

Floating discs or solid discs—which one is better and is it worth upgrading to aftermarket rotors?