/ Tips & Advice
I'm about to purchase my first motorcycle. What should I look out for?
Having trouble choosing your first bike? Here are a few things to consider.

on Mar 29, 2021
---
As a starting motorcycle rider, many different tips and pieces of advice are often given by more experienced riders, and after a while, synthesizing every bit of advice can get a bit overwhelming. As a starting motorcyclist, it may be difficult to think through all kinds of information thrown at us, and knowing which piece of advice might actually be best for us may be a difficult one to conclude.
One such example would be the dilemma of choosing the right engine displacement to start with. Some people say that starting with a 650cc is actually quite easy, other riders might say that starting on a 150cc is the most ideal. However, when it comes to choosing your first bike based on engine size, a lot of the more important and fundamental attributes of a motorcycle may end up overshadowed. If you're looking to go bike shopping soon, here are a few considerations to take note of in order to help you pick your first two-wheeled machine.
Weight and size
The first and most important aspect of a two-wheeler for starting out would be the motorcycle's weight and size. Going for a lightweight and relatively small motorcycle to start with can be very beneficial for skills practice and your first few rides on public roads. For one, a lightweight motorcycle is relatively easy to control. You won't feel like you're fighting the bike when making u-turns or when maneuvering through tight spots. Lightweight motorcycles are also quite easy to catch with your own body weight before a tip over. In general, lightweight motorcycles make you feel like the motorcycle is working with you and not against you.
Size on the other hand is another aspect to consider and often comes hand in hand with weight. However, the size of a motorcycle often relates to how comfortable you feel on it—your reach to the handlebars, how bent your knees are, and how far back your bottom sits. Choosing a motorcycle that feels to be just right for your size can often be a big confidence booster for the first year of starting out. Visit multiple dealerships, sit on a few bikes, and feel out which motorcycles sit best with you.
Power
When starting out, it can be easy to feel like you're wrestling with the motorcycle—when leaning, braking, accelerating, or maneuvering, it can sometimes feel as if the motorcycle has a mind of its own and moves uncontrollably. This is why choosing a motorcycle with manageable power is an important decision when starting out. Take note that power is not always dependent on engine displacement – the Royal Enfield Himalayan with 411cc makes about 24 horsepower, while the Honda CRF250L with 250cc of displacement makes 23 horsepower. As such, it's important to pay attention to the motorcycle's power and torque figures over engine displacement when starting out.
In principle, it would be best to start with a motorcycle that makes a small amount of power—in general, about 10 to 30 horsepower would be manageable for beginners on Philippine roads. Choosing a bike with a relatively low power output would be beneficial for training and practice where throttle control is a priority, including u-turns, stop-and-go traffic, bumpy roads, and more. With less power at the twist of the throttle, chopping or squeezing on the throttle accidentally will not bear any life-threatening consequences to the practicing rider.
Body style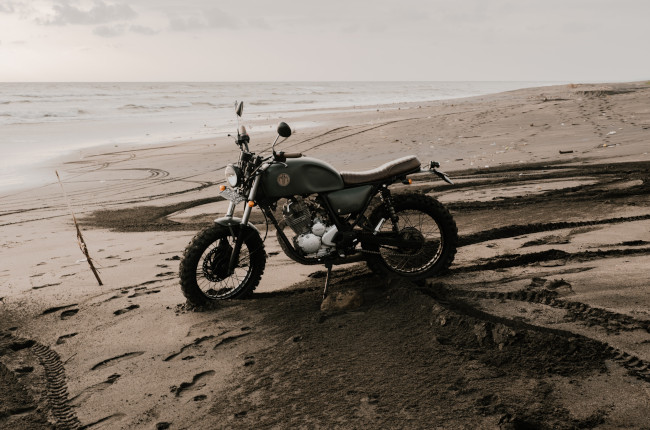 When starting out on two wheels, we may already have an idea of what sort of rides we want to be doing. You might have already imagined taking a dirt bike off-road, or carving up a few corners on a mountain road, or it could simply be an everyday commute you're looking forward to. Regardless, choosing a bike that fits the kind of riding you want to do will be a big motivator to get on two wheels when starting out. Naked and sport motorcycles are great for spirited riding and twisty roads, scooters, and commuter body styles are great for day-to-day duties, adventure and dual sport motorcycles are amazing off-road, and the list goes on.
Price
The last consideration for your first bike would be price—in all aspects, including the price of the motorcycle, fuel consumption and fuel price, maintenance costs, and more. When choosing your first bike, it's important to be realistic with your own budget. When preparing for motorcycle ownership, remember that about half the value of the motorcycle will go to repairs, maintenance, legal and registration fees, accessories, and other surprise expenses down the road. At the end of the day, starting your journey on two wheels is about making everything a little bit easier for yourself. As such, setting the right expectations around price and additional expenses down the line is important to set yourself up for success on your two-wheeled journey.
---
Related Articles
Follow these tips and tricks when getting ready for a long-distance ride on your motorcycle.

Struggling to think of gift ideas for your motorcyclist friends and family? Read on to get some inspiration this gift-giving season.

Here are three things you must do before pulling the trigger on a new big bike.

Here's a list of 6 must-check maintenance items on a used motorcycle, especially if it's a bit higher in terms of mileage.

Scooters are growing tremendously in popularity. Here are a few reasons why you should get one.
---
Latest Features
Want a bike that's super fast and looks really dapper doing so? Look no further than the Speed Triple RR from Triumph.

Follow these tips and tricks when getting ready for a long-distance ride on your motorcycle.

Struggling to think of gift ideas for your motorcyclist friends and family? Read on to get some inspiration this gift-giving season.