/ Tips & Advice
How to deal with potholes while riding your motorcycle
Potholes are a dime a dozen in the Metro's streets. Here's what you should do to avoid these pesky craters.

on Jul 24, 2022
---
Public roads and city streets are laden with obstacles that can pose quite a threat to us motorcyclists. There are pedestrians, jeepneys, animals, tricycles, other road users, and of course, potholes for us to contend with. When it comes to hidden dangers in plain sight, potholes can be considered one of the most vicious, as hitting a sizable crater could easily send you flying over the bars. That said, how do you avoid sustaining damage from potholes, and what do you do if you find yourself in the situation where you're in an unavoidable collision course with one? Well, read on to find out.
If there's one, there are likely more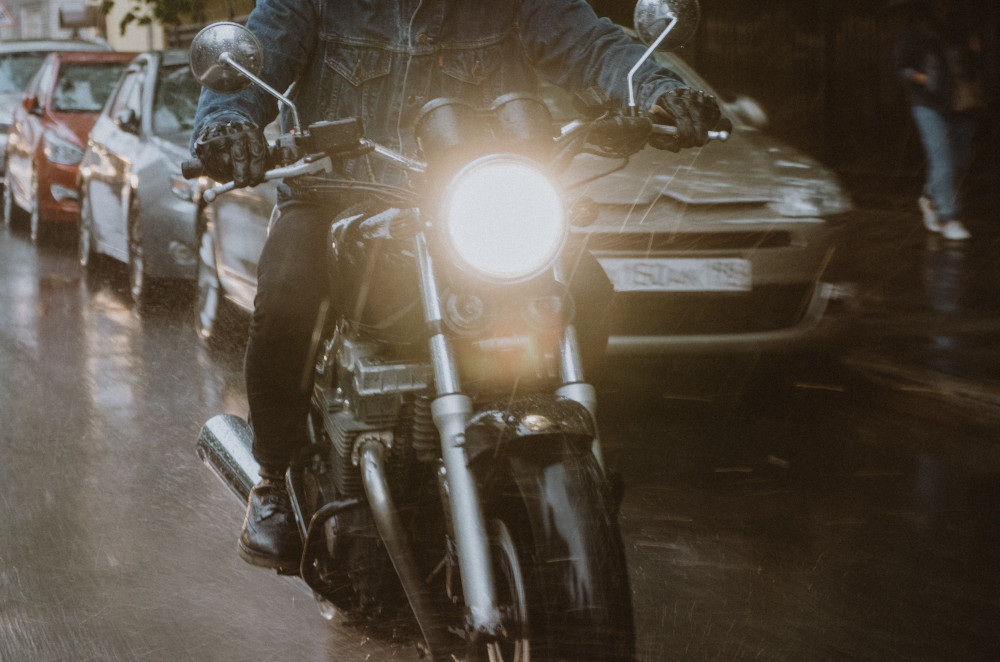 Let's say you're riding on an unfamiliar road. Chancing upon a single pothole could mean that it's time for you to put your guard up, as a single pot hole usually points to many more. This is especially true on roads looking worse for wear. Riding with caution can go a long way in preventing damage on your motorcycle, or worse, an accident, after running over a pothole. Additionally, staying alert and conscious about surrounding traffic will make it easier for you to anticipate and make maneuvers to avoid potholes and other obstacles.
What if I can't avoid the pothole or obstacle?
Sometimes, a pothole or obstacle will simply pop out in front of us, and there's little we can do to avoid hitting it. In situations like these, rider training will certainly come in handy. Once you see the pothole, you're going to want to make the bike's front end as light as possible, in order to minimize the possibility of you being tossed over the bars. Raise your butt from the seat slightly, pull your weight rearwards, and keep your body relaxed. This will allow your knees and torso to absorb some of the impact, thereby reducing potential damage to your bike, as well as the possibility of an accident.
Dealing with the aftermath
If you're lucky, you'll have gotten away with virtually zero damage to you or your bike, save for the unavoidable increased wear on your motorcycle's running gear. However, if you're not so lucky, you'll be looking at quite a hefty repair bill. The most common victim to potholes come in the form of blown out tires and bent rims—things that are a huge pain in the neck and wallet to get fixed. Even worse, sometimes lower motorcycles could scrape the lip of the pothole, causing damage to the frame, oil sump, or engine. Suspension components receive a brunt of the impact, too, so be sure to give your fork seals, rear shock, and swingarm bushings a thorough once over, too.
---
Related Articles
Here are a few reasons why you need a dual-sport motorcycle in your garage, and a few reasons why they're the most versatile machines on two wheels.

Here are a few tips to decide if you should get a big bike or small bike depending on your lifestyle.

A lot of people scrimp on riding gear due to the fact that it's really expensive. That said, is expensive riding gear really worth its weight in gold?

Here's a step-by-step guide on what to do in the event of a tire blowout while you're out riding your motorcycle.

Here are the most common injuries associated with riding a motorcycle, and what you can do to avoid them.
---
Latest Features
Here are a few reasons why you need a dual-sport motorcycle in your garage, and a few reasons why they're the most versatile machines on two wheels.

Is made-in-China really that bad? It turns out not really, as today's Chinese motorcycles are surprisingly well-equipped and capable of competing with mainstream rivals.

Here are a couple of reasons why the Honda CB500F should be your first big bike.