When BMW launched the F 900 R in the global market last year, the German company made liter-bike performance and tech attainable at a price point that was within reach of many motorcyclists. In fact, the F 900 R is BMW's most affordable bike in its big bike segment. However, just because it carries the lowest price tag among the lot, doesn't mean that BMW cheaped out on this bike. Here are a few reasons why we think the BMW F 900 R is an excellent intermediate level naked streetfighter.
The performace
The BMW F 900 R is equipped with a compact yet powerful parallel twin engine. Equipped with a 90-degree crankshaft, this engine has a displacement of 895cc, and pumps out a very healthy 105 horsepower and 92 Nm of torque. This gives the F 900 R an impressive 0 to 100 kilometers per hour time of just 3.7 seconds.
This 895cc parallel-twin engine is the same engine we find in the versatile F 850 GS, albeit tuned slightly differently to account for road use. As opposed to BMW's boxer engines, this parallel twin is a lot more compact, allowing the F 900 R to be a lighter weight, more nimble machine, while pumping out loads of power, thanks to its 90-degree crankshaft.
The features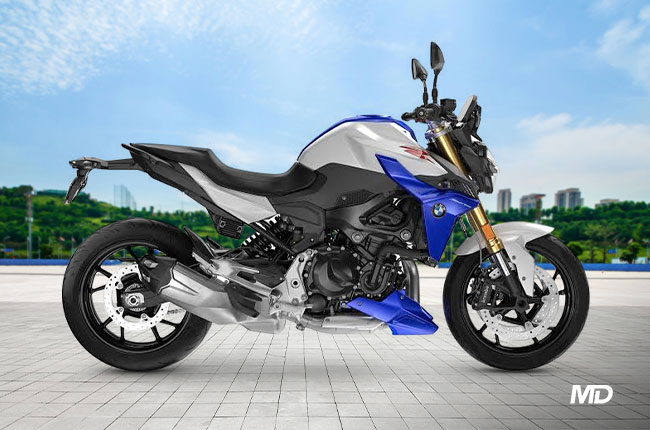 On the feature front, the BMW F 900 R is no slouch. It gets two selectable ride modes consisting of Rain and Road modes. ABS comes standard, while the top of the line Style Sport variant gets additional tech features such as Dynamic and Dynamic Pro selectable riding modes, BMW's proprietary Dynamic Traction Control (DTC), cornering ABS, and Dynamic Brake Control (DBC). It also gets BMW's cutting-edge Engine Drag Control to further improve linear power delivery and overall engine feel.
The styling
As far as styling is concerned, there's no denying that the BMW F 900 R is a looker. Sporting similar styling with the BMW S 1000 R, the F 900 R gets muscular bodywork and sharp, angular styling. LED headlights, taillights, and turn signals adorn the motorcycle, while a full-color TFT display provides ample instrumentation display. The BMW F 900 R gives the rider very comfortable ergonomics thanks to its upright seating position. Its wide handlebars and slightly rear-set controls give you a lot of leverage, while remaining sporty, yet comfortable for long-distance rides.
The price
The BMW F 900 R comes in two variants—Standard and Style Sport. The Standard variant comes at a rather affordable P655,000. However, it misses out on all of the Dynamic features which offer the most adjustability when it comes to tweaking the bike's electronics to suit your preferences. That said, the Style Sport variant is where most of the fun is at, and retails for a premium price of P775,000. As mentioned above, the Style Sport is equipped with some serious tech, which is more commonly found on motorcycles retailing upwards of P1,000,000.
---
---
Related Articles
Here are a few reasons why cruisers are fun, laid-back machines, and why they may just be the right type of bike for you.

Here are three things you must do before pulling the trigger on a new big bike.

Here's a list of 6 must-check maintenance items on a used motorcycle, especially if it's a bit higher in terms of mileage.

Read on to learn more about two of the most popular engine configurations for big bikes, and which one you should choose.

Adventure bikes are commonly associated with big engines and a hefty stance. Does it really have to be this way?
---
Latest Features
Struggling to think of gift ideas for your motorcyclist friends and family? Read on to get some inspiration this gift-giving season.

Motorcycle riders are often faced with the decision of whether to get a leather or textile jacket. Read on to learn more about these jackets.

Here are a few reasons why cruisers are fun, laid-back machines, and why they may just be the right type of bike for you.