Just like car enthusiasts, motorcycle enthusiasts have a penchant for upgrading, modifying, customizing, and personalizing their rides. Of course, motorcycling is as much self expression as it is a mode of transportation, as such, it is but natural that people would like to express themselves through their beloved machines. Of all the aftermarket upgrades and accessories available in the market, it goes without saying that aftermarket exhaust systems are among the most popular and controversial accessories out there.
Today, let's take a closer look at an aftermarket exhaust, as well as the things you should consider from a legal point of view, as well as a performance and longevity perspective, when it comes to your motorcycle. After all, we want to keep things safe, responsible, and legal for you as you embark on your two-wheeled journey. As such, without further ado, here are a few things you absolutely must take into consideration when it comes to installing a new aftermarket exhaust system on your motorcycle.
Noise
The first aspect would definitely be noise. After all, all aftermarket exhaust systems are designed to enhance the inherent exhaust note of your motorcycle. It's really just a matter of how much louder an aftermarket set of pipes will make your engine sound. The nationally accepted limit which has been set by the Land Transportation Office is at 99 decibels at an engine speed of 2,000 to 2,500 RPM. Now, nearly all decent aftermarket exhaust systems—including those engineered specifically for big bikes—fall within this limit.
Now, a lot of you are now familiar with Manila City's newest ordinance which effectively bolsters the implementation of this standard. Although big bikes and sports cars are exempted from this ordinance, it's always good to be informed. Other cities such as Pasay and Paranaque also implement similar ordinances, so be sure to double check and test your shiny new exhaust system before hitting the open road to make sure that your exhaust system complies with this noise limit.
Emissions
Another obvious repercussion of installing an aftermarket exhaust system would be the negative effects it has on your engine's emissions. Your bike's stock exhaust system is big, chunky, and heavy for a reason. It's loaded with all sorts of silencers, baffles, and catalysts which not only quiet things down, but also reduce the harmful emissions that come out of the engine's combustion cycle. Reducing this catalytic reaction by fitting a free-flowing exhaust system, or doing away with the catalytic converter all together may increase performance, but it also increases emissions. On older engines, this may be a problem when it comes to emissions testing. As such, it may be a good idea to invest in a Euro 4 or Euro 5 homologated exhaust system which has been designed specifically for use on the street.
Engine performance
Engine performance may or may not be affected by an aftermarket exhaust system. If you're planning on fitting a slip-on exhaust which makes use of the bike's stock header and catalytic converter, don't expect to see any gains in terms of performance. This also means that you won't need to make any adjustments to the ECU, making it very convenient as a quick and easy upgrade.
Full-system exhausts on the other hand, tend to require an ECU reflash, unless explicitly stated by the exhaust maker that no ECU tuning is required. Otherwise, fitting a full-system exhaust without adjusting your bike's Air-Fuel-Ratio (AFR), could result in your engine running lean, symptoms of which are increased fuel consumption, higher temperatures, backfiring on deceleration, and stumbling at low RPMs. As such, be sure to do your research thoroughly before pulling the trigger on an aftermarket exhaust system for your beloved steed.
Warranty and longevity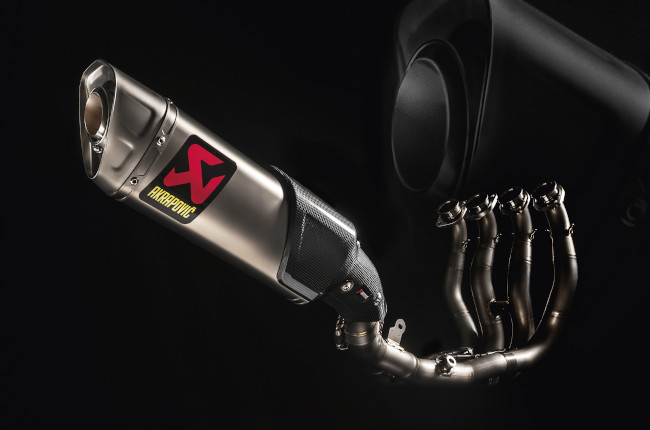 Now this last point depends largely on your manufacturer. However, making alterations to the engine by way of the exhaust or ECU tends to void your factory warranty. This is almost certain if the aftermarket exhaust system you have in mind requires you to cut and weld the original exhaust system to fit the aftermarket components. Slip-on exhaust systems or factory-approved full-system exhausts from genuine name brands such as Akrapovic, Arrow, and Termignoni, however, tend to come with their own warranties, and retain your bike's factory warranty, as well. However, these setups can cost close to if not more than the ballpark of P50,000.
At the end of the day, when it comes to upgrading your motorcycle's exhaust system, you really do get what you pay for. The same goes not just for engine performance, fit and finish, and aesthetics, but for legality, noise, and emissions, too. It's a no-brainer that you should stay away from knock-off "generic" exhaust pipes which have not been designed and engineered specifically for your motorcycle. Not only are they excessively noisy, but can also have detrimental effects to your bike's engine, and drastically shorten its service life.
---
Related Articles
Here are a few tips to decide if you should get a big bike or small bike depending on your lifestyle.

Here are a few reasons why the CFMOTO 400 GT is hard to beat when it comes to the entry-level sport-tourer segment.

Here are a few things that make the Kawasaki Versys 650 a bulletproof choice when it comes to those looking for practicality, dependability, and value for money.

Today's match involves a head-to-head comparison between the KTM 790 Duke and BMW F 900 R.

Does your motorcycle have a full-color TFT display? Ever wonder what the pros and cons to it are? Read on to find out.
---
Latest Features
Here are a few tips to decide if you should get a big bike or small bike depending on your lifestyle.

Here are our top 5 picks for Christmas gifts for your motorcycle-loving friends and family this holiday season.

Here are a few reasons why the CFMOTO 400 GT is hard to beat when it comes to the entry-level sport-tourer segment.