Before the entry of CFMOTO in the Philippine market, if you wanted an affordable, do-everything, adventure-ready motorcycle, you had few other options than the Kawasaki Versys 650. Now that a plethora of new adventure motorcycles which cater to varying levels of riding skill have entered the market, newbie ADV enthusiasts are spoiled for choice, especially with the extremely enticing value for money which bikes like the CFMOTO 650 MT bring to the table.
Now, the CFMOTO 650 MT bears a lot in common with the Kawasaki Versys 650—both in terms of features and performance. It does, however, come with its own unique styling thanks to the talented minds at Kiska Design, who are also responsible for designing the head-turning machines of Austrian motorcycle giant KTM. Given the fact that the CFMOTO 650 MT continues to prove itself a formidable player in the middleweight adventure segment, just how well can it stack up against the now-iconic Kawasaki Versys 650? Read on to find out.
Performance
Right off the bat, both the Kawasaki Versys 650 and CFMOTO 650 MT are equipped with very similar engines. Both bikes make use of a 649cc parallel-twin engine, equipped with a 180-degree crankshaft. Both bikes churn out the ballpark of 70 horsepower, and both bikes come with six-speed manual transmissions. So, technically speaking, both bikes are matched pretty well on paper. However, it's on the road that the difference becomes rather apparent. For starters, the CFMOTO 650 MT has a slightly lower kerb weight of 213 kg, as opposed to the Versys 650, which tips the scales at 218 kg. Now, while 5 kg may not seem like a lot, the way this weight is distributed on the bike plays a big role on the way it handles, especially in tight, low-speed scenarios.
That being said, the CFMOTO 650 MT feels just a little bit more lively, especially in the mid to upper rev range. Both bikes, if ridden accordingly can offer pretty impressive fuel economy, with an average of around 17 to 20 kilometers per liter, assuming you ride in the goldilocks zone—not too cold (slow), and not too hot (fast).
Features
When it comes to features, there really isn't much to talk about. Both the Kawasaki Versys 650 and the CFMOTO 650 MT are rather barebones, simply designed adventure tourers. Both bikes make use of cable-actuated throttles, and come with no fancy electronic rider aids, other than standard antilock braking systems (ABS). The CFMOTO 650 MT edges ahead of the Versys when it comes to electronics, though, thanks to a built-in on-the-fly map change feature which alters the bike's power delivery between Touring and Sport modes.
Where the Versys 650 finds its advantage, however, is in the suspension. While the CFMOTO 650 MT also comes with front and rear adjustable suspension, the suspension setup of the Versys just feels better put together, and offers easier adjustability for the rear monoshock, thanks to an offset adjuster making it easy for you to toggle preload and compression settings. This especially comes in handy if you carry a lot of luggage, or frequently ride with a pillion.
Price
There's no denying the competitive advantage which CFMOTO holds with all its bikes. The company offers machines which are at par with the competition when it comes to features and specs, but at a price point similar to that of entry-level offerings of other brands. For instance, the CFMOTO 650 MT comes with a sticker price of just P335,000—more than P100,000 less than the Kawasaki Versys, which will set you back P450,000.
Granted of course, CFMOTO is still a relatively new player in the industry, especially when compared to industry giants such as Kawasaki. However, despite this, CFMOTO has proven time and again that it makes reliable, consistent, and decently performing machines worthy of taking a seat at the big boys' table. While aftermarket options and accessories for the Kawasaki Versys 650 are far and wide, you may find it a bit difficult to get aftermarket accessories for the CFMOTO 650 MT. Nonetheless, the folks over at Motostrada have a whole catalogue of aftermarket components such as crash guards, top cases, panniers, and luggage racks available for the 650 MT.
Verdict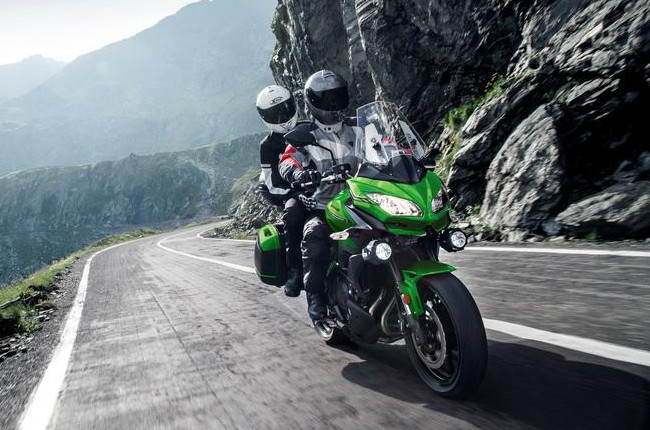 At the end of the day, both the Kawasaki Versys 650 and CFMOTO 650 MT have their strong points. Based on all the things listed above, your final decision will really depend on a myriad of variables such as your styling preferences, intended use, proclivity for customization, and of course, your budget. That being said, you really can't go wrong with either of these capable adventure tourers.
---
Related Articles
Let's take a look at Harley-Davidson's newest adventure bike, the Pan America, and pit it against the legendary BMW R 1250 GS.

Find out which of these two entry-level 400cc motorcycles may be best for you.

Here are our top 5 picks for the best adventure-ready machines under P700,000

Two of the best middleweight three-cylinder motorcycles slug it out in this spec sheet brawl.

If you're indecisive about which motorcycle to get for long haul rides, here are a few things to think through
---
Latest Features
Let's take a look at Harley-Davidson's newest adventure bike, the Pan America, and pit it against the legendary BMW R 1250 GS.

Here are a few tips to help you take better Instagram photos of your motorcycle.

Here, take this traction control system if you value keeping two wheels planted on the ground.