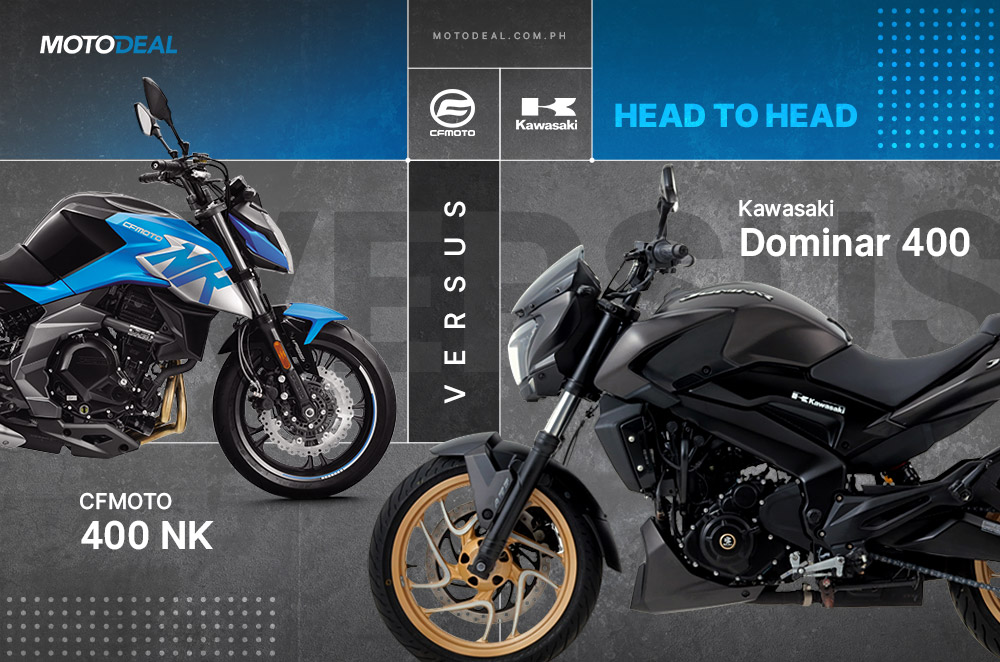 The CFMOTO 400 NK and the Kawasaki Dominar 400 are some of the most affordable options motorcyclists can get their hands on in the 400cc range. As such, they make for great entry-level models that won't break the bank. However, choosing between these two can be a bit challenging as they both bring different strengths to the table and may each cater to a specific kind of rider. If you're looking to get your hands on a motorcycle in the 400cc class, the CFMOTO 400NK and Kawasaki Dominar 400 are both great motorcycles to start with. Let's take a dive into which of these motorcycles will be most worth your money and which might be best for your kind of riding needs.
Performance
While the CFMOTO 400NK leads the charge in terms of engine displacement and horsepower, the Dominar 400 is the more agile machine being about 20 kg lighter than the former. The 400 NK's twin-cylinder mill pumping out 41 horsepower and 34 Nm of torque makes it a very rev-happy machine and will provide for a more exciting ride when riding through the highways or twisty roads. On top of this, riders will be getting that twin-cylinder rumble which will definitely set itself apart from the many single-cylinder motorcycles on the road.
While the Dominar 400's 373cc single-cylinder engine pumps out a few fewer ponies at 39 horsepower, the lighter weight makes this motorcycle a fun ride through city roads and stop-and-go traffic. On top of this, large displacement single-cylinder engines typically provide more low and mid-range power which will be great for maneuvering through tight roads and short blasts on the highway. One great thing about the Dominar 400 is the addition of a slipper clutch system which will make your clutch feel significantly lighter and will make downshifts much easier too.
Features
Features-wise, the 400 NK and Dominar 400 come in very similarly packaged. Both of these motorcycles are fitted with LED headlamps and taillights and come with anti-lock braking systems (ABS) installed from the factory. Both of these bikes come in naked bike configuration which makes both of them very barebones and easy to maintain. They come in very similar configurations with 17-inch rims front and rear, an upright handlebar position, and your standard warning lights and pass switches.
While these motorcycles share many similar features, there are a few key areas that separate the two. The Dominar 400 is equipped with the Bajaj-patented triple spark DTS-i system which provides the Dominar with a more controlled combustion process that not only smoothens out power delivery but also provides much cleaner emissions which is great for the environment. The 400 NK, on the other hand, is equipped with a dual-disc brake system upfront which will provide a very strong and progressive feel to the front brake system.
Price
While these two motorcycles have come close in terms of performance and features, price is now what separates these two motorcycles a little bit more distinctly. The CFMOTO 400 NK comes in at a price of P219,800, while the Dominar 400 comes off the dealership floor at just P175,000. While the difference of about P45,000 does leave a mark, it can be argued that you are getting what you pay for with the 400 NK, given the extra machining and development needed to produce a twin-cylinder motorcycle with rear cantilever suspension.
Verdict
Which motorcycle ranks higher in value for money? Bike versus bike and nothing else, the Kawasaki Dominar 400 definitely leads in terms of this aspect. Riders will be getting a motorcycle with 373cc's of engine displacement churning out 35 horsepower at a price not far from the Yamaha XSR155 or the Honda ADV150 scooter.
However, we do think that the better question to ask is: which motorcycle would be worth owning? And for that, our hats go off to the CFMOTO 400 NK being our choice in this head to head comparison. The 400 NK has a registered engine displacement of 400cc making this motorcycle fully highway-legal from the factory. It also comes with a wider rear tire, an LED display, and an over engineered chassis shared with the larger 650 NK sibling. Not to mention, the 400 NK is one of the most affordable and value-for-money motorcycles which can readily access the highways, making it a great motorcycle to own, not just for city commutes, but for leisurely rides through the highways too.
---
---
Related Articles
Let's take a look at five things we absolutely love about the all-new CFMOTO 450 NK.

Let's take a closer look at the Suzuki GSX-8S, and see if it has what it takes to take the throne from the venerable Yamaha MT-07.

Let's take a closer look at 2 of the most popular middleweight ADVs in the global market, the Suzuki V-Strom 800DE and Yamaha Tenere 700.

Both the KTM 790 Duke and Triumph Street Triple RS are extremely popular middleweight naked bikes. Let's take a closer look at the two of these bikes in this comparo.

Let's take a closer look at two popular European scramblers, the Ducati Scrambler 1100 and the Triumph Scrambler 1200 XC.
---
Latest Features
Here are 5 helmets to consider if you're looking for a high quality helmet that won't break the bank.

Here's Jinno's list of top 5 accessories for the Yamaha Tenere 700, all of which can easily be installed by average home mechanics.

Let's take a look at our top 5 picks for the best big bikes under 200 kilograms on the market today.