Usually, for blasts around the city, commuters, scooters, and small displacement standard motorcycles all are suited to the confines and tight spaces of city traffic. There is a reason why most of these two-wheelers are also some of the most common vehicles you can find plying Philippine roads.
Let's say, however, that your commute involves the use of a highway to get to where you want to go. That access will undoubtedly necessitate a bike with a larger displacement, and that means added weight and admission to the big bike class of motorcycles in the Philippines.
So if you've been getting to where you need to go on a small-displacement two-wheeler or even a 4 wheeler, will commuting with a big bike be a feasible option for you to take? Well since we test out and review big bikes on a daily basis, here are a few points of consideration.
The heat
Now if you're accustomed to life on two wheels already, going through the motions with your small-displacement motorcycle, then you already know that the heat coming from above is a struggle that motorcyclists in the Philippines face on a daily basis. You also have to deal with the heat of the cars' exhausts while in traffic, and you'll savor every bit of open road as you don't have an airconditioning system to help you cool off.
Though, once you step up to a big bike, not only will you be dealing with the heat of the sun, but also the heat between your legs. Having a big engine means that more heat will be generated. It also means that the auxiliary fan will also blast hot air at your legs in the heat of traffic. Without a doubt, things can get real toasty real quick. A Yamaha XSR155 will not be as hot to handle as an XSR900 for sure so keep that in mind if you want to take the stallion out of the stable or the pony.
The weight
Now, if you can take the heat, and have donned all mesh everything for your riding gear, then the next thing that you have to fight on a daily basis with a big bike is the weight. We're not just referring to the curb or wet weight of the bike because that is already a given. We're also referring to the weight of the clutch, steering, and even the bite of the brakes. Typically, big bikes have higher-performance components that might make it questionable to daily ride. Grippy tires are great for high-speed applications, but during your daily commute, they could be something to wrestle with when trying to filter through. A heavy clutch is also a hassle to engage and disengage repeatedly in stop and go traffic.
The fuel economy
Based on our reviews, and rightly so, small bikes get amazing fuel economy figures. On lighter days a simple fuel-injected scooter with a CVT can bring you from point A to point B in the city with fuel economy upwards of 50 kilometers per liter. So it makes sense and it doesn't hurt you as much when bringing a small bike to work.
Let's say, however, that you need to take the highway, and hit a bit of city traffic along the way. Even with constant and higher speeds, the added displacement and cylinders of a bigger engine won't allow you to reach the fuel economy that a small one cylinder will afford you in the city. Then once you reach the city, keeping a big engine running at low speeds will hurt your fuel consumption. Also note that bigger bikes come with a bigger fuel tank, so you'll have to pay more to get a full bar on your gauge cluster.
The storage?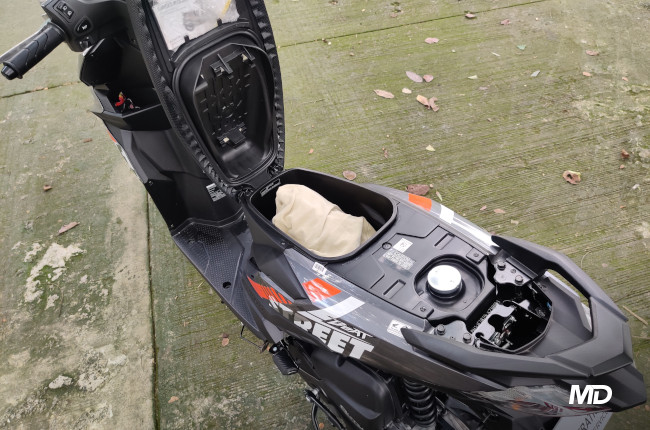 What storage? Bring a backpack because the under-seat storage will be very limited unless you install some bags, a top box, or panniers. Bring your own storage solution if you need to bring items with you on a ride or on your way to work. If you're used to the convenience of a scooter, then transitioning over will require you to forego the large under-seat storage compartment that most small-displacement scoots come with. Though, if you're used to standard bikes or underbones like the Honda Supra GTR 150, then the adjustment won't be too big a leap.
The maintenance costs
Riding your bike on a daily basis will rack up the miles and eat at wear and tear parts. Though take note that your typical oil change will be more expensive than your small-displacement motorcycle, and the parts will also come at a premium and may take some time to arrive depending on the bike.
There are some brands like CFMoto and KTM that have local manufacturing on their side, and a supply chain that is more responsive than more exotic brands like MV Agusta. So it's a matter of if you are willing to put up with the extra kilometers that you're going to rack up on your iron horse so to speak. Heaven forbid that you need to repair the bike or you damage it on your way to work. So that's also another point of consideration since going out on the road is always a risk.
Parking
Picture this, you might have to go to work early to get prime real estate for your parking slot. If your workplace allows it, then maybe you can even park in a car's slot. Because you're commandeering a bigger and heavier machine, getting in and out of designated parking for bikes will be more tedious. Not to mention that if you have to pay for parking, paying for a car's slot as a big bike will cost you more than a small bike.
Toll Fees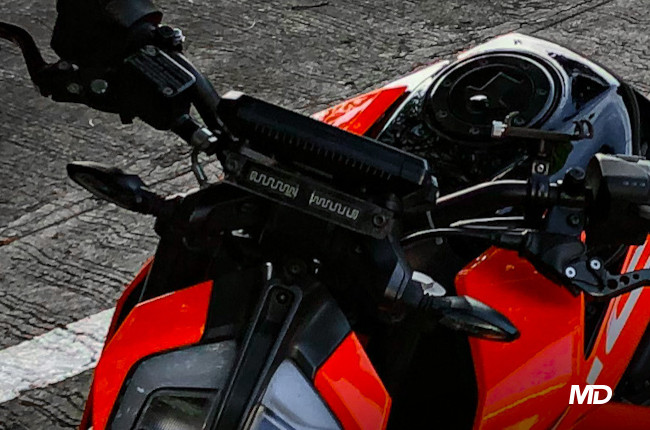 To get on the highway, you need to pay the toll, which is a hassle if you do cash transactions. Imagine having to fiddle with your wallet every time you reach the tollbooth with gloves on and a car waiting behind you. It's not fun. So you have to install an RFID sticker on your bike and remember to load your tag regularly. It's an extra step to do from time to time, but it is another point of consideration for you unless you're used to going through the highway via a car.
But it's totally worth it.
Even if we've laid out all these caveats, the bottom line is that if you're willing to put up with all the cons of bringing a big bike to work, we cannot deny that there is a certain cool factor that accompanies taking a big bike for your daily commute. Granted, it's not the most practical thing in the world, but it's totally worth it.
Here is the thing, if you have to go through highways, a big bike will be infinitely more practical especially if you have to go through many service roads on a small bike. Though as with everything, weigh out the pros and cons well, prepare properly, and whether on a big or small bike, you'll get to your destination either way.
---
Related Articles
Let's take a look at five things we absolutely love about the all-new CFMOTO 450 NK.

Here are our picks for the top 5 best intermediate naked bikes you can buy in 2023.

Here are our top 5 picks for the best hyper naked bikes you can buy in the Philippines.

The Triumph Speed Triple represents Triumph's pinnacle of performance. Read on to learn whether the RS or RR is better suited to your lifestyle.

Looking to upgrade your bike for some serious adventure? Here are five essential upgrades.
---
Latest Features
Let's take a look at our top 5 picks for the best big bikes under 200 kilograms on the market today.

Is it a good idea to continue wearing a helmet that's been in a crash? Read on to find out.

What should you do if you found out that your motorcycle's wheels have been damaged from uneven roads or potholes? Read on to find out.