Nothing makes a bigger fashion statement than a Vespa, but everyone knows that style comes at a pretty steep cost. Even entry-level models will cost nearly double the price of a similarly-equipped model from a different brand.
One can argue that a similarly-equipped model will get the job done and won't break the bank in the process. However, some riders simply want something special to stand out on the road and to gain a bit of acceptance with certain riding communities.
It costs more than a regular scooter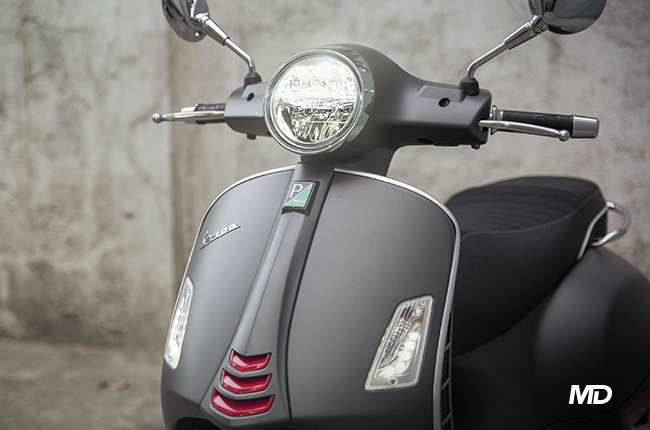 Yes, we've heard the same song and dance ever since, but there is way more to it than that. The heritage and the timelessness of a Vespa will withstand the test of time. It's not like any other scooter that depreciates immensely after a few kilometers on the saddle. If you decide that this lifestyle isn't for you, there's bound to be someone that is more than willing to take the scoot off your hands.
That being said, resale values stay relatively high throughout the course of its life. If you've noticed, Vespas barely age as the brand rolls out updates. A model launched about 10 years ago bears a very similar appearance to a modern Vespa at the dealership. Changes only happen once monumental leaps have been made to improve the platform, but as it stands incremental updates are to be expected for years to come. That's good for people who want to buy second-hand and brand-new models since they look new even after years of progress.
Collectability
There are quite a few types of Vespa owners in the world. Some prefer the sheen of a brand new model, while others tend to go older and more vintage. Vintage Vespas can fetch high resale values at auction or direct sales. Given the preserved condition and a rare-enough model, prices can shoot up for the right people.
If you happen to get your hands on a special edition model take care of it for many years, and you can probably get your money back in the future.
Style
Everyone talks about style on a Vespa, but is it truly worth paying for that image? It is for some. Take note that if you ride a Vespa, some pieces of gear will look out of place on it. Your sport bike helmet doesn't really match up with the scooter, and neither will your racing leathers, unfortunately.
Though, the good thing about riding a Vespa is that a normal denim jacket will do the trick most of the time. You can get special protective gear with a more casual twist, and perhaps get some jeans that come with pads. The thing is, you don't have to spend much at all to get that look that you want. We advocate the use of armored clothing while on a motorcycle as well as a proper helmet, but as long as you're not riding in shorts and slippers, then it should work out just fine. So you don't really need to invest in the most expensive gear. Perhaps a retro helmet and some leather gloves will be optimal if you want to spend the least amount of money for the most amount of style.
The performance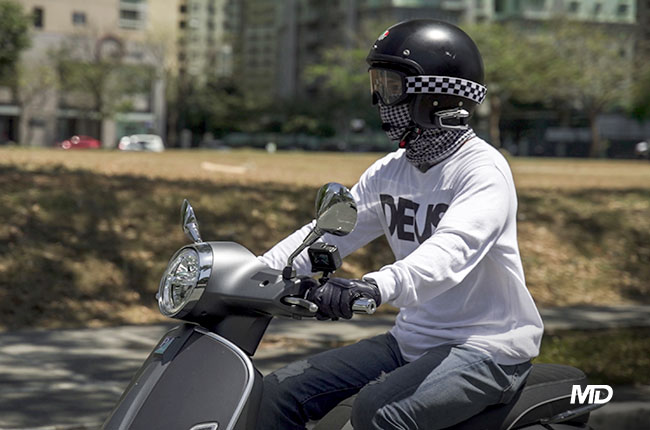 For such a posh scooter, you'd think that it would have lax performance, but that is not the case with Vespa. There is a lot of European series that involve these humble-looking scooters, and they even take Vespas off-road racing.
In fact, you can feel the rigidity of the Vespa's chassis the moment you sit on it and start riding. We define the ride as "European," stiff but well-mannered. Even at higher speeds where other lesser scooters will start to rattle and shake, Vespas remain true even above 100 km/h. The 300 GTS is the most powerful Vespa in the lineup, currently, and its acceleration will shock you. Some die-hard Vespa aficionados will argue that the model can achieve highway speeds pretty easily with room to spare, though even if it's still not allowed.
So is it worth it?
With a rather high asking price, it's not totally wrong to think that a Vespa won't be worth your money at all. For an S 125 i-get, you're paying as much as a Honda ADV150, coming in at around the P150,000 mark. Then if you want to get into the 150cc models, you're looking at price tags around the P200,000 mark. That's not quite optimal for a scooter just to get a scooter. P200,000 can get you a nice 200cc model from another brand, and Vespa's 300cc models can even outprice expressway-legal motorcycles.
From a financial standpoint, a Vespa simply isn't worth the money that you have to put in, given that you can buy an expressway-legal bike for the same price as a top-spec 300 GTS.
That being said, however, it's not just about the roads that you can and cannot take with a Vespa. First and foremost, it's a scooter so the main focus of its kit is to be a very capable vehicle in the city and in smaller roads. On top of that, it's no mere motorcycle, it also doubles as a fashion statement, and is one of the best-looking bikes around. Don't be shocked to see a Vespa parked next to a liter bike at meets and hangouts. If you already have a big bike that is expressway-legal, it makes perfect sense to have a Vespa in the garage for the times when you don't feel like lugging around a huge motorcycle in the heat of traffic. Either that or it can be your only motorcycle and you can stick with it for as long as you want. If you get bored, you can just sell it. Desirability is a huge factor with Vespas, and there will always be someone happy to scoop up your scoot should you decide to sell.
---
Related Articles
Here are a few reasons why hitting the road on a Vespa is an excellent idea.

Here are a few mods and upgrades worth considering when it comes to improving the performance of your scooter.

Looking to buy an automatic transmission motorcycle? Let's take a closer look at two of the most popular transmission types: DCT and CVT.

Here are three reasons why the Vespa Primavera 150 is the best all-around Vespa, and why it's worth considering for both casual commuters and enthusiasts.

Here are a few tips to decide if you should get a big bike or small bike depending on your lifestyle.
---
Latest Features
Here are 5 helmets to consider if you're looking for a high quality helmet that won't break the bank.

Here's Jinno's list of top 5 accessories for the Yamaha Tenere 700, all of which can easily be installed by average home mechanics.

Let's take a look at our top 5 picks for the best big bikes under 200 kilograms on the market today.