The Royal Enfield Himalayan is undoubtedly one of the best value for money adventure motorcycles currently available in the market. The Royal Enfield Himalayan brings quite a lot to the table with its decent performance, features, and overall build quality. The Indian manufacturer has truly struck a chord with the growing ADV market all over the world and in the Philippines.
However, just like all things, the Royal Enfield Himalayan isn't perfect. While it does make a strong case for itself in the entry-level adventure bike segment, there are a few things which we think can be improved upon to make this bike an even better all-around performer. Let's break it down a bit further.
Engine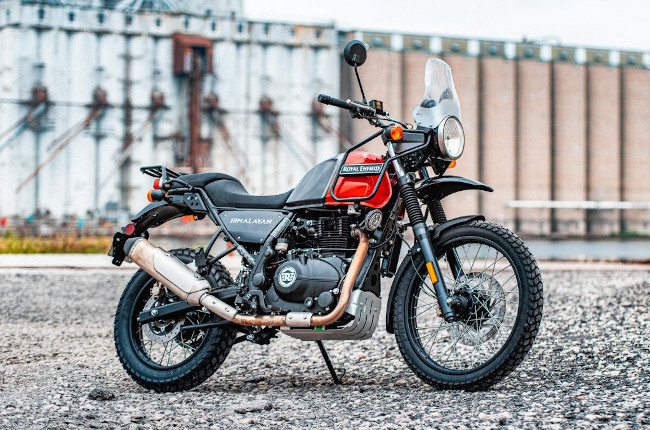 The Royal Enfield Himalayan is powered by a 411cc single-cylinder engine. It's rated for 25 hp and 32Nm of torque. While this bike is 100% expressway legal, there are plenty of other motorcycles out there with the smaller engines which pump out more power and torque than the Himalayan. Having said that, the Himalayan struggles to maintain highway speeds in excess of 100 km/h.
Based on our experience, the sweet spot for this bike is somewhere between 90 to 110 km/h. As such, you may find it rather difficult to keep up with your faster riding buddies, as well as to make sudden overtaking maneuvers. The Himalayan can definitely benefit from a slight bump in power. Perhaps a 10 to 15 hp increase would definitely pay dividends when it comes to the overall tractability and street performance of this motorcycle.
Transmission
The royal on the field is equipped with a rudimentary five-speed manual transmission. Bereft of any modern day technology such as a quick shifter or even a slipper assist clutch, this bike's basic transmission is greatly part of the charm it brings to the table. However, Royal Enfield has equipped this bike with rather short gear ratios to account for its off-road capability. That said, it can be all too easy to run out of gears especially when traveling at higher speeds.
Perhaps somewhere down the line, the Himalayan could be outfitted with longer gear ratios particularly at 3rd to 5th gear. Who knows, maybe Royal Enfield could come up with a six speed transmission in future iteration of the Himalayan. It would be nice to see a thoroughly highway capable adventure bike in the form of a new and improved Himalayan.
Suspension
The Royal Enfield Himalayan is equipped with a decent suspension set up which makes it very capable off-road. Its long travel front and rear suspension gives it adequate ground clearance as well as the agility of a big dirt bike—contrary to its bulky appearance. However, to make this platform shine even brighter off-road, it could use some adjustability, and offer the right or the ability to tweak the suspension settings according to their preferences.
Offering adjustable suspension also gives the rider the ability to tweak the way the suspension handles the terrain depending on various conditions. This would definitely make the Himalayan an even more capable platform particularly for those who really enjoy riding off-road.
Brakes
Based on our experience, the brakes are by far the weakest point of the royal and feel Himalayan. Yes, the bike is equipped with a rather rudimentary braking system consisting of single discs both front and rear, and rather small rotors. It does come equipped with ABS, however, one pull at the lever leaves quite a lot to be desired. The initial bite of the brakes is rather timid, And you really have to squeeze the lever in order to get the feedback you're looking for. Additionally, when ABS does kick in, it feels rather intrusive and can easily unsettle novice riders.
The brake feel of the Himalayan can easily be improved by way of a new set of brake pads and swapping out the stock brake lines with high quality steel-braided units. This has been done many times, and has been reported to deliver substantial improvements to overall braking performance. Unsurprisingly, a good set of brakes goes a long way in instilling confidence to the rider in all sorts of environments and terrain.
Tech features
Lastly, the Himalayan could definitely use some tech features found on other motorcycles. For starters, we could certainly use a built-in charging port. This will certainly come in handy, especially on long distance adventure rides. Additionally, several other motorcycles in the industry are beginning to incorporate Bluetooth technology and the integration of mobile applications into their motorcycles. Perhaps Royal Enfield could explore this technology for future models.
As you can probably tell, we found it very difficult to nitpick on the Royal Enfield Himalayan. This bike simply is an amazing machine out of the box, especially when you take into account how much this bike retails for. For just P304,000, you get a thoroughly capable adventure tourer which boasts expressway legality, decent engine performance, and robust underpinnings. At this price point, there really is nothing to complain about. Additionally, a lot of the stuff we mentioned above are available as upgrades and accessories in the vast aftermarket for this motorcycle.
---
---
Related Articles
Why do all modern motorcycle engines have a rev limiter? What is it for and why does it sound the way it does? Read on to learn more.

Multi-compound tires are pretty much ubiquitous in the world of big bikes. What exactly is a multi-compound tire, and what are the benefits associated with them? Read on to find out

When it comes to four-cylinder motorcycles, it's really a toss up between inline-four and V4 engines. Read on to learn the difference and to see which one's better.

The BMW F 900 R is one of BMW Motorrad's most popular bikes, and for good reason. Here are a few things that make this bike one well-rounded machine.

Here are a few things that Triumph has remarkably executed with the Street Triple RS naked street bike.
---
Latest Features
Why do all modern motorcycle engines have a rev limiter? What is it for and why does it sound the way it does? Read on to learn more.

Multi-compound tires are pretty much ubiquitous in the world of big bikes. What exactly is a multi-compound tire, and what are the benefits associated with them? Read on to find out

There are three popular types of oil filters, each with their corresponding claimed benefits. Read on to learn the different types and which one is the best.