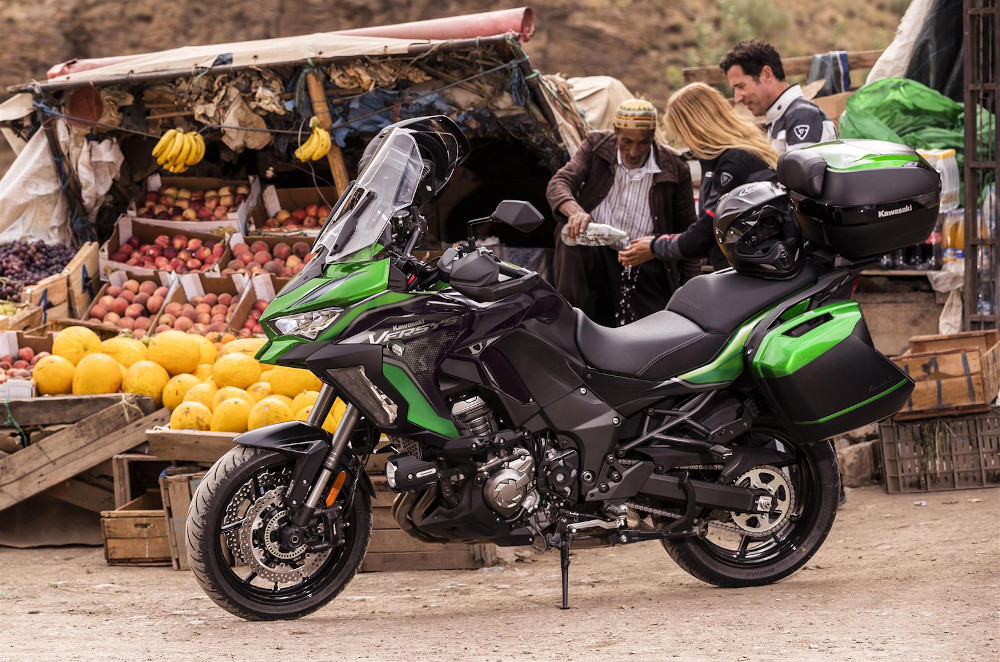 When it comes to its big bikes, Kawasaki undoubtedly offers the best value among the big four Japanese manufacturers. Unquestionably, bikes like the Kawasaki Ninja 400 enable a larger range of riders to enjoy the big bike experience. However, Kawasaki's value offer remains true even for its most expensive models.
The Versys 1000 is the company's top-of-the-line adventure tourer. It shares an engine with the massively popular Z1000R and the sport-tourer Ninja 1000 SX. It is one of the best value for money adventure-touring vehicles on the market today thanks to its abundance of technology, creature comforts, and performance. Let's look more closely at a few features of this bike, and why you should definitely consider it if you're in the market for a performance-oriented tourer.
Versatility
As its name suggests, the Kawasaki Versys is all about versatility. Sure, it may take the form of an adventurous touring bike, however, the Versys 1000 packs similar underpinnings as its naked and sport siblings, the Z1000 and Ninja 1000 SX respectively. As such, it's equally at home slugging it out on the highway, carving up some twisty roads, and dare we say, on the occasional trackday. Kawasaki sure hit the nail on the head when it comes to a functional all-rounder, and you'd be hard pressed to find a bike of equal value packing as much punch in terms of tech and performance.
Pricing
Speaking of price, the Kawasaki Versys 1000 is by no means an inexpensive motorbike, but with the number of amenities Kawasaki has included, it's difficult to argue with the Versys 1000's value for money. The SE edition, which comes with a plethora of the features, retails for P900,000. Given its cutting-edge technology and high level of performance, this bike is undoubtedly one of the most adaptable, go-anywhere motorcycles on the market right now.
Performance
Due to its road-bias, the Versys 1000 performs more like a sport-tourer than a genuine adventure motorcycle. This is not to mean that it cannot be driven on a rough gravel road, though. It shares a 1,043cc inline four-cylinder engine with the Ninja 1000 and Z1000R, as was previously mentioned. As a result, it has 156 horsepower available—considerably more than other adventurers in the liter class. The end effect is a strong, assured ride that promises long-distance speed and comfort in a compliant and maneuverable chassis.
It's loaded with tech
The Versys 1000 is far ahead of the competition in terms of features from a technological standpoint. Kawasaki has outfitted the Versys with all the technological features you might want, just like European class-leading ADVs and tourers. For starters, an inertial measurement unit (IMU) with six axes, multiple riding modes, and a full-color TFT display with Bluetooth smartphone connectivity are just some of the top-notch features on offer. The IMU makes it possible to quickly access safety systems including cornering ABS, traction control, and cornering lights. Even a bidirectional quick-shifter is included on the bike for sporty riding.
Instantly recognizable styling
In terms of style, Kawasaki used the traditional Ninja aesthetic that has been used on the Versys for a number of years. Yes, it keeps the razor-sharp, angular, Transformer-like design that is frequently associated with Kawasaki's motorcycles. In essence, it resembles a Ninja 1000 on stilts. Of course, the Versys 1000's enormous size is one aspect that cannot be disputed. Due to how tall and wide it is, this bike is undoubtedly going to catch people's attention on the street.
---
---
Related Articles
Here are a few reasons why Kawasaki's Ninja 650 is one of the best value for money middleweight sportbikes in the market.

Newbie motorcyclists will surely want to personalize their machines—here are a few good upgrades to start with.

Kawasaki's new Z650RS offers the versatility of a modern naked bike with dapper, retro looks. Here are a few things to love about it.

Have you ever wondered why motorcycles have a separate starter switch from the ignition? Read on to find out why.

Yamaha XSR700 or Kawasaki Z650RS? Let's take a closer look at these two bikes in this spec sheet showdown.
---
Latest Features
Have you been waiting for that sign to pull the trigger on a new retro-style scooter? Well here are three awesome things about the Peugeot Django 150i.

Here are the most common injuries associated with riding a motorcycle, and what you can do to avoid them.

Here are a few reasons why Kawasaki's Ninja 650 is one of the best value for money middleweight sportbikes in the market.