/ Review
2022 Triumph Tiger 900 Rally Pro Review
The Tiger came roaring into our hearts over the weekend, and it's one heck of a bike.

on Jul 01, 2022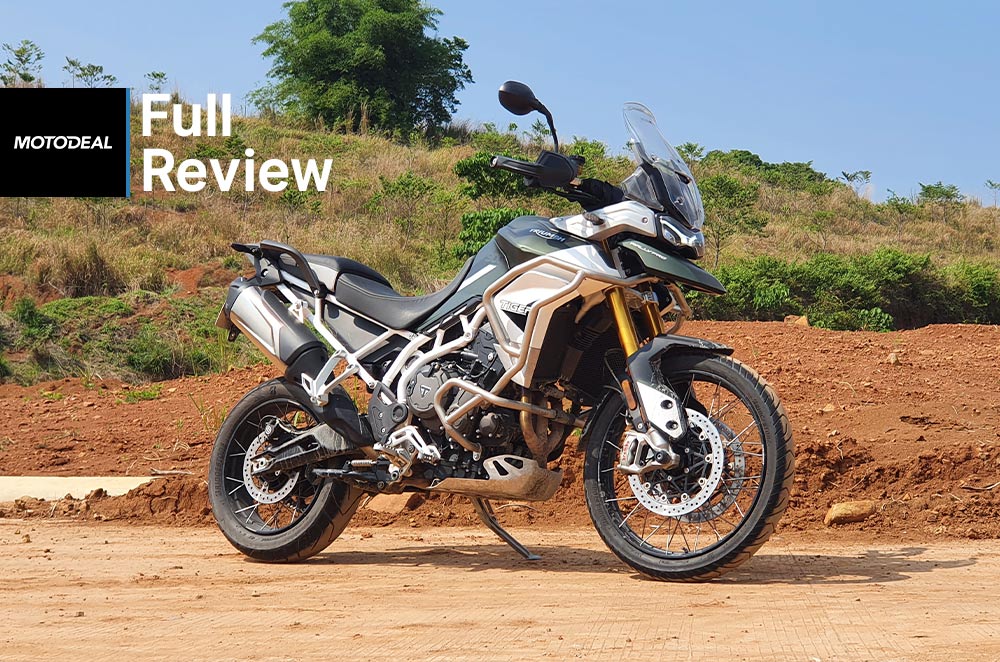 Up until the Tiger 1200 was launched in the country, the Tiger 900 was the model that Triumph pitted against other adventure tourers in the market. There are two Tigers in Triumph's stable, one loves tracking paved roads, and the other loves going on the dirt.
So here's the Rally Pro model, but with road tires. Perhaps borne from the need to keep costs down while keeping the unit readily available for review, this little crossover of a Rally GT Pro Tiger opens up a rather interesting question and perspective for us this time around. If you get the Rally Pro model, can it double as an all-road tourer? Is it still good?
2022 Triumph Tiger 900 Rally Pro Review
What You Will Like
Loaded with tech features
Fun three-cylinder engine
Massive amounts of torque
Comfortable and adjustable suspension
What You Won't Like
Gauge cluster might be hard to navigate at first
Buggy tire pressure monitoring system
Exhaust note's a little uninspiring
Pricey
Design
Utilitarian and functional, the Triumph Tiger 900's anything but impractical when it comes to its exterior design. Other than its classic models, modern Triumph motorcycles beat to the sound of their own drums, as seen with the novel design of the Street Triple, the Gorgeous Speed Triple, and the Rocket 3 power cruiser. The Tiger family shows uniqueness among its own ranks, with the Tiger 660 showcasing a totally different look compared to the 900 and the 1200 Tigers.
The Tiger doesn't look all too unique when compared to other adventure bikes. It's a safe look for the model since it straddles the line between looking too unique versus too functional. On that spectrum, we'd put the KTM 790 Adventure in the novel corner while the BMW GS falls under the functional end of things. That being said, it's a nice mix between style and function. The matte green colorway that we got is gorgeous, and with its white and silver accents all over, it's a treat to look at. The gold inverted folks also add to the look of the bike, and the wire-spoke wheels give it a more rugged feel. The green color is also perfect for getting dirty, and you won't mind skipping the bike wash from time to time, trust us.
Creature comforts also include an adjustable windshield, wide 935mm handlebars, heated seats for both the passenger and the driver, heated grips, a full-color 7-inch TFT display, backlit switches, LED headlights, LED indicators, and LED taillights, a unique daytime running light, and the model we got came with a luggage rack as well that had a bunch of tie-down points for your bags or for securing a top box. There are also engine protection bars painted in silver that we were able to test, unfortunately. These bars were pretty robust as well, only suffering minor scuffs after a very minor tip-over. That being said, this bike stands pretty tall with a seat height of 810 to 830 mm, which would be a hassle for small riders below 5 feet and 5 inches tall, or about 170 centimeters tall, though there are also options for lowering the bike even more.
Performance
What better way to test out the Tiger than on a north loop. The route we took spanned 500 kilometers from start to finish, and the trip took about half a day with multiple stops along the way.
On the highway, the bike performed admirably, being ultra planted on the straights and the well-paved roads of NLEX. On the bumpier sections of the road leading outside the city, the Showa suspension system was a treat and did an amazing job of smoothing out any and all imperfections. Though the tuning was a little soft for sportier riding, causing the front to lose a bit of traction from time to time. It's a good thing that the front and rear suspension have adjustments that let you fine-tune just how soft or hard your ride will be. Paired with the sport-touring tires, the Tiger was an exceptional road adventurer with it losing out just a bit in the twistier sections of our trip because the suspension was dialed in for comfort rather than stiffness. Again, this gripe can be remedied thanks to the adjustable Showa suspension. There was a lot of brake dive whenever we squeezed the front lever. The Brembo Stylema calipers are amazing at what they do, and they could have felt better if the bike's suspension was stiffened up a little as well.
Now, let's talk about the engine, and it's not your typical triple. It's Triumph's take on a crossplane of sorts and is closer in feel to a V-twin, or a parallel-twin with a 270-degree firing order. The top-end is lacking, but it makes up for it with tons of usable power and torque. While cruising, you can be assured that you have some passing power on the highway, which means that fiddling with the gearbox can be kept to a minimum.
As far as fuel economy goes, however, it's about par for the course for its displacement range, averaging about 18 km/L on the highway and about 13 in the city. Granted, the highway run was a little spirited and the city runs had a bit of traffic. On a typical Sunday morning, expect these figures to go up given efficient riding habits. While tracking the twisties, fuel consumption sat somewhere in the middle during our testing at about 16 kilometers per liter. Given the 20-liter fuel tank, however, that means that you can get a substantial amount of range on a full tank of gas. You could get close to 400 kilometers on a single tank, and more if you hyper-mile the Tiger. We took this bike out on a 500-kilometer trip up north and only had to gas up once during the whole endeavor.
Comfort
Given the distance of our trip and the quality of the roads that we encountered, the Triumph Tiger 900 did exceptionally well to keep the ride smooth and comfortable even after long hours on the saddle. The seat was firm and ergonomically shaped to allow control and movement around the bike. It doesn't force you to hug the tank so much because the slope of the seat isn't all too aggressive and it lets you shift your butt forward or back with ease. To top it all off, both the passenger and the pillion seats on the Rally Pro are heated. While the Philippines is hot, it's comforting to get a nice hot seat and a nice heated grip if the rain decides to fall during your journey. We got to test this a little and trust us when we say that there is some real power in these heaters.
Otherwise, the seating position is very neutral, and it puts you in an optimal position to either stand or sits comfortably for long periods of time. The bars are also nice and wide so the bike feels nearly weightless as you ride it even while rolling slowly. The adjustable windscreen helps a lot while going on the highway and it cuts down a massive amount of air that hits your body. We only wished that the screen rose slightly higher because riders about 170 centimeters tall might need to slouch a little if they want a quiet ride down the highway.
Tech and Safety
Adventure bikes of this class have to be on the bleeding edge of tech, otherwise, rivals will come out of the woodwork and steal sales away. Thankfully, the Tiger 900 is loaded with features that make it one of the most well-equipped in its class coming with several tech features which start out with the gauge cluster. Coming in at 7-inches, it features a full-color TFT screen that also boasts an anti-reflective layer that allows it to be visible in all weather conditions. On top of that, the cluster can also pair with your smartphone and give you turn-by-turn navigation and even GoPro control that can be accessed via the controls found on the handlebars. Though, it was hard to navigate through at first. It's not totally clear what buttons to press and there are quite a few of them on the left handlebar, but after a while it was almost second nature to use. Almost.
Speaking of those controls, they're also backlit well, but the color of the LEDs might not be to everyone's liking as they are colored yellow. It's great for nighttime visibility, but we wished it could have been changed. Perhaps one gripe that we had with the Tiger was the consistency of the fuel gauge. Right after topping up at the gas station, it took a while for the range and the fuel floater to calibrate, which scared us a little bit. Speaking of other gas station shenanigans, the tire pressure monitoring system was a bit on the glitchier side of things because it triggered even if our tires were set to the correct pressure after plugging up a puncture. After ensuring that there were no leaks, the tire pressure monitoring system continued to flash. Perhaps the tires were worn to the point where they couldn't hold air properly and messed with the system. Either way, however, it was good enough to detect the first puncture, so it gets a pass but Triumph's service center might need to take a look.
Other than that, however, you get the full suite of rider aids and modes which allow you to change how the bike feels. On top of the usual sport, normal, and rain modes, you also have the option to go with an off-road mode, which is specific to the Rally Pro variant. There is also traction control present in the bike's systems and ABS, and both are switchable. Careful with your throttle if you do decide to turn off traction control since the Tiger has a rather ferocious bite and will lift its front under hard acceleration (much to our delight).
Verdict and Price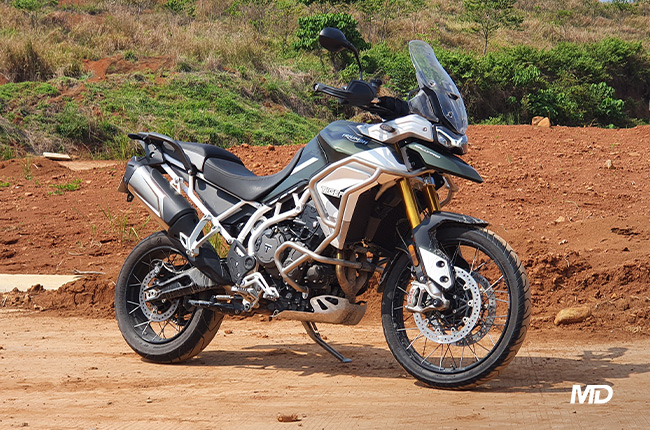 It's been a while since we've had flagship-worthy specifications on another not-so-flagship bike in the segment. The Triumph Tiger 900's in a great place considering that a certain European brand isn't as happy to deck out their heavy-middleweights, but Triumph's totally willing to shell out its top-dollar items for you if you don't want anything with a huge engine.
We also have to consider whether the Tiger 900 is beginner-friendly, and to that we say, it'll take an extremely disciplined rider to start out on one especially one that's never been on a bike. In that regard, we recommend that you look elsewhere if you are just starting out, perhaps the Tiger 660 is a better bet so long as you don't plan to go off-road whenever you travel.
However, in the hands of a capable rider who knows their stuff, the Tiger 900's an extremely potent tool on or off the road. For the price of P1,150,000, you get a fully-equipped package that can go toe-to-toe with the rest of the heavy middleweights in its segment. For close to the same price, you can get the BMW F850 GS, but you're down by about 50ccs and a ton of features, so it looks like the Triumph's an extremely good deal considering the gap in price. Following that, however, you have the KTM 790 Adventure R, which is perhaps the closes rival to the Triumph in terms of capability and features. Side-by-side, however, you might be a little hard-pressed between the two, but the Triumph's high price makes it a bit of a headscratcher to buy considering that there are a bunch of options out in the market that are cheaper. Still, if you do wish to get into it, note that the riding experience will be totally premium. Even if it does cost a bit of money to get, at least you're assured of a bike that'll perform as its price tag suggests.
Photo Gallery
---
---
Related Articles
Here is our first ride impressions of the brand-new 2023 Honda Transalp XL750 after a short test ride.

Let's take a closer look at the new 2023 Triumph Street Triple RS, and what it has to offer now that it's packing more tech and performance than ever before.

The Pan America is not without its flaws, but it's a great first attempt at a proper adventure-tourer from the brand.

4.2

/

5

We recently had the opportunity to spend some time with the BMW F 850 GS. Here's what we think about it.

4.4

/

5

Trust us, it doesn't take a lot of convincing to want this bike.

4.5

/

5
---
Latest Review
Read on to learn more about the capable Aprilia Tuono 660, a disruptive force in the middleweight sportbike segment.

4.4

/

5

We got the chance to run the 2023 Triumph Speed Triple 1200 RR through its paces, and needless to say, it was a thrilling, adrenaline-fueled ride.

We recently got our hands on the shiny new Shark Spartan RS helmet, and we were thoroughly impressed.