In the motorcycle world, the adventure segment is dominated by two letters, G and S. Indeed, the BMW GS moniker has been around for decades, and has pretty much set the standard when it comes to the very essence of adventure bikes. However, it's usually the biggest of the bunch—the R 1250 GS—that gets the most attention. There are, in fact, a number of other models that also bear the GS name, which I would argue are also worthy of some attention.
What You Will Like
Surprisingly approachable and easy to ride in all environments.
What You Won't Like
Lackluster power delivery
Case in point: the BMW F 850 GS. Coming from a sportbike and naked bike background, it's understandable why the R 1250 GS never really appealed to me. Even when it comes to adventure bikes, I always find myself gravitating towards the likes of the Yamaha Tenere 700, Aprilia Tuareg 660, and KTM 790 Adventure. Well, what about the F 850 GS? Surely, BMW should have hit the nail on the head with the middleweight enduro-ADV bike, right? Well, read on to find out.
Design
From a design standpoint, it looks like the BMW F 850 GS is designed to go well beyond the confines of the pavement. Just like its bigger sibling, the 1250, the 850 also sports unmistakable BMW design cues such as the angular bodywork, LED headlight, long-travel suspension, and beautiful wire-spoke wheels. The F 850 GS does, however, come across as a much more capable off-roader simply because it's lighter and much nimbler than its bigger sister. Otherwise, it fits perfectly into the BMW GS family of adventure bikes.
Of course, being a BMW, the F 850 GS elevates itself in terms of high-end design. It's decked out with full LED lights, a mid-rise windscreen, and an upswept exhaust pipe, giving it the look and feel of a thoroughbred off-roader. Additionally, the slick TFT instrument cluster is massive, albeit devoid of unnecessary features, making it surprisingly easy to use. Towards the back of the motorcycle, passenger grab handles and a rear-mounted luggage rack remind you of this bike's practical capabilities.
Performance
Having ridden middleweight ADVs such as the Yamaha T7 and KTM 790 Adventure, I was expecting the F 850 GS to pack a manic, almost hooliganistic engine that was eager to pop wheelies and let the rear out on a loose gravel road. Admittedly, I was slightly disappointed with the F 850 GS' engine performance, as it felt lazy, sluggish, and hesitant to accelerate hard. Even when I switched to the Dynamic riding mode, the F 850 GS' 853cc parallel twin was unable to satisfy my thirst for exhilarating acceleration, despite churning out a respectable 90 horsepower.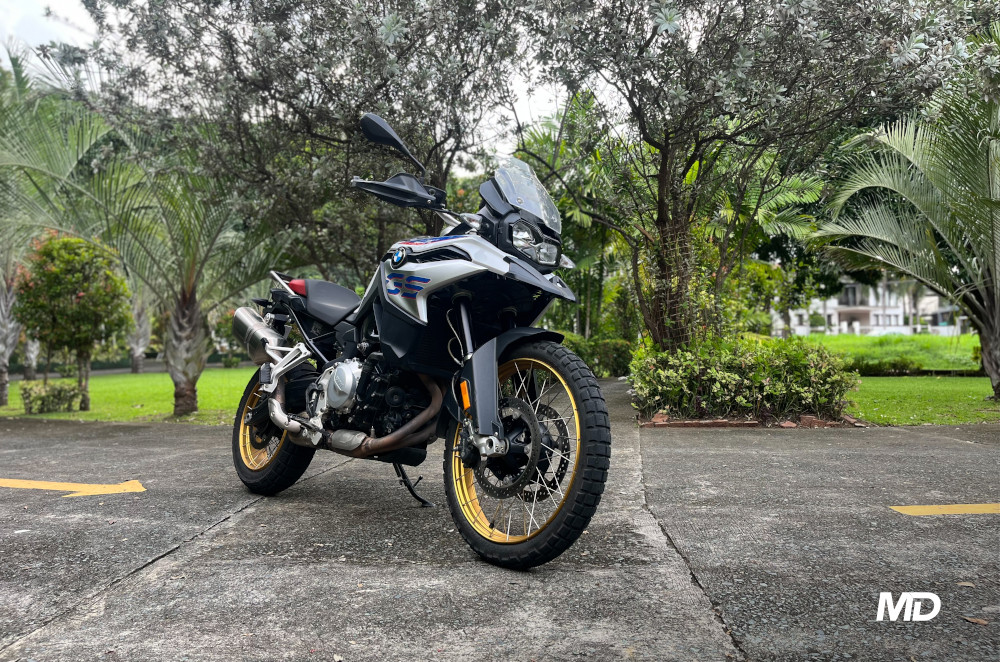 One thing I did notice, however, was the bike's extreme comfort on long stretches of highway. Indeed, the BMW F 850 GS is geared much longer than its rivals, which could be to blame for the sluggish acceleration I was experiencing. Although I did not get the chance to test the bike off-road, its long-travel suspension was super comfy in the city, and made the potholes of EDSA seem non-existent. Which brings us to the topic of comfort.
Comfort
Given the way the F 850 GS looks, mated to its surprisingly docile power output, I was led to the conclusion that this bike is better suited to a rider who wants a more relaxed ride, albeit one that's capable of going anywhere, anytime. As mentioned earlier, the F 850 GS' long-travel suspension made mincemeat out of the pothole-laden pavement of EDSA and C5. Needless to say, given the bike's suspension and wide handlebars which offer a ton of leverage, it's a thoroughly confidence-inspiring ride.
The same can be said about the bike's saddle, which at a glance, resembles that of an enduro bike with its rather slim profile. It is, however, extremely soft and cushy, and could very easily keep you comfortable for long hours on the saddle. Up front, the standard windscreen does create a bit of turbulence resulting in wind noise getting through your helmet, however, it isn't too tall that it creates a bubble of hot air right where you're seated, and neither is it too short that you're exposed to all the buffeting of the wind.
Tech and Safety
I'll have to admit that given the F 850 GS' premium starting point, I was expecting a lot more in terms of technology. For starters, despite having a sublime suspension setup, the front forks don't feature any adjustability whatsoever. This means that sure, the F 850 GS is well-suited to riders of a more-or-less standard weight, however, lighter riders may find the suspension too stiff, especially in an off-road scenario. Conversely, heavier set riders will find the bike too soft and wallowy.
What is impressive, however, is the full-color TFT instrument cluster that's surprisingly easy to use. It's feature-loaded, while at the same time being user-friendly. Riding modes can easily be selected with the flip of a switch, allowing you to change the character of the engine at a moment's notice. Speaking of riding modes, I set the bike to Dynamic mode for pretty much the whole duration of my review, as I found it to be the most responsive overall. Putting it on Street mode saps the engine of even more performance, making it all the more docile, albeit much easier to ride.
Another gripe I have about the F 850 GS is that it's missing a quickshifter—something that comes standard in its Austrian rival. That being said, equipping this bike with a quickshifter will surely give it a bit more peppiness and character, as well as make for a faster accelerating bike. That said, for the casual adventure rider and long distance tourer, the lack of a quickshifter is probably forgivable.
The verdict
Despite its rugged looks and aggressive stance, the BMW F 850 GS is a surprisingly approachable and easy-to-ride adventure bike. Everything about the bike exudes premium BMW character and surgical precision, and could very well be used as a tool for conquering city streets, twisty roads, and technical off-road terrain. Starting at P795,000, the BMW F 850 GS is by no means a budget-oriented adventure bike. However, you'd be parting ways with your hard-earned cash knowing full-well that you've acquired a reliable and dependable do-it-all adventure bike.
Is the BMW F 850 GS suitable as your only motorcycle? Sure, if you're not looking for an aggressive, sporty ADV bike, the F 850 GS is a strong jack of all trades, and could very well be your only motorcycle. Furthermore, given its super approachable seat height, it could open doors to beginner ADV riders—especially those not gifted with height—to swing a leg over a mid-sized, off-road capable adventure bike. In fact, given the bike's overall proportions and maneuverability, I'd say that I prefer the F 850 GS to the R 1250 GS.
Photo Gallery
---
---
Related Articles
We were one of the first to get our hands on the KTM 890 Duke R in the Philippines. Read on to see what makes this bike so special.

The Pan America is not without its flaws, but it's a great first attempt at a proper adventure-tourer from the brand.

4.2

/

5

The Tiger 900 Rally Pro impressed on many different levels.

4.6

/

5

Here's our full review on CFMOTO's most premium street bike, the 2022 CFMOTO 700 CL-X Sport.

4.5

/

5

Trust us, it doesn't take a lot of convincing to want this bike.

4.5

/

5
---
Latest Review
Let's take a closer look at HJC's newest mid-tier touring helmet, the HJC i71.

HJC's newest entry-level helmet, the C10, is indeed a capable all-rounder helmet. Read on to find out why.

As an entry-level Bell helmet, it gets a lot of things right. Here's our in-depth and honest review of the Bell Qualifier helmet in the Ascent colorway.