/ Review
2022 Harley-Davidson Pan America 1250 Review
Sans a few shortcomings, Harley's first adventure bike's actually pretty good.

on Dec 16, 2022
Who would have thought that Harley-Davidson could make an adventure tourer? Prior to the Pan America's release, we couldn't believe that Harley-Davidson, a company that was extremely associated with its cruiser culture and identity, would draw up something that would put them back on the map but not for all of its core audience.
Once the bike was launched, however, the press and the community were asking many different questions. The bike looked good, it seemed great on paper, and it stirred some long-time Harley riders and even non-Harley riders to consider it. Harley-Davidson was put back on the map with the Pan America, as evidenced by the sales numbers around the world, but is it any good? There's no doubt that Harley-Davidson made a bike that broke new ground with certain innovations that are industry-firsts and stuff that H-D can be proud of, but Harley will be competing in a very competitive space that's populated by several brands that are more than equipped to deny the fledgling nameplate's stake in the market.
2022 Harley-Davidson Pan America 1250 Review
What You Will Like
Automatic lowering function is pretty useful for shorter riders
Strong performance from the Revo Max engine
Arguably the best-looking bike in its segment
What You Won't Like
Exhaust pipe placement can cause major discomfort while not moving
LCD gauge cluster is a little slow to respond
Not exactly top-notch build quality
Design
One thing that Harley-Davidson got right is with regard to the Pan America's design. The front borrows the square shroud design found on the Road Glide models but with a more modern twist. The front fascia totally works for the adventure-touring segment while remaining distinctly Harley. Other adventure bikes tend to be quite utilitarian in their design approach, but it's safe to say that the Pan America is one of the if not the most stylish adventure-tourer out in the market for many.
Other things are also well-thought-out with the Pan America such as the windshield that's actually tall and adjustable with just one hand. The LED lights are also fantastic in the dark, lighting up the road extremely well even after the sun goes down. One design gripe that could come up would be with regard to the side profile of the bike. On the left side, it's a bit ungainly. On the right side, it looks absolutely gorgeous, though, that beauty comes at a price. The 1250cc V-twin engine looks great on the right, and you can see the exhaust pipes sticking out on the right side covered by some stylish heat shields. The moment that you start trying to look at this bike on its left, however, it's a little sparse. Still, don't let that deter you. The overall look of the Pan America is definitely a step up compared to other adventure bikes that lean quite hard into the Rally racer style, though, your preference may vary.
For build quality, however, it's a bit of a mixed bag. On the one hand, most of the touch points are solid like the buttons, footpegs, and handlebars, but on the other hand, there are some bits that rattle and others that don't look all too secure. There are tons of logos all over the bike, and it's extremely apparent that Harley is proud of its creation but lots of logos might not appeal to a lot of people. Still, I maintain that it is one of the best-looking motorcycles in the adventure-touring category, personally at least. I just wish that it came in the launch Orange and White colorway. That would be a showstopper in comparison to the all-black test unit that we got.
Performance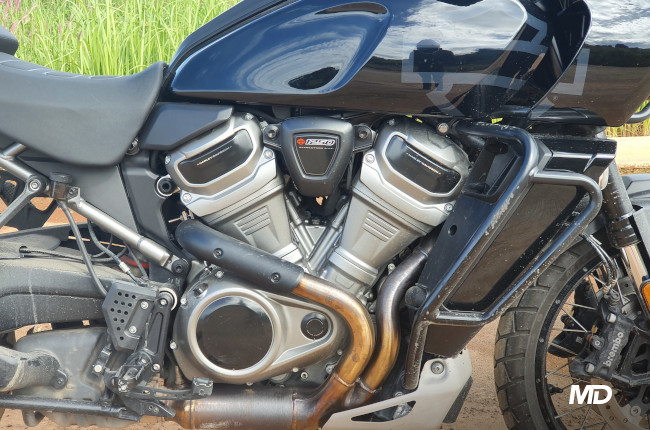 Harley-Davidson introduced the Pan America with a new Revolution Max 1252cc engine that's got some pretty impressive figures on paper. With 150 hp and 127 Nm of torque, it's got enough power to keep up and even leave behind some of its other rivals and then some. Though, those figures are just on paper. Other reviewers have already proven that the Pan America is decently powered but it lacks a bit in torque delivery. In my experience, it was good enough but the torque came a little softer than most other bikes in the class. Twisting the throttle netted a decently-sized wave of torque, but nothing that would allow you to unwittingly lift the front wheel. The throttle has a bit of a digital filter to it so you can expect acceleration to be smooth throughout the rev range. It's also uncharacteristically un-Harley-like since the engine is a thoroughly modern piece of engineering. Even the valves have a hydraulic self-adjusting lifter system which totally eliminates the need for valve clearance checks after you click over a certain number of kilometers. The engine is definitely a gem in the Harley lineup, and one that I thoroughly enjoyed out on the highway. If you want to unleash more of the engine's performance and response, however, flip the switches over to sport mode. Doing that will sharpen the throttle and allow you to get a little wilder. Off-road mode is a balance of smoothness and power delivery. It'll allow you to tame 150 horses on the trail and put the suspension into a more dirt-oriented state.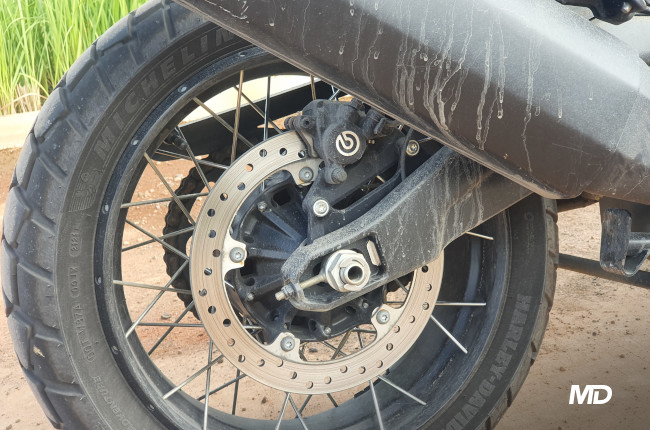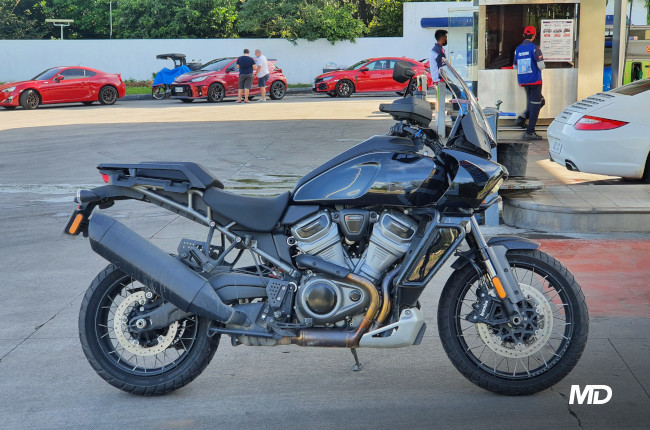 That being said, the suspension in the Pan America was definitely road-biased for the most part. Switching from road to off-road mode had some effect on the handling, but it wasn't night and day. There are some bikes out there that lean heavily on the off-road side of adventure touring, but not the Pan America. Heck, even the OEM dual-sport rubber is rebranded Michelin Anakee Adventures, which is a 50/50 road/off-road set. On the road, the Pan America did quite well while carving up some twisties. The front and rear brakes are mid-tier Brembo units that offer great feel and modulation, while the steering feedback wasn't so vague. For an adventure bike, it's pretty fun to tackle the twisties and the OEM rubber held up quite well, going up to operating temperatures and holding a line without much drama.
The fuel economy wasn't too bad on the Pan America. Usually, I find that adventure bikes in the above 1,000cc displacement class have the range of an average economy car and the consumption of a small gasoline-powered sedan in ideal conditions. On the highway, I got about 19 kilometers per liter, the same as Jinno during his time with the exact same bike. Once I exited the highway and tackled some back roads, that figure dropped down to a respectable 15 km/L. Things were absolutely bad once I got into the city, however, as the bike's economy figure dropped down to just about 10 km/L. I was able to complete a 500-kilometer ride with the Pan America and refuel once in between which pins the range of this bike at about 300 kilometers from a full tank with 21.2 liters of fuel, but that had little to no traffic on the road.
Practicality and Comfort
Other Harley-Davidsons may look comfortable, but they often aren't. The Pan America, however, is one of the more comfortable Harleys I've tried. The seat isn't as plush as I had hoped, but the suspension more than made up for it. On top of that, you also get a neat little party trick in the form of the automatic lowering feature which allows shorter riders easier access to the ground. If you're used to tall bikes, however, this feature may be a little unsettling until you get used to it. That being said, the seat sits quite high off the ground, at about 850 mm, but the special lowering feature can bring that figure down under 800 mm.
However, even with some accessibility features baked in, the Pan America was still a bit of a handful to wrestle with in traffic or while in stop-and-go situations. Coming in at 254 kilograms wet, it's a massive machine to lug around. Though when it's going it feels planted more than weightless. The clutch was rather heavy, but that can be chalked up to the fact that the unit we got had a misadjusted cable. Although the most damning con of this bike was the placement of the exhaust pipes.
There were a few bursts of rain during my time with this bike which left my top half and my left leg drenched. My right leg, however, was rather dry in comparison because of the engine heat. On dry days, it go so hot that I had to consciously avoid the exhaust pipes on the right side, especially while I was stuck in traffic. My right leg felt like it was getting roasted. This is definitely not a bike you'd ever want to ride with in shorts or normal jeans. Riding jeans offer some protection against the heat, but even that wasn't enough to shield my leg. It's a give and take here, on the one hand, the Pan America is a great highway cruiser, and a very decent back road tracker. On the other hand, it suffers from being too hot to handle when there's no air flowing around it.
Technology and Safety
As far as technology goes, Harley threw almost everything at the Pan America in a bid to compete with other heavyweight heavy-hitters in the segment. As such, we get cornering rider safety enhancements that don't totally inhibit a rider while tackling twisties. Of course, ABS is standard but you also get cornering ABS. Traction control can also be switchable and it's also a cornering system that allows riders to be safe but relatively fast at the same time. I got to test these systems out and they worked well while I was at the helm. No complaints about the cornering systems here.
However, I did find that the road and sport modes were not too distinct. I preferred leaving the bike in road mode since it smoothened out the fueling of the bike. Sport mode was a little snatchy in comparison while rain mode was just plain boring in the dry but useful in the rain. Off-road gave the suspension some damping adjustment to tackle the trail, but my testing was predominantly road biased.
However, I will say that Harley's execution of the Pan America's cockpit is pretty good. I just found it weird that the bike had a keyless system for its ignition, but a standard key for its fuel cap. The fob was a little bulky in my pocket as a result. The screen, however, is big but a little slow on the refresh rate. There were also some graphics that felt slow to react to what the bike was doing, especially while clicking through menus, but given enough patience, you'll get to the settings that you need. On top of that, there is also a PIN code feature that gives you access to the bike without the key on you. If the bike feels like it's being moved without the key near it, the indicators will also flash.
Overall, the tech and safety package is par for the course in the adventure-touring segment with a few growing pains due to the fact that this is Harley's first-ever adventure tourer. However, it could be a more accessible motorcycle for more people due to that Automatic Ride Height feature. Some people lower their bikes, but this one lowers itself with no mechanic needed.
Verdict and Price
If looks were a big part of your purchasing decision, then I'd say that the Pan America is a must-buy if you're looking for an adventure-tourer, though if absolute comfort is your priority, it might be a tougher sell. Riding the bike on the highway is comfortable, but the Pan America is a bit of a hot mess while in traffic and in low-speed situations like on the trail.
So for a starting price of P1,400,000, it's a heavyweight with a heavy price tag that just simply is worth a thought or a purchase if you can manage your expectations. Of course, it's hard to deny that this model will be going head to head with the BMW R 1250 GS which is overall a better motorcycle since the GS formula has been distilled over the course of decades and not just a few developmental years like the Pan America.
However, as a first try, it's an extremely good attempt. It exceeded our expectations as a first-generation product both in looks and in performance from Harley-Davidson no less. Is it worth your hard-earned money, however? Quite a number of people have already purchased a unit but perhaps the more cautious buyer might consider waiting for a mid-cycle refresh, but if the looks alone sold you, then go right on ahead, it's a very decent adventure bike and quite impressive that it is a Harley-Davidson.
---
---
Related Articles
Understanding this bike will require a little mechanical sympathy, loving this bike is reserved for only a select few.

4.0

/

5

Let's take a closer look at Kawasaki's flagship adventure tourer, the Versys 1000, and see if it really lives up to its name as a versatile machine.

The Honda Rebel's scrambler of a brother, the CL500, is a more standard-looking beginner big bike. Is it any good? Here's a first impression.

Poweroad's lithium batteries offer lightness and longevity for your motorcycle, but is it worth upgrading to and can you upgrade to it?

Here is our first ride impressions of the brand-new 2023 Honda Transalp XL750 after a short test ride.
---
Latest Review
We got the chance to run the 2023 Triumph Speed Triple 1200 RR through its paces, and needless to say, it was a thrilling, adrenaline-fueled ride.

We recently got our hands on the shiny new Shark Spartan RS helmet, and we were thoroughly impressed.

Understanding this bike will require a little mechanical sympathy, loving this bike is reserved for only a select few.

4.0

/

5