/ Review
2019 Vespa GTS Super Sport Review
Vespa's most powerful engine proves that the GTS 300 is not just a pretty scoot.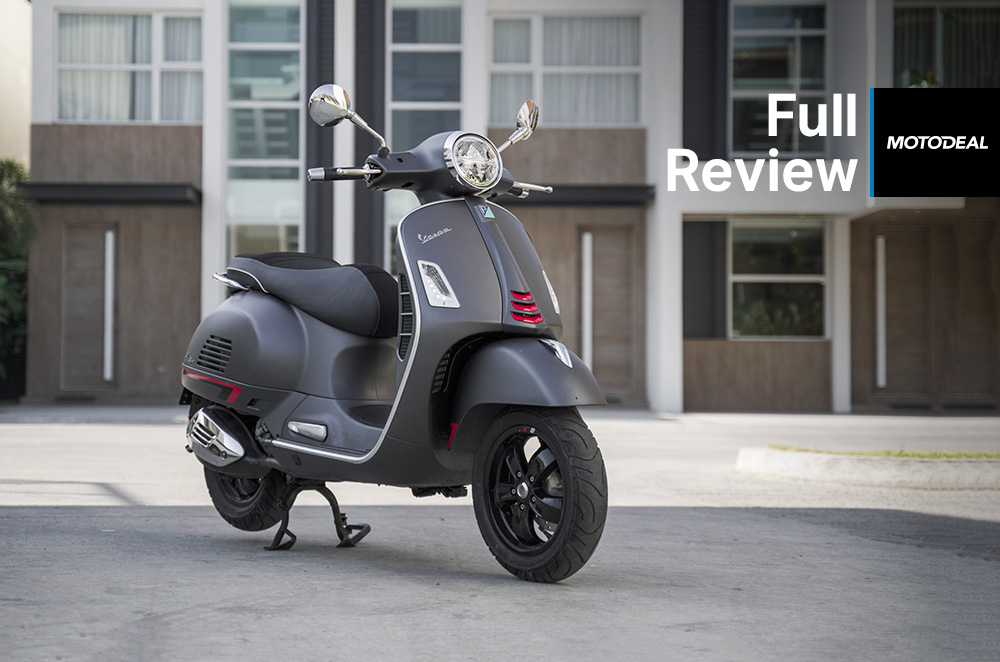 If you're in the market for a new scooter to get around the city, no other model can give you more attention than a Vespa. Among their lineup, the GTS 300 Supersport has a sportier and more macho look compared to other Vespa scooters. It has the muscle to back it up, it's fast for what it is, loaded with tech, features, and carries with it a subculture other scooters could only aspire for.
2019 Vespa GTS Super Sport Review
What You Will Like
Easy handling
Timeless and iconic design.
Loaded with tech and safety features.
What You Won't Like
A little bit pricey for a scooter.
Storage compartments prone to heat
Design
Vespa's design has stood the test of time. Even looking at this new GTS 300 Super Sport, it exudes a certain class, elegance and style that Italians are known for. Vespas are known for its single-piece monocoque steel body instead of using a tubular steel frame like other scooters use. The round rear end does the job of keeping the engine, rear suspension, and most of the mechanical moving parts out of sight. It resembles the tail end of a wasp. It makes the scooter look a little wider on the road than it actually is.
The single-sided front suspension is another Vespa signature. Normally, you'd see bigger motorcycles with a single-sided swingarm, like the ones you would see on a Honda CB1000R. For the Vespa, their scooters have a single-sided suspension system which makes it easier for people to change their tires, as some of the earliest versions of Vespas carried a spare tire. The same holds true with the new GTS 300 Super Sports. The single-sided suspension harks back to Vespa's aeronautical engineering roots by making the front suspension resemble landing gears present in aircrafts and incorporating its design into their scooters. Surprisingly, they worked very well when encountering potholes even compared to traditional telescopic forks.
Performance
The GTS 300 Super Sport carries the most powerful engine Vespa can offer. Its 278cc single-cylinder, 4 stroke engine is capable of churning out about 24 hp and 22 Nm of torque mated with a CVT. While you may think that those numbers might not mean a lot, considering its size, that's more than enough power to zip around the city, and beat almost anyone out of the stoplight. It has a tank capacity of 8.5 L and a fuel consumption reading of 31.2 km/l. A full tank of gas can get you up to Marilaque for a quick ride with your mates, and still have enough to make it back to the office before it gets scorching hot outside.
During our time with the GTS 300, we did a simple speed test to check on its acceleration and how fast it can reach 100 km/h. From a dead stop, we said a prayer, "Our Father'' to be more specific, as the scooter accelerated with the throttle rolled down. By the time we reached the word 'test' from the prayer, the needle from the speedo had hit the 100 km/h mark. Give or take, that's somewhere around 8 seconds. It might not be the most accurate way to do a speed test, but it was at least enough to convince us of the engine's capability given its segment and its brethren.
Comfort
Sitting on the GTS 300, feels a little higher compared to other scooters. Jinno was a little bit on his tippy toes when put on a dead stop. However, the placement of the handlebars are right where they are without obstructing your view from upfront and you're postured straight and comfortable. The handlebar has its own fairing keeping everything neat with the instrumentation tucked within and giving the driver all the information he needs. Although the GTS 300 is mated to a CVT, in reality, twisting the throttle would take you to its top speed without really feeling the "shifting" of the gears. Nonetheless, it gives you smooth acceleration.
The pillion rider would sit a little bit higher than the driver and the wider tail section makes you feel like you're sitting on a horse rather than a scooter. The seat provided more than enough cushion even on bumpy rides and the flip-out footpegs was a clever way to conceal them when not in use.
Technology & Safety
The GTS 300 Supersport now uses full-LED daytime running headlights, signal lights, and tail-lights to ensure visibility. It also comes standard with ABS and switchable Traction Control to ensure rider confidence at any level. The switchable traction control function or Anti-Slip Regulation (ASR) monitors wheel speeds and intervenes by reducing engine power when slippage is detected.
To see how the scooter would fare in corners and to test it's ASR, we crossed over from Makati to BGC through the Buendia flyover. It started to drizzle a little bit and we had no rain gear on us. With damp roads ahead, we decided to head back and during the rush back home, the Vespa's ASR engaged. After applying excessive acceleration on damp roads, its traction control prevented the tires from skidding, keeping them gripped on the road. The power delivery to the rear wheel was properly mitigated, giving you a safer ride.
The same holds true with its brakes. The GTS 300 is one fast scooter and putting it to a stop would not be a problem. The levers were very responsive to both the rear and front brakes even when engaged aggressively at a stoplight. The intervention of the ABS was easily felt, effectively preventing the rear tires from locking and skidding, even on damp roads. From upfront, a pair of LED lights on each side together with the headlight function as daytime running lights. The kickstand would automatically disengage the engine as an added safety feature.
Usability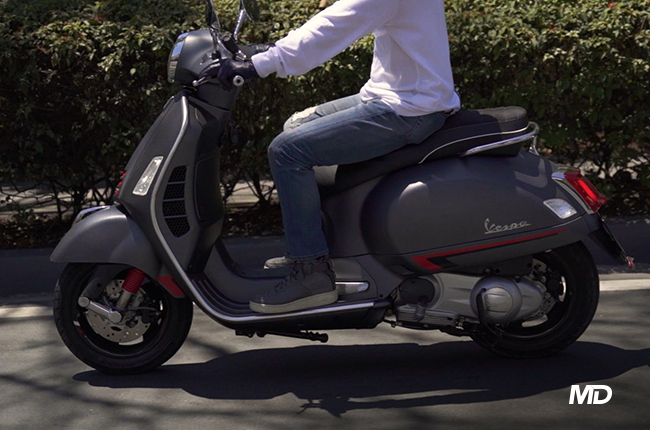 For what scooters are built for, the GTS 300 does the job. The under-seat compartment has more than enough decent space to stash some of your belongings. It can easily fit a half-face helmet and perhaps a couple of smaller grocery items. Be aware that the boot sits on top of the engine though, so expect some heat to rise up around that area.
The glove box upfront is also a welcome addition. You could easily store some documents there and it even comes with a USB charging port for your devices. What we've noticed about the glove box though is that when you're driving through traffic on a hot day and you're not really moving much, an auxiliary fan activates spewing out some hot air from the engine and for some reason, it goes through the glove box area. The heat could affect gadgets stored in the glove box.
Verdict
If anyone should get into riding motorcycles, a scooter is where everyone should start. Don't go straight into spending a million pesos for an MV Agusta you're not ready to handle yet. Start with something small, work your skills up, then get a bigger bike. The Vespa GTS 300 is perhaps the classiest, and most stylish scooter to get you into riding. It has more than enough power to get you around the city, safety features giving you more peace of mind, and decent storage space for stashing your belongings. It handles with ease and it's definitely a looker.
In an intersection in Makati, a Kymco Like 125, another "classic" looking scooter stopped beside me and was caught ogling the Vespa like a woman in a swimsuit. He gives a nod of admiration for the Vespa. With a premium price of Php 368,000, you may get more value for money from other scooters. However, the heritage, the culture, and the adoration from other people, no other scooter can give you that, other than a Vespa.
Photo Gallery
---
---
Latest Review
The entry point into Furygan's motorcycle jacket lineup has some premium features and a design for almost any bike.

It can compare with a Vespa, full stop, but does it beat it?

4.1

/

5

HJC's C70 is one of the best-equipped helmets in the entry-level segment. Let's take a closer look at this value-packed full-face helmet.