/ News
The Yamaha E01 electric scooter has been spied testing for the first time in Japan
Yamaha hopes to release its first all-electric two-wheeler this year.

on Jan 06, 2022
---
Yamaha has long been investing resources into electrification and alternative fuel initiatives. The Japanese company has committed itself to a greener tomorrow, and has set some lofty goals for itself, such as achieving 100-percent carbon-neutrality by 2050. It would appear that Yamaha is off to a good start. The Yamaha E01 electric scooter concept first came to light in the 2019 Tokyo Motor Show, and has since made reappearances in various motorcycle expos. At last, it seems that Yamaha's first all-electric production two-wheeler is about to enter the market, as it was spied testing for the first time in Japan.
Various sources suggest that Yamaha Motor Japan recently held a media test ride to showcase the new scooter. It's clear to see based on the spy photos, that the E01 could very well be a future successor to the extremely popular NMAX, Yamaha's best-selling premium scooter in the Philippines, and a popular commuter in other parts of Asia and Europe, as well. Despite being covered in a camouflage wrap, we can still manage to make out a few design elements of the E01. For starters, it's clear that its front fascia draws inspiration from the YZF-R1 supersport bike, with an under-slung pair of headlights, and a menacing appearance.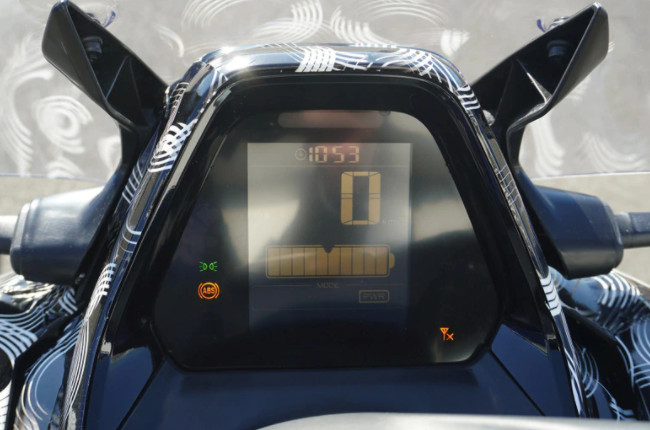 Apart from the front end, the Yamaha E01 seems to sport similar dimensions as that of the NMAX. It gets a two-up saddle complete with integrated grab handles. At this point, however, it isn't certain if the E01 will feature a cargo compartment as generous as that of the NMAX, as chances as that the battery pack will occupy the space underneath the seat. The Yamaha E01 also gets a rather rudimentary insturment console, with a battery status bar prominently displayed in the center, and the speedometer reading in an old-fashion style LCD layout. That said, given the fact that this bike is just a test mule, chances are Yamaha will be changing a few things here and there.
As for performance, we'll have to wait and see just what Yamaha has in store for us with the E01. However, it's widely speculated that the E01 will feature around 70 to 80 kilometers of autonomy on a single charge. Incidentally, Yamaha had recently joined forces with other manufacturers in initiatives geared towards swappable battery technology. It remains to be seen if the E01 will feature an early prototype of this supposedly universal swappable battery system.
---
Related Articles
The new SX-E3 electric dirt bike from KTM is available for children learning the fundamentals of off-road riding.

The new Brat from electric off-road firm Volcon, which incorporates technologies from the Grunt and Stag, hits the e-bike market.

Commuter EVs, Commuter EM(electric mopeds), EB (electric bicycles), and Fun EVs incoming by 2025.

The Japanese motorbike manufacturer is creating a powerful engine for Lexus once more, but this time the engine will run on hydrogen.

The Yamaha FZ 150 can run on both diesel and ethanol, making it an interesting commuter model for the local market.
---
Latest News
The 2023 KLX230SM has been unveiled by Kawasaki in Japan. The bike has 17-inch wheels but comparable underpinnings as the normal KLX230.

Royal Enfield's next generation Bullet 350 has recently been spotted testing, hinting that the model is set to hit the market soon.

Honda has unveiled the 2023 CBR250RR in Indonesia—would you like to see this lightweight sportbike in the local market?