/ News
SafeRun IV highlights motorcycle fuel efficiency, safe riding habits
A different take on the usual endurance run.
on Apr 02, 2018
---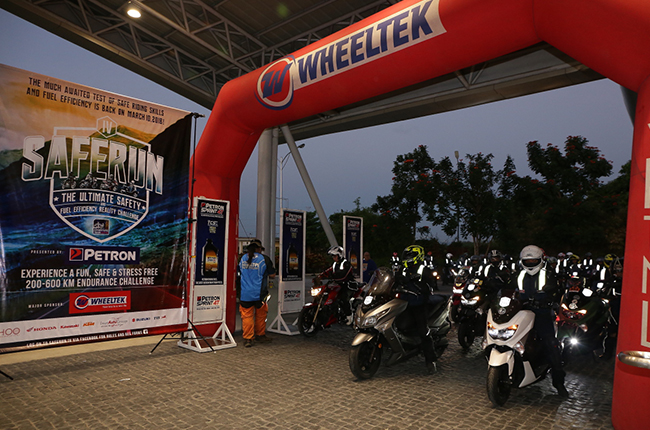 Billed as "The ultimate safety and fuel efficiency reality challenge", the Petron SafeRun IV is a road safety advocacy presented by the Petron Corporation. Some 280 participants ran the route originating from The Laus Group Event Center in San Fernando, Pampanga on March 9, and finishing the following day at the start point, creating a loop for the 200km and 600km categories.
Through this event, we would like to encourage riders to give due attention to their vehicle's roadworthiness through proper maintenance which, when combined with good riding skills and observance of traffic rules, leads to both road safety and fuel efficiency. Of course, we also want to prove, through this event, that Petron Sprint motorcycle oils and Petron fuels are the best match to deliver outstanding performance in terms of fuel economy as well as long distance travel.
Different from the usual motorcycling endurance competition, SafeRun promotes safe riding and observance of traffic rules and regulations, especially speed limits, to highlight fuel efficiency. Categorized by their displacements, participants and their motorcycles are to stop and fuel up at designated Petron stations that act as checkpoints. Competitors who log the best fuel efficiency numbers for their respective categories are declared the winners.
Those participants who violate traffic rules and speed limits, or fail to arrive at designated checkpoints, are demerited or disqualified altogether.
Below are some results from the Petron SafeRun IV Challenge: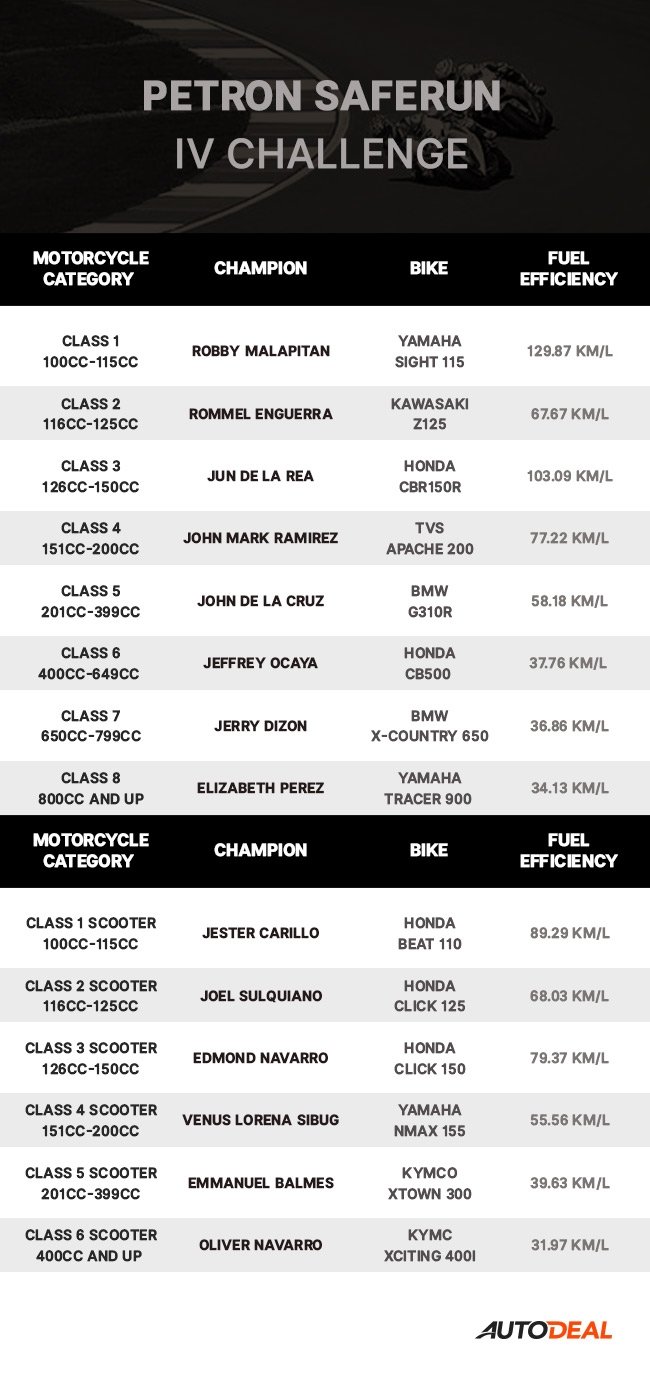 ---
Related Articles
A game-changer from Honda made for the urban environment.

BMW welcomes a new dealership into its network with a ribbon-cutting ceremony and a

Lalamove together with Transcycle and Powercycle let its riders buy and maintain their vehicles with peace of mind through favorable rates and affordable maintenance.

Suzuki reports its sales figures for the start of 2019, and the results are good for the most preferred underbone maker in the Philippines.

The number of road deaths and accidents in the PH has been on the rise, most of them motorcycles.
---
Latest News
Segway has pulled the covers off of its new electric hydrogen hybrid motorcycle concept.

Vespa has launched the special edition Primavera Picnic, for those looking for a leisurely day outdoors

Yamaha has secured patents for a whole fleet of R-series bikes ranging from 1 to 9, plus a few others.