/ News
Royal Enfield's assembly plant in Argentina is now officially open
Himalayans and Twins start rolling out of the assembly line.
---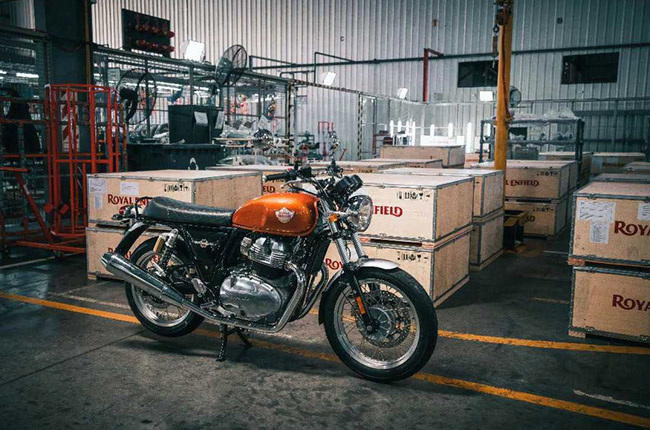 Royal Enfield has been playing its cards really during the past couple of years, more so during the onset of the global pandemic. Instead of trying to build high-performance motorcycles to try to compete with its Japanese counterparts, they focused all their efforts on building simple, reliable, and no-frills middleweight motorcycles, which has always been the core of its success.
For the first time ever, Royal Enfield will start manufacturing its most popular motorcycles outside of India. Instead of turning to Thailand or China as other motorcycle manufacturers have done, they set their sights on South America. Now, together with the Simpa Group, they have just opened their newest and only assembly plant in Argentina, their only manufacturing facility located outside of India.
The Simpa Group has always been Royal Enfield's local distributor since it started offering its motorcycles in Argentina since 2018. With the forged partnership, the brand new assembly plant they opened in Campana, Buenos Aires will now be producing the Himalayan, Continental GT 650, and the Interceptor. With Argentina's love for Royal Enfield's middleweight motorcycles, the company's CEO, Vinod K. Dasari was more than delighted to have the facility running up to speed to better serve Argentina and the rest of the South American market.
Argentina and other South American countries have been an important market for Royal Enfield. Since we started selling motorcycles in Argentina in 2018, we have received a resounding response from consumers to our motorcycles. The local terrain and topography create the perfect canvas for riding our motorcycles, especially the Himalayan.
Dasari added, "The initial success of Twin 650 motorcycles was also very encouraging. We are deeply committed to focusing on becoming part of the country's rich motorcycle culture. Our decision to start assembling our motorcycles in Argentina is proof of our long-term commitment and confidence in the market."
The President of Argentina, Alberto Fernández himself was grateful for the partnership that Royal Enfield gave his country despite the tumultuous times that the global pandemic has brought everyone saying, "This launch is a major accomplishment because it is the first time that a motorcycle manufacturer of this size has put its faith in Argentina." He added, It is quite the feat considering all the challenges of making such a monumental decision during a pandemic, which has made nearly everything difficult."
With five flagship dealers across Argentina, 26 more across Latin America, and 40 other dealer locations from the rest of the region, Royal Enfield will surely gain an even stronger foothold within the South American market.
---
Latest News
Indian automotive manufacturer Bajaj, through its EV subsidiary Chetak Technology, has its eyes set on boosting electric two and three-wheeler production.

BMW Motorrad Philippines held its Grand Tambike last Saturday, June 25, 2022.

Italian motorcycle company Malaguti introduces the Madison 150 in Thailand. This marks the brand's first foray into the Asian market.