/ News
Moto Guzzi unveils its new Galletto hybrid concept bike
The Galletto name comes back after 70 years.
---
70 years ago, before the beloved V7, or even the famous Le Mans racer, Moto Guzzi actually tried their hand at making a scooter the brand already had something up its sleeve. The motorcycle brand initially found that while the tiny wheels of scooters were good for well-paved roads, it lacked in performance when it came to traversing rougher terrain. Thus, when Moto Guzzi built their very first scooter, the Galletto, they decided to give it a wheelbase that was a cross between a scooter and a motorcycle back in 1950. It had 17-inch wheels, a practical seat height, and a spare wheel and tire tucked neatly just behind the forks. The new scooter remained in production until 1966 with over 77,000 units sold during its 16-year lifespan.
Fast forward to today, and Moto Guzzi's industrial designer Samuele Dell'Oro has decided that the humble Galletto now deserves a modern revamp. After 70 years since the scooter originally made its debut, Moto Guzzi has decided to bring a re-imagined modern concept of the beloved motorcycle now powered by an electric motor.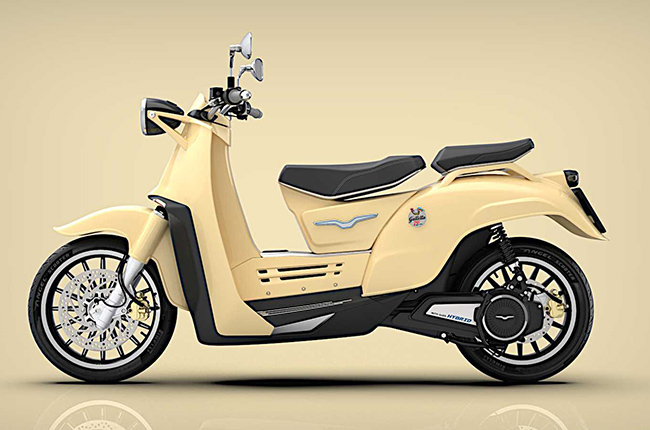 While the first Galletto was considered as a hybrid between a scooter and a motorcycle, the new Galletto concept is actually a hybrid motorcycle that uses both electric and combustion engines. It is designed by Dell'Oro and integrates Vespa's Elettrica X motor into the scooter with a four-liter gas tank to power the generator that would, in turn, charge the electric motor. This allows the Galletto to have a smaller lithium-ion battery pack on board. The result is a 5.36 horsepower electric scooter capable of traveling up to 200 kilometers on a single charge. In terms of charging time, the 4kWh battery pack goes from zero to fully charged within four hours when plugged to a standard 200V socket.
Its chassis is based on the existing Piaggio Beverly which would give it a 16-inch front wheel and a 14-inch rear wheel, true to the characteristics of the original Galletto. It comes with disc brakes for both the front and rear with ABS. Its colorful rooster logo is seen on its luggage rack which can easily be converted into a passenger seat.
With electric scooters and hybrid motorcycles still considered such a niche market, it would still take some time before these machines eventually transcend into the mainstream market. Thus, while the Galletto remains as a mere concept today, the chances of it going into production are still pretty slim. In any case, Moto Guzzi's resurrection of its beloved scooter is still something we can all appreciate and enjoy.
---
Related Articles
Yamaha has previously stated its goal to release two new electric scooters in 2022.

Husqvarna will be producing the Vektorr electric scooter in India in partnership with Bajaj. It will share similar components with the Chetak electric scooter.

Due to major developments in funding and investment, Ola Electric could now have the gas to make it in India, question is, when will the rest of the world follow?

Yamaha has released the GoGoro-powered swappable-battery EMF electric scooter in Taiwan.

Taiwanese scooter maker Kymco has revealed its newest electric two-wheeler, the Like 125 EV.
---
Latest News
Ducati and Bulgari are considered two of Italy's most well-known brands, and they've collaborated to release a special edition watch called the Bulgari Aluminum Ducati Special Edition chrono...

Benelli has launched the 2022 TRK 502X adventure bike in China. The update features a slew of refinements making the already capable ADV even better.

Will the Triumph Trident get the RR treatment? Digital artist, Oberdan Bezzi makes a render to tickle our imagination.