/ News
KTM debuts the stunning 1290 Super Duke RR for the 2023 model year
Like before, only 500 of these track-oriented beasts will ever see the light of day.

on Mar 15, 2023
---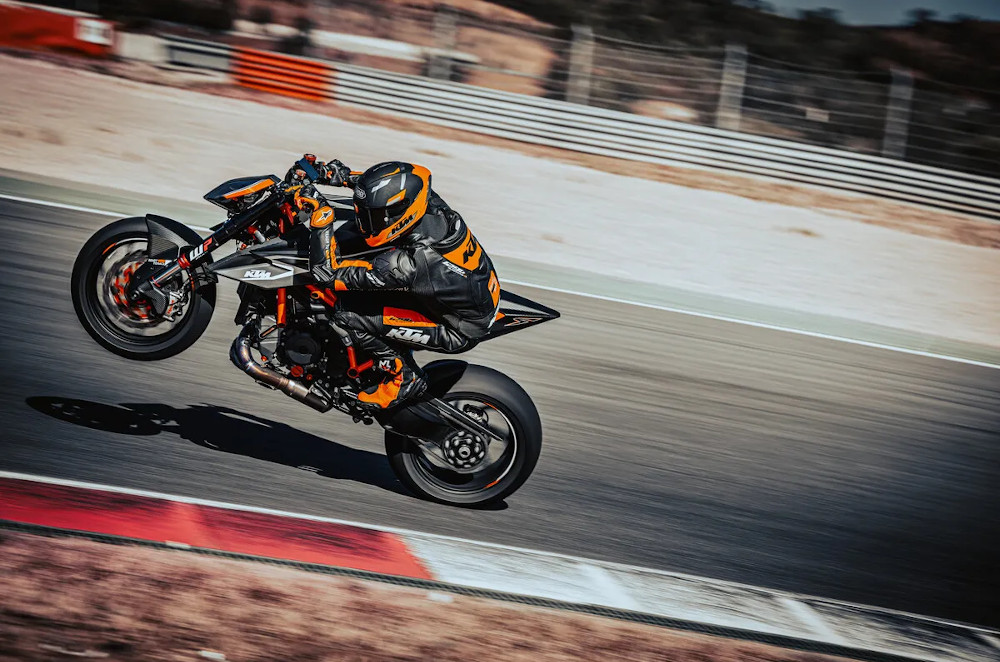 In 2021, KTM unleashed the highly coveted KTM 1290 Super Duke RR. It was the talk of the town and quickly became a must-have for motorcycle enthusiasts. So much so that all 500 units of the limited edition model were sold out in a flash – less than an hour, to be exact.
With such an overwhelming response, it's no surprise that KTM has decided to bring back the KTM 1290 Super Duke RR for 2023. This new release is a response to the fans who missed their chance to get their hands on one of these bad boys two years ago. KTM knows what the people want, and they're more than happy to give it to them.
Similar to the 2021 KTM 1290 Super Duke RR, this fresh 2023 release boasts an impressive 1:1 power-to-weight ratio. It's a lean, mean, speed machine, weighing in at a whopping 11kg less than the standard model. With a commanding output of 180hp and 140Nm, this beast packs both power and aggression, making it a force to be reckoned with on the road and the track.
The 2023 KTM 1290 Super Duke RR is built with the same carbon fiber subframe as its predecessor. In addition to that, it also boasts several other lightweight parts, including a new mudguard, tank cover, and engine guard. The suspension package is top-notch, featuring a WP APEX PRO 7548 front fork and a WP APEX PRO 7746 rear shock absorber. To top it all off, both the front and rear suspension hardware are fully adjustable to suit the rider's preferences. With these cutting-edge components, the 2023 KTM 1290 Super Duke RR is poised to deliver an unbeatable riding experience.
The KTM 1290 Super Duke RR is a machine that's built for performance on the race track, and as such, it comes equipped with special circuit modes, such as Track and Performance, that cater to this type of riding. Riders looking to maximize the bike's power can even opt for the Akrapovic Evo exhaust system, which will boost the machine's already impressive horsepower even further.
One standout feature that sets the 2023 KTM 1290 Super Duke RR apart from its 2021 predecessor is its unique aesthetic. This new model boasts an all-black color option, which is perfectly complemented by an eye-catching orange finish on the frame. This striking design ensures that the 2023 KTM 1290 Super Duke RR not only performs like a dream on the track but also looks the part. It's a bike that's sure to turn heads wherever it goes, and it's sure to be a favorite among motorcycle enthusiasts who crave both style and performance.
---
---
Related Articles
KTM is working on a new 690 model range through Indian manufacturer Bajaj. The bikes will be powered by a parallel-twin engine.

Kawasaki has debuted the Eliminator 400 in the Japanese domestic market, with no indication of whether or not the bike will be sold in other markets.

Bajaj has recently introduced the 2023 version of the Pulsar NS200 in India, which features significant upgrades such as updated suspension and dual-channel ABS.

Harley-Davidson and QJ Motor have released the X 350 in China. The new bike is anticipated to make its way to other Asian markets soon.

Austrian-owned Brixton Motorcycles seems set to debut the Cromwell 1200 in the local market through the distributorship of Archway Motorcycles.
---
Latest News
Cardo and Ducati have teamed up to launch the latest Ducati Communicator System, the DCS3, based on the Cardo PackTalk Neo.

KTM is working on a new 690 model range through Indian manufacturer Bajaj. The bikes will be powered by a parallel-twin engine.

Yamaha has released the 2023 iteration of the NMAX in Malaysia in new red and blue colorways.