/ News
Is Kawasaki working double time on an electric Ninja?
Kawasaki's latest endeavor on an electric Ninja.
---
As early as November of last year, during EICMA, Kawasaki already made an announcement of the development of an electric vehicle in the form of a motorcycle. They wanted to push their own version of an electric bike with elements of their Ninja sports bike line-up that we're all familiar with. In true Ninja fashion, they wanted an electric bike that was sporty, aggressive, and capable of tearing up the track. This electric sports bike has already seen some track time for testing and Kawasaki has already given it a name — Endeavor.
The Endeavor is a middleweight sportbike that's powered by an electric motor capable of being ridden hard on a track or cruising around city roads. While we've seen a lot of electric bikes around, one with a sub-30 hp and a 4-speed manual gearbox is unprecedented. The bike comes with a mixture of parts from both the Z400 and Z650 and with fairings looking partly like the Ninja 400 and Ninja 1000SX. Its trellis frame is similar to the one seen on the Z650 on which a large proportion of its space usually occupied by an engine is where the batteries are stored together with the electronics and charging system sitting on top.
Unlike other electronic bikes, the Endeavor opted for a chain driver rather than a belt drive. Its 4-speed manual gearbox is coupled with a quick shifter judging by the absence of a clutch. Instead, a small thumb brake is seen on the left handlebar.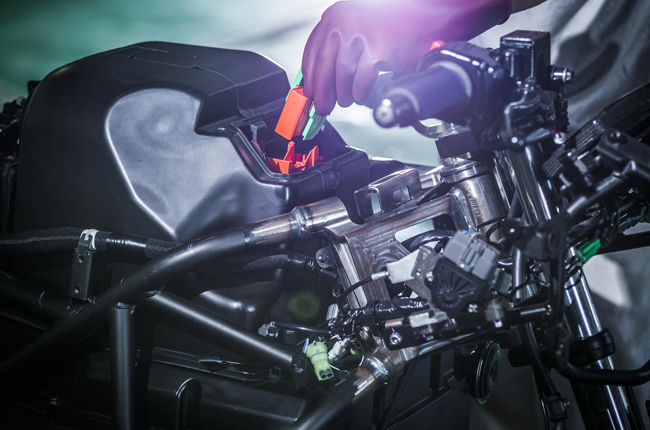 With Kawasaki's development of the Endeavor, it is clear that the big four Japanese motorcycle manufacturers are stepping up electronic vehicle development and it wouldn't be long before we start seeing these machines on the street. Kawasaki Ninjas have always had a following in the sports bike segment and with a new "Electric Ninja" in the works, there's no doubt that the future seems bright for the marque's EV lineup.
---
Latest News
The 2023 KLX230SM has been unveiled by Kawasaki in Japan. The bike has 17-inch wheels but comparable underpinnings as the normal KLX230.

Royal Enfield's next generation Bullet 350 has recently been spotted testing, hinting that the model is set to hit the market soon.

Honda has unveiled the 2023 CBR250RR in Indonesia—would you like to see this lightweight sportbike in the local market?