/ News
Gulf Oil Philippines Inc. officially launches its new products
Gulf Oil partners up with the company that brought Royal Enfield motorcycles to the country.
---
Gulf Oil Philippines Inc. has just announced its official partnership with Hardcore Brothers Technologies Inc. for the distribution of its lubricant products within NCR and Cebu in the Visayas region. Gulf Oil has always had a wide range of products catering to the needs of all sectors including automotive, industrial, and marine lubricants.
Last Saturday, on August 1, 2020, at around 8 p.m., Gulf Oil Philippines Inc., digitally launched its latest product offerings through its official Facebook page showcasing its automotive oils and lubricants, which include motorcycles. The CEO of Hardcore Brothers Technologies Inc., Jimmy Barinaga was more than happy with the partnership formed with Gulf Oil Philippines Inc., as they offer its dealership network within Metro Manila, and Cebu for the retail distribution of lubricants with the Gulf brand. Barinaga said. "We are thrilled to be forging this new partnership with Gulf. It is an iconic brand with an impressive range of products and a great history. We look forward to working with Gulf Oil Philippines and create a lasting partnership with them,".
Hardcore Brothers Technologies Inc., has been the official distributor of Royal Enfield Motorcycles within the Philippines and its experience and passion over the industry is what prompted Gulf oil Philippines to reach out to them for the launching of its latest product offerings.
Gulf is delighted to welcome the new team lead by CEO, Mr. Jimmy DL Barinaga, and looking forward to a mutually beneficial and long-term association. Hardcore Brothers Technologies Inc., shares the same passion we have, the desire to give high-quality products that deliver extraordinary performance to our customers.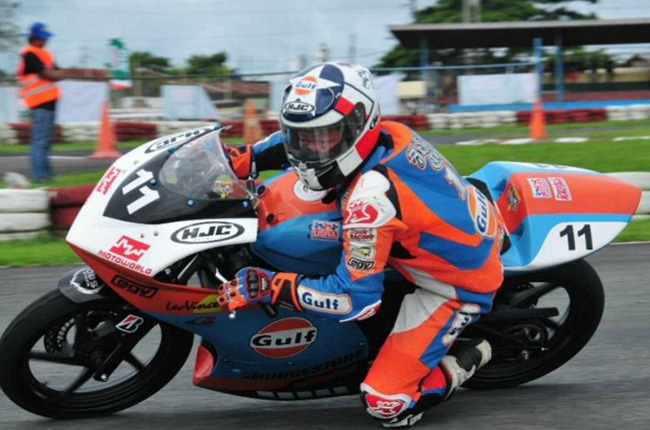 Jimmy Barinaga revealed during the media launch of its partnership with Gulf Oil that they also intend to give a lot of support to the local racing scene by sponsoring the best talents in both motorcycle and car racing to help them push the brand even further. Surely, their partnership with Gulf Oil will be a fruitful undertaking that would last for many years to come.
---
Related Articles
One of the largest oil manufacturers in the world has recently launched a new engine oil for scooter enthusiasts in the Philippines.
---
Latest News
Vespa has released a total of six new colors across the Primavera and Sprint model ranges in the Japanese market.

Yamaha is set to invest heavily in a greener future, particularly when it comes to its manufacturing procedures.

AC Motors brings all of its brands under one roof, and KTM BGC gets a new showroom a block away from the old one.