/ News
EDSA busway will be divided with steel bollards
It does seem like a safer alternative.
on Aug 26, 2020
---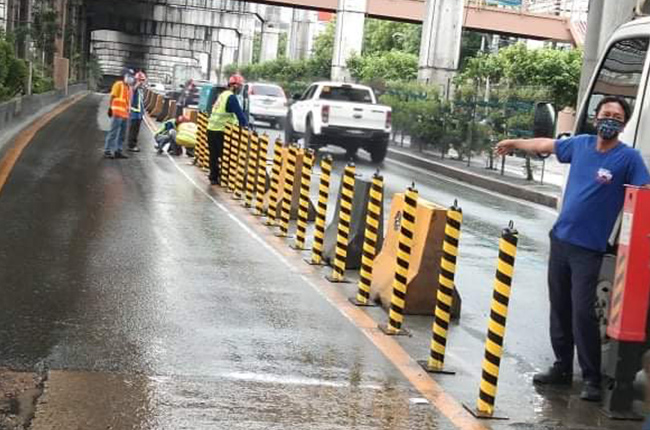 The recently-placed concrete barriers on EDSA have been generating such opposition from several motorists. Frankly, these barriers created uneven lanes which makes EDSA quite a difficult place to cruise on especially when it's dark out. Therefore, several accidents occurred due to the presence of those barriers. This situation was then addressed through the replacement of those concrete barriers with steel bollards, which is claimed to be a safer alternative.
This entire idea was planned since July 31. Through this, the MMDA believes that there will be a reduced number of accidents involving the EDSA busway separator. It is admittedly safer than those concrete barriers. Based on the photo which was actually taken by Bong Nebrija, the steel bollards take up less space and are more visible to motorists, even at night. Also, these steel bollards won't be flying off into another lane once it gets hit by a vehicle. Notably, around 6,000 units of the bollards will be installed on EDSA on both the underpasses and flyovers.
As for those concrete barriers, the following shall be relocated near the loading/unloading bays. It would definitely be a waste if they just put them aside, given that the Department of Transportation (DOTr) supposedly ordered around 36,000 more concrete barriers.
As for the timeline, there was no specific date given if as to when this entire project will finish. It is quite more time-consuming to install given that these steel bollards are to be bolted into position. Then again, this tactic does seem better than those hazardous concrete barriers.
In time, we'll definitely see if this project renders good results, which should, therefore, reduce accident rates which mainly involves the EDSA busway separator. On top of that, let's all be vigilant and observe proper discipline while cruising the road.
---
Latest News
The original scalpel is making a return in the European market with A2 compatibility and 95 horsepower.

Timur Saradarov, MV Agusta's CEO, clarified the KTM capital infusion deal, stating better dealers in the future.

CFMOTO pulled the covers off the electric Papio Nova at EICMA 2022. Would you like to see this bike enter the Philippine market?