/ News
The BMW Definition CE-04 is the future of premium scooters
The most futuristic fully electric concept scooter to come out of BMW's design studio.

on May 25, 2021
---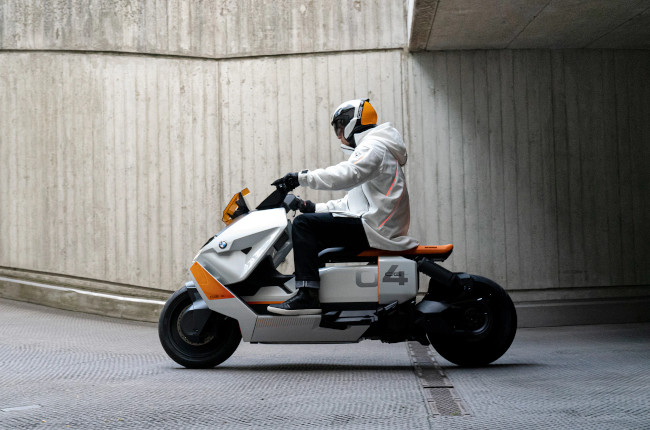 The humble scooter has definitely gone a long way from its early days of development nearly a century ago. Back in the days, thes lightweight runabouts fulfilled little more purpose than ferrying individuals from point A to B in relative ease and comfort. Fast forward to the modern era, and scooters have become a lifestyle as well as a necessity for countless people to get to where they need to be on a daily basis.
These days, most modern scooters, even those built to a budget, feature thoroughly modern technology, including smartphone connectivity, as well as sophisticated electronics designed to maximize performance and efficiency. On the global stage, the advent of electric scooters is well underway, and it's only a matter of time before we begin to see more premium and robust electric scooter offerings in the Philippine market. Several manufacturers such as Husqvarna and Kymco have been investing heavily in electric powertrains and the improvement of battery technology. BMW, as well, as recently posted some updates on its current futuristic electric scooter concept, the Definition CE-04.
The BMW Motorrad Definition CE-04 is an all-electric urban mobility solution which is designed primarily around the simple nature of a scooter. However, upon closer inspection, it's clear to see that calling the Definition CE-04 a scooter would be a massive understatement towards the tech and R&D BMW is putting into this machine. The German automaker is describing the electric scooter as a completely emissions-free, flexible, spontaneous, and always connected mobility solution designed for the modern-day, tech-savvy individual.
BMW is currently designing the Definition CE-04 as an inclusive mobility solution suitable for riders of all shapes and sizes. The company seeks to ensure that every ride is comfortable and enjoyable thanks to the scooter's floating seat design which can easily be adjusted to fit tall and short riders. BMW is also incorporating ample storage space—big enough for a bag and helmet—in the concept scooter's under-seat storage compartment, which can be accessed via the side of the scooter.
From a styling standpoint, the BMW Motorrad Definition CE-04 is clearly a futuristic design exercise, looking to be applied in the present day. It's unlike anything we've ever seen before, and is sure to revolutionize the future of premium scooters. While BMW has yet to release any technical specifications concerning the Definition CE-04, the company seems to be making progress with the concept, as the scooter has recently been spotted testing. That said, it's only a matter of time before we actually see a production-ready version of this futuristic machine.
---
Related Articles
Italjet has unveiled the Dragster 300 at EICMA 2023, boasting impressive performance and head-turning styling.

Kawasaki has unveiled its first electric models, the Ninja e-1 and Z e-1 in the US market. Could we see these bikes in the Philippines soon?

Yamaha has updated the rugged little BW'S scooter in the Taiwanese market. Could there be a place for it here in the Philippines?

In the global market, BMW has unveiled the CE 02 electric motorcycle designed for young riders and beginners.

Vietnamese startup Nuen showcases its newest concept model, the NU-E electric motorcycle.
---
Latest News
CFMOTO Philippines has pulled the covers off the 2024 CFMOTO 450 CL-C, its first cruiser for laid-back riders.

KTM has pulled the covers off the 2024 1390 Super Duke R Evo, marking 30 years of the Duke naked bike range.

Triumph has just unveiled its premiere motocross model, the TF 250-X, in the global market.