Yamaha's XSR700 has been on our radar for almost a year now. So you can imagine my joy when I finally got to try it out. Walking into Y-Zone for the first time, I felt like I was in a Megamall for motorcycles. They had everything, from Personal Commuter Bikes, Big Bikes, lifestyle section, service center, and an awesome cafe. No wonder that branch alone sells about 200 daily commuter bikes and about 30 big bikes a month.
Exterior
Among all their models, the XSR700 is the one that really called my name. Its neo-retro styling gives it the perfect blend of technology and looks, as the bike is based on the popular MT-07 – Yamaha's naked masterpiece, but dressed up to look a little more refined – and no I will not use the word "tito". The plush seat is hand-stitched while the tank is handcrafted, which makes each bike a little bit different. Sure there are a few things I would change, like the headlight and fenders, however, Yamaha knows this, which is why they made the XSR700's subframe fully customizable. Everything you'd want to change is bolted on, so you can easily find parts that would personalize yours, without having to weld or cut anything.
Riding
The roots of the XSR700 dates back to 1970 when Yamaha released the XS-1. The "R" represents the company's racing activities. That makes sense, as Valentino Rossi himself, was the one who influenced the development of the bike's modern engine, a liquid-cooled 689cc parallel twin with Yamaha's cross-plane crankshaft that punches out 73.8hp at 9000rpm and 68nm of torque at 6500rpm. The seat height is at 835mm which meant I was a little bit on my tippy-toes (I'm 5'6 just for reference) and the weight of the bike is 186kg wet.
I had the bike for a weekend and rode it around the city for the first two days. To my amazement, it was even easier to maneuver it through traffic, than I thought it would be, plus I didn't feel the heat from the engine much. On Sunday morning, I took the bike to Escolta, a popular hangout spot for classic and vintage bikes. Sure it did stick out since It's a retro-modern bike, but it wasn't scoffed at by the OG's. After coffee, some of us decided to have a late lunch in Tagaytay to test out the XSR700 on the expressway and up some twisties… little did we know what was waiting for us. It was January 12, 2020.
Comfort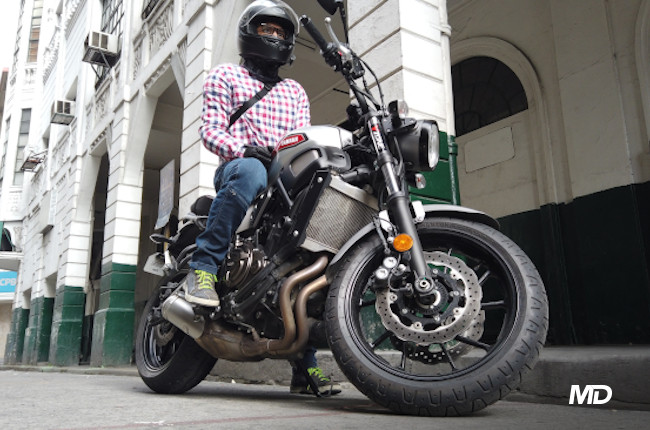 The XSR700 was awesome on SLEX. It felt sturdy and comfortable. At around 2 pm, we got to Tagaytay, and the traffic was horrible. Although, I thought it was because it was a Sunday. Again the bike managed well through the gridlock. After a late lunch, we decided to take photos of the bike down in Lemery so we can test it out on some light twisties. Unfortunately, there were so many cars on the road, it was difficult to test the bike on what I thought would be its best feature, its handling. When we finally got to the location, we got off our bikes and realized something was very wrong. The clouds looked strange. We walked to an area with an opening, and that's when we saw it. Taal Volcano was erupting. We rested, rehydrated and after a few moments of staring at the cloud of smoke and ash, we decided to get out of there and head home.
As I was waiting for my companions to gear up and get on their bikes, a friend of mine took this crazy photo. I was actually saying a little prayer.
Getting out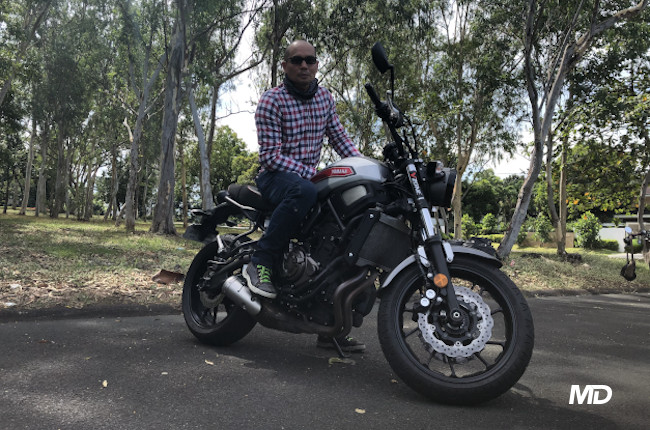 On the way back, it was getting dark, ash was beginning to fall, and cars were not moving. They had closed the Nasugbu-Tagaytay Highway so we were diverted to Alfonso. Visibility was getting worse and ash was getting everywhere. The Pirelli Phantom Sportcomp tires handled the ash-covered ground well. I had to slam on the breaks a few times, as visibility was poor, and it was the first time I felt the ABS on a bike work. After stopping several times to clean our visors, we finally got home, covered in ash and soon as I parked the bike, I gave it a big hug and let out a huge sigh of relief.
I am no pro rider, so if the Yamaha XSR700 got me back safely, I can say, that the bike is truly a special one. A motorcycle that could just be perfect if you were thinking of leveling up, from a smaller displacement bike. At a price tag of P479,000, it gives great value for money. At first, I thought the harrowing experience got me attached to the bike but when I think about it again, perhaps the XSR 700 is really just that good.
---
---
Related Articles
Here are our top five picks for motorcycles in the middle to heavy-middleweight segment that offers exceptional value.

The Ducati Streetfighter V4 is by far one of the most powerful, performance-oriented naked bikes currently available. Here's why it's worthy of your attention.

Here are a few reasons why the Yamaha MT-15 would make for an excellent daily commuter.

Naked bikes offer a lot of practicality and versatility in a package that's nimble and fun.
---
Latest Features
Here are 5 helmets to consider if you're looking for a high quality helmet that won't break the bank.

Here's Jinno's list of top 5 accessories for the Yamaha Tenere 700, all of which can easily be installed by average home mechanics.

Let's take a look at our top 5 picks for the best big bikes under 200 kilograms on the market today.