Adventure bikes come in many sizes and these two, in particular, are common options that a typical buyer would probably browse through and consider. Friendly enough to start on, but not too big to outgrow in a month's time, the Honda and Benelli's 500cc offerings come loaded with enough features and performance to warrant a head-to-head.
So let's take the Honda CB500X and the Benelli TRK 502X, two entry-level adventurers, and see which one is better.
Performance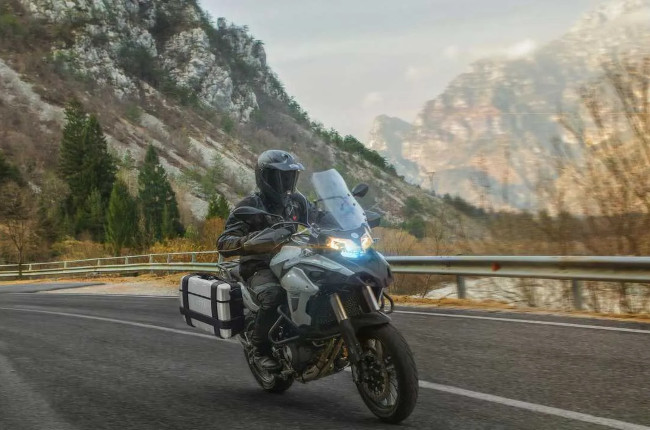 As their name suggests, the engine that these two bikes pack hover around the 500cc mark. The Honda has a 471cc liquid-cooled, four-stroke, two-cylinder, parallel-twin engine that produces 46 horsepower and 43 Nm of torque. Its fuel tank has a capacity of 17.7 liters, which is bigger than most bikes. However, the Honda does get a leg up on the TRK with its lighter weight, coming in at 196 kg, curb.
Meanwhile, the Benelli gets a 500cc parallel-twin that produces 46 hp and 45 Nm of torque. It gets a slight advantage in the torque department over the Honda. It also gets a larger fuel tank coming in at 20 liters. While you do get more torque for that extra pull, the bike does have to manage more weight. It sits at 213 kg, dry, which means that after you do fill it up with gasoline and other fluids, it's quite hefty. However, it does have a better suspension setup on paper compared to the Honda, with its beefy 50mm front forks. The Japanese machine, in contrast, make no mention of their front suspension except for the diameter coming in at just 41 mm. Also, the dual discs up front trump the single-disc setup that the CB500X has.
Whatever way you look at it, Benelli has done what it could to make the TRK as competitive as possible. It's equipped to compete with the Honda in every way, and thus it gets our nod of approval in this head-to-head.
Features
Anti-lock brakes are standard for the Honda, as is an LCD screen with a digital speedometer, tachometer, and a clock. It also gets an odometer, trip meter, and real-time and average fuel consumption along with your standard array of dashboard warning lights. Illuminating the road ahead is a set of LED lights with a multi-facet reflector. Although, Honda has equipped it with a slipper assist clutch and a security key that will only take the original key.
Meanwhile, the Benelli gets a combination gauge with an analog tachometer and a digital speedometer with pretty much everything that the CB500X has. A slight edge could be awarded to the Benelli for having an easy-to-read tachometer, but that's subjective. It, however, looks a bit dated, so we'll take back a point. Then again, preference. The TRK also matches the CB500X with its LED lights, however, it misses out on a slipper clutch and a security key.
While the two bikes match up with each other on multiple fronts, the CB500X takes the win in this round, as it gets a few more security features.
Price
To buy a Honda CB500X, you will have to pull out P413,000. Meanwhile, you'll have to shell out P379,000 for the Benelli TRK 502 X. It's clear that Benelli is the more affordable option, and that the Honda comes at a premium.
That's a difference of P34,000 if you pay cash. However, what you get with the Honda would be a name badge and a healthy aftermarket of parts. The Benelli does get a good amount of aftermarket kit, but then you do save a lot on the sticker price. You also get more ride-oriented features like better forks and slightly more torque.
In short, the winner will have to depend on your budget. Both bikes are equally equipped with a few minor differences from each other. Longevity is a different question altogether, but as a bike out of the factory, the Benelli TRK 502 X seems to be the better deal at least on paper. On the saddle might be a different story. Honda has a stellar reputation for build quality, and we wouldn't be surprised if we'd choose the CB500X over the TRK if we were to spend our hard-earned money.
---
Related Articles
Let's take a closer look at two very popular heavyweight cruisers currently available in the market, and see which one comes out on top.

Let's take a look at Harley-Davidson's newest adventure bike, the Pan America, and pit it against the legendary BMW R 1250 GS.

Find out which of these two entry-level 400cc motorcycles may be best for you.

Here are our top 5 picks for the best adventure-ready machines under P700,000

Two of the best middleweight three-cylinder motorcycles slug it out in this spec sheet brawl.
---
Latest Features
Modular helmets provide convenience, while full-face helmets are simple and reliable.

Let's take a closer look at two very popular heavyweight cruisers currently available in the market, and see which one comes out on top.

Paint that isn't nice to look at doesn't always need a repaint. Here's how you can go about motorcycle repaint jobs.