/ Featured Article
Here's why the Royal Enfield Continental GT 650 is the perfect beginner-friendly cafe-racer
Classic cafe racer styling in a package that's surprisingly easy to handle.

on Aug 10, 2022
---
The Royal Enfield Continental GT 650 originally appeared at EICMA 2017 and quickly became a rage in the cafe racer sector. Fast forward to 2022, and the model, alongside the Interceptor 650, has paved the way for Royal Enfield's global success. The motorbike, which replaced the outdated Continental GT 535, has since sold tens of thousands of units globally. Although the sales speak for themselves, it should come as no surprise that the Continental GT 650 is a beloved motorbike all around the world. In our opinion, the Royal Enfield Continental GT 650 is a motorcycle that is worthwhile to purchase. Here are a few reasons why.
Timeless aesthetics
The Continental GT 650's defining characteristic is its omnipresent cafe racer aesthetic, which includes a retro-styled body with spoked wheels, a round headlight, clip-on handlebars, an engine with cooling fins, and the iconic retro-styled fuel tank that borrows its design from the Continental GT 535. When it comes to the retro styling of the Continental GT 650, the whole is unquestionably greater than the sum of its parts. It is dressed so tastefully in every detail that any serious rider looking for a true cafe racer can feel secure in the knowledge that the Continental GT 650 is a serious vintage-themed machine.
Approachable performance
The 648cc air-cooled parallel twin engine that powers the Royal Enfield Continental GT 650 produces 47 horsepower and 52 Nm of torque when connected to a 6-speed manual transmission. The power delivery of the GT 650, which packs a strong punch from 2500 rpm till redline, is what makes this motorbike shine even though the power statistics are obviously below average for the 650cc class of bikes. In addition, the retro-themed bike feels like a contemporary sportbike owing to the chassis and suspension parts, which were created using racing engineering by Harris Performance, who also developed the chassis for the GT 650.
Unleash your creative potential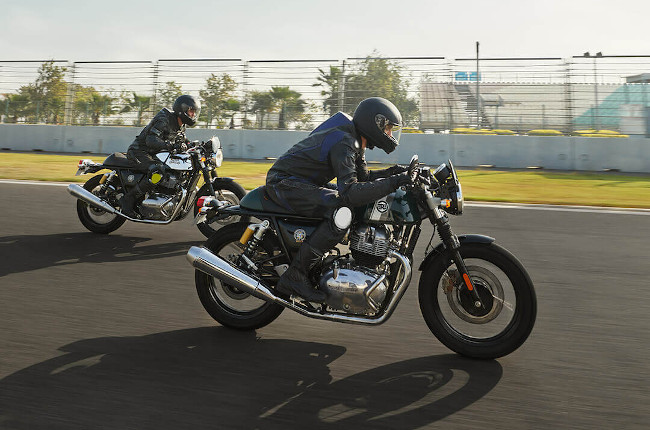 The cafe racer lifestyle is all about customizing a motorbike to the owner's intended tastes and preferences, and the Continental GT 650's aftermarket support undoubtedly aids the rider in doing so. Owners can customize their GT 650 by purchasing authentic accessories directly from Royal Enfield. Aside from this, a wide range of exhaust components, seat adjustments, ergonomic changes, hardware options, and a lot more are readily available from several manufacturers across the world. For those who want to make small changes here and there, the cafe racer is a highly enjoyable motorbike to possess thanks to the world of accessories and aftermarket components.
Unbeatable price tag
The pricing is the final aspect of the Royal Enfield Continental GT 650 that we adore. At P409,000, the GT 650 is far less expensive than the majority of 650cc bikes available today from the major manufacturers. This is really generous pricing for the motorbike you're getting. The Royal Enfield Continental GT 650 is a very approachable motorbike as a result, and it makes a very compelling argument for riders who want to experience what the cafe racer lifestyle is all about.
---
---
Related Articles
Here are some of our experiences with Japanese and European motorcycle ownership that are worth sharing.

Want to ride a big bike but don't want to break the bank? These 5 affordable models may be worth considering.

Floating discs or solid discs—which one is better and is it worth upgrading to aftermarket rotors?

Here are 5 Chinese-made motorcycles we're looking forward to seeing in the local market in 2023.

Here's our list of the top 10 lightweight big bikes worth considering in 2023.
---
Latest Features
Let's take a moment to discuss the dangers of overloading your motorcycle, and the safety and mechanical issues that may arise due to this.

Here are some of our experiences with Japanese and European motorcycle ownership that are worth sharing.

KTM has teamed up with RIDE ACADEMi to offer advanced street-riding skills to everyday riders.