/ Featured Article
Here's why the Honda ADV 150 is one of the best scooters you can buy in the Philippines
The Honda ADV is by far the most versatile scooter in the market, and has a lot of strong points going for it.

on Jul 06, 2022
---
A decade or so ago, the terms Adventure and Scooter would never have been used in the same sentence. Occupying practically polar opposite spectrums in the world of two wheels, scooters and adventure bikes had very different purposes to fulfill, and as such, had very different demographics of riders. Little did we know that this was all about to change, when Honda released the X-ADV back in 2017.
Much to the surprise of purists, the X-ADV turned out to be a massive hit, and gave birth to what's today referred to as the adventure scooter segment. That's right, Honda pretty much invented the ADV scooter segment, and continues to enjoy incredible success with variants emerging from the X-ADV, namely, the ADV 350 in foreign markets, and the massively popular ADV 150 in the Asian market. Needless to say, we love the Honda ADV 150 very much, and it's quite possibly the best scooter you could get your hands on today. Here are a few reasons why.
Incredible versatility
As its name suggests, the Honda ADV 150 is highlighted by its adventurous nature. With its long-travel suspension, dual-sport tires, and reasonable ground clearance, this scooter's proclivity to traverse off the beaten path is undeniable. While its off-road capability is nothing compared to that of the likes of the CRF150L, it will definitely put other commuter scooters to shame when the going gets tough. Furthermore, Honda has fitted the scooter with ample underseat storage and respectable features making the ADV 150 one of the best equipped small-displacement scooters in the market.
Impressive performance
When it comes to performance, the Honda ADV 150 inherits its engine from the popular PCX 150 scooter. It takes the form of a 150cc four-stroke, liquid-cooled, fuel-injected, single-cylinder engine with 14 horsepower and 14 Nm of torque on tap. Thanks to its Single Overhead Cam (SOHC) configuration, this engine is incredibly fuel efficient, while having just enough grunt to offer an exciting ride. The ADV 150 is equipped with a standard CVT, owing to its smooth and responsive power delivery.
Bulletproof reliability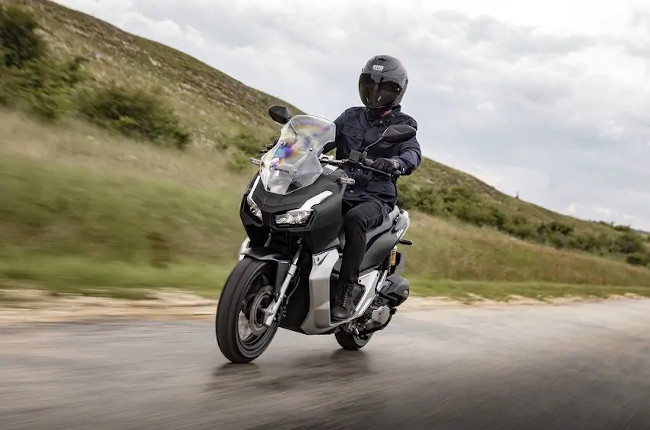 Honda has always been known for its reliability and dependability, and the ADV 150 is no different. As mentioned, the scooter's 150cc engine is a tried and tested power unit, and makes use of technology that's present across the board in Honda's two-wheeler lineup. On top of that, Honda's impressive dealer support ensures that you will never run out of options when it comes to the maintenance and repair of your scooter. Last but not least, given the sheer popularity of the ADV 150, vast aftermarket support has grown for this model, meaning you can upgrade your scoot with the latest and greatest when it comes to performance and practicality mods.
---
---
Related Articles
Learn the ins and outs of adventure-style riding through BMW Motorrad's Rider Academy—Off-Road.

Here are a few reasons why hitting the road on a Vespa is an excellent idea.

Looking to upgrade your bike for some serious adventure? Here are five essential upgrades.

Here are a few mods and upgrades worth considering when it comes to improving the performance of your scooter.

Let's take a closer look at 2 of the most popular middleweight ADVs in the global market, the Suzuki V-Strom 800DE and Yamaha Tenere 700.
---
Latest Features
Let's take a look at our top 5 picks for the best big bikes under 200 kilograms on the market today.

Is it a good idea to continue wearing a helmet that's been in a crash? Read on to find out.

What should you do if you found out that your motorcycle's wheels have been damaged from uneven roads or potholes? Read on to find out.