/ Featured Article
Here's why the BMW S 1000 XR is the ultimate sport-touring machine
We bring you the lowdown on one of the most performance-oriented sport-tourers in the market.

on May 20, 2021
---
What do you do if you're an adrenaline junky with an insatiable need for speed, but need a motorcycle that's capable of travelling kilometers on end on the open road in comfort? Well, chances are you embark on a search to find the perfect sport touring machine to suit your needs. Luckily for you, there are tons of options available when it comes to sport-touring motorcycles. With entry-level machines like the CFMOTO 400 GT, all the way to top-shelf, performance oriented bikes like the star of today's show
When it comes to outright performance, few motorcycles can hold a candle to the BMW S 1000 RR. This high-performance supersport is on the bleeding-edge of technology, and employs a sophisticated suite of electronics in order to ensure maximum performance at all times. That said, imagine this groundbreaking level of performance mated to a platform which is meant to go the distance. This is what the BMW S 1000 XR is made of, and here are a few things we absolutely love about this bike.
Amazing Performance
The engine found in the BMW S 1000 XR has been derived from the high-performance engine of the S 1000 RR superbike. The engineers at BMW tweaked it and optimized it specifically for the XR in order to deliver stellar long-distance performance. In order to do this, the engine's camshaft profiles and intake and exhaust manifolds have been slightly tweaked in order to bring all that power and torque to a lower, more accessible rpm. That said, the S 1000 XR produces slightly less horsepower than that of the RR. But hey, 165 horsepower on tap is no joke.
Apart from the engine itself, BMW has also given the S 1000 XR longer gearing, particularly in the upper gears. This allows the powerband to smoothen out at highway speeds, making the bike more comfortable, stable, and tractable when cruising on the expressways.
Killer looks
At first glance, it's clear to see that the BMW S 1000 XR was meant to go the distance. BMW's team of world class designers worked hard to give the S 1000 XR a unique, aggressive look worthy of such incredible performance. It comes equipped with a touring-oriented full-fairing with an adjustable windscreen. The bike's menacing front fascia is composed of twin LED headlights, and a sharp, aggressive nose. Overall, the bike's aesthetic is unmistakably BMW, and instantly recognizable thanks to the fame this machine has garnered over the years. To make things even better, BMW offers the S 1000 XR in a variety of stunning color options, all of which designed specifically to give the bike a unique, sporty character down to the last detail.
Stellar features
On the feature front, the BMW S 1000 XR is absolutely no slouch. Leading the charge in terms of tech, this bike comes with a slew of advanced, sophisticated rider aids meant to maximize the performance of this long-distance tourer. An inertial measurement unit (IMU) governs multiple features such as traction control, cornering ABS, and wheelie control. On top of this, BMW has added cruise control for added comfort on long haul rides. The rider is then given control and the ability to easily configure the bike's multiple settings via a full-color TFT display, which itself is configurable according to the rider's preferences.
Amazing value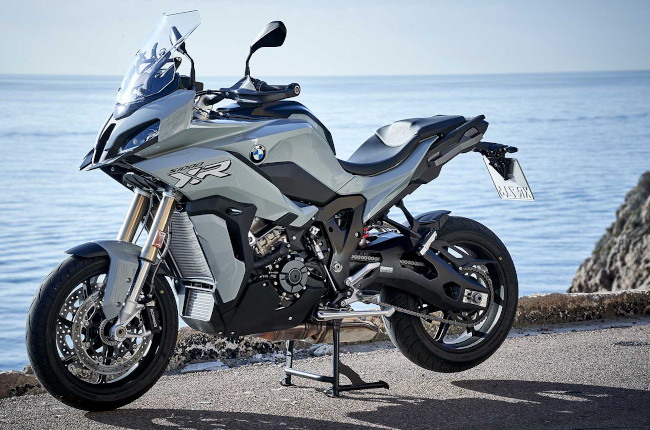 Now, as far as pricing is concerned, the BMW S 1000 XR is certainly not an affordable, budget-friendly machine. With a price tag that's sure to burn a hole in your pocket, you'll be writing a cheque to the tune of P1,340,000, but you'll certainly be getting a lot of bike for that money. As mentioned above, the BMW S 1000 XR is one of the most groundbreaking sport-touring motorcycles of the modern age. To make things even better, BMW Motorrad Philippines offers an incredible 5-year, 500,000-kilometer warranty on its motorcycles, so you're sure to have peace of mind every time you hit the open road.
---
---
Related Articles
Let's take a look at Harley-Davidson's newest adventure bike, the Pan America, and pit it against the legendary BMW R 1250 GS.

Triumph has recently unveiled the Tiger Sport 660, however not much is known about this new sport-tourer. Here's why we're excited about it.

Read on to find out which BMW big bike is the best fit for your lifestyle.

The BMW S 1000 RR is one of the most performance-oriented sportbikes in the market. Let's take a look at 5 of its most defining features.

If you're in the market for an intermediate level naked sportbike, the F 900 R is an excellent option. Here are a few reasons why.
---
Latest Features
Let's take a look at Harley-Davidson's newest adventure bike, the Pan America, and pit it against the legendary BMW R 1250 GS.

Here are a few tips to help you take better Instagram photos of your motorcycle.

Here, take this traction control system if you value keeping two wheels planted on the ground.