/ Tips & Advice
Top 5 accessories to make your bike adventure-ready
Prepare your motorcycle for any adventure with these bolt-on accessories.

on May 17, 2021
---
Embarking on an adventure ride can be quite a feat. The mix of long hours on pavement and short yet energetic bursts off-road can take quite a toll on the rider and on the motorcycle. Because of this, riders and motorcycles have to be prepared and equipped enough to deal with the requirements and riding style of a bonafide adventure ride. If you're looking to prepare your motorcycle for a true adventure experience, here are 5 accessories to make your motorcycle ready for an adventure.
GPS or phone mounts
When going on an adventure, knowing which paths to navigate can be tough. Not all areas may have a stable data connection to your phone, and so riders may end up opting for offline maps on their phones or having a dedicated GPS system guide the way. When doing so, it's important to get a high-quality GPS or phone mount that will be able to withstand the various terrains and vibrations sent through the motorcycle. Having a great GPS or phone mount system will be an investment in your safety and enjoyment of the road or trail ahead.
Crash protection
Adventure rides can also be quite hard on the motorcycle. Going through unfamiliar roads and trails with a heavy bike can sometimes lead to unwanted situations. The side stand might sink into the soil a little too far, the rear tire might lose traction through a gravel path, and situations alike. As such, it's important to protect your motorcycle by investing in crash protection, which includes crash guards or frame sliders, handguards, radiator or oil cooler protectors, brake master cylinder guards, and the list goes on. Make sure to purchase high-quality protectors in order to ensure that your motorcycle is protected, and always keep in mind to ride safely on any given terrain.
Handlebar risers
For those who enjoy going on off-road adventures, handlebar risers may be the perfect accessory for stand-up ergonomics. Standing up during off-road sections of an adventure can do much for motorcycle control – which allows the motorcycle to move freely beneath you while keeping your body stable. In order to maximize control during the stand-up position, handlebar risers are able to bring the bars closer to your arms which creates maximum leverage when using the handlebars while standing. Options for the adventure rider include fixed bar risers for a simple addition to the handlebar height, pivot bar risers for riders looking to tune the forward or backward sweep of the bars.
Touring seat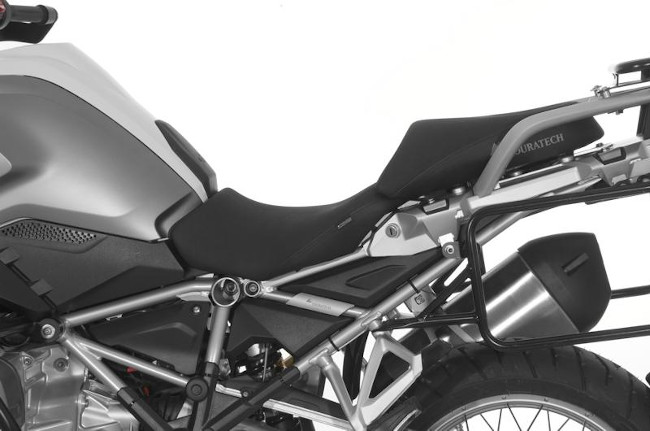 If your adventure includes many hours on the saddle, you may want to consider having a touring seat that is specifically made to keep your bottom comfortable and happy through a whole day of riding. Touring seats are typically motorcycle-specific, so it would be good to inquire with your dealership or browse the web on the available touring seat options for you. If in case no options are available, you may want to consider gel inserts or touring pads to enhance the factory seat of your motorcycle for touring duties. No matter the choice, keeping your bottom comfortable during long rides is a must.
Luggage
If you're heading on any kind of adventure which may last two days or longer, you may want to consider purpose-built luggage systems for your motorcycle. Luggage systems can be used for carrying all sorts of items, including clothes and food, spare parts, tools, and all other items which you may want to bring with you on your adventure. These systems come in all shapes and sizes: top boxes, soft or hard panniers, and various bags and straps. Make sure to purchase the right kind of luggage system for your kind of ride and you should be ready for your next big adventure out on two wheels.
---
Related Articles
Let's take a look at Harley-Davidson's newest adventure bike, the Pan America, and pit it against the legendary BMW R 1250 GS.

Find out which of the two helmet visor styles might make more sense for you.

A crash bar is an accessory made of metal, typically steel or aluminum, and is designed to protect the bike.

Reduce the vibrations felt through your hands, feet, and bottom with these different hacks.

Learn more about scrubbing in your brand new set of motorcycle tires.
---
Latest Features
Let's take a look at Harley-Davidson's newest adventure bike, the Pan America, and pit it against the legendary BMW R 1250 GS.

Here are a few tips to help you take better Instagram photos of your motorcycle.

Here, take this traction control system if you value keeping two wheels planted on the ground.