Harley-Davidson Pan America versus BMW R 1250 GS - Head to head
Can the Stateside newcomer hold its own against the Bavarian legend?

on Sep 19, 2021
---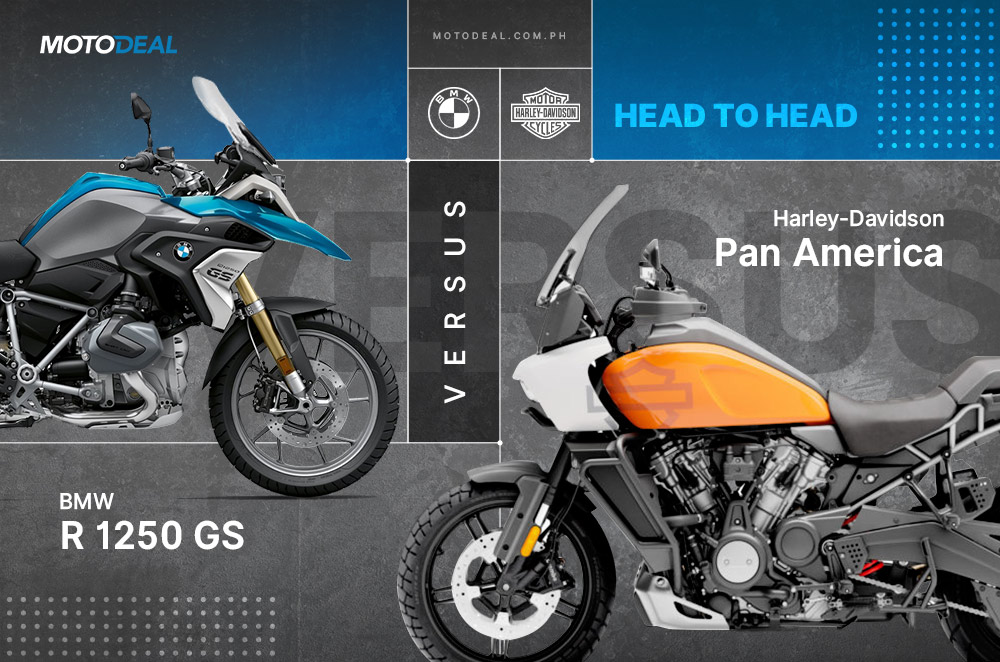 When it comes to adventure bikes, it can be said that no other motorcycle currently available in the market can hold a candle to the BMW R 1250 GS. After all, this bike has, for decades now, proven itself as the most capable adventure bike in the market. In the Philippines, the BMW R 1250 GS outnumbers all other premium ADVs by a sizable margin.
Harley-Davidson recently shocked the world when it unveiled the Pan America—not because of the fact that it was a new adventure bike, but rather, because of how capable the bike turned out to be. Now, naturally, this begs the question: can it hold its own against the mighty and legendary BMW R 1250 GS? Well, let's take a closer look at these two bikes in this head to head comparo.
Performance
From a performance standpoint, both the Harley-Davidson Pan America and BMW R 1250 GS produce a similar amount of power, and sport similar displacements. The BMW features the tried and tested 1,254cc boxer-twin motor. In the R 1250 GS, it produces 136 horsepower by way of liquid-cooling and the company's proprietary Shift-Cam technology. The bike's grunty engine lends itself to incredibly smooth throttle response which translates to an effortless ride on the road, and an easy tameable beast off-road.
Meanwhile, the Harley-Davidson Pan America gets the MoCo's newest, most revolutionary engine, the aptly named Revolution Max. In terms of power output, the 1,252cc, 60-degree V-twin churns out just a little more power than the GS at 150 horsepower. This gives the Pan America highway-munching capabilities, as well as the ability to traverse any terrain, thanks to its abundance of torque.
Features
As far as features are concerned, both these bikes are equally equipped with tons of adventure-ready underpinnings and electronics. We are all very well acquainted with the BMW R 1250 GS and its sophisticated electronic rider aids, not to mention the electronically adjustable suspension found on the GSA variant. Perhaps the only area where we can truly hand the R 1250 GS a win is with its suspension. The GS' Telelever front end does an impeccable job of keeping the bike level, especially under heavy braking.
The Pan America, however, isn't far behind when it comes to techie features. For instance, the bike's Adaptive Ride Height (ARH) feature enables shorter riders to swing a leg over the bike with confidence, as the suspension automatically lowers as the bike is about to come to a stop. Likewise, the suspension then raises itself once the motorcycle picks up speed. The Pan America, too, gets a large 6.8-inch full-color TFT touch-screen instrument panel, from which a whole host of features can be configured, including but not limited to riding modes, navigation, and Bluetooth smartphone connectivity.
Price
From the get go, it's clear that the BMW R 1250 GS and Harley-Davidson Pan America are by no means budget-friendly, beginner-centric adventurers. Indeed, if you want to add any one of these bikes to your garage, you're going to have to fork up quite a large amount of cash. On top of this, piloting these bikes offroad, and getting the most of their capable platforms requires a certain degree of skill, which likely means you're an experienced rider with tens of thousands of kilometers under your belt.
For reference, the standard BMW R 1250 GS will fetch you anywhere from P1,575,000 to P1,585,000. The top of the line R 1250 GS Adventure, meanwhile, goes for a higher premium of P1,675,000 to P1,755,000. Harley-Davidson's Pan America retails starting at P1,400,000 for the Vivid Black colorway, and P1,420,000 for either the Deadwood Green or Gauntlet Gray Metallic options.
---
---
Related Articles
Here's a rundown of 5 things we absolutely love about Yamaha's middleweight ADV bike, the Tenere 700

Here's a quick rundown of what we think are the top 5 best intermediate naked bikes currently available in the market.

Should you get the BMW F 850 GS or the CFMOTO 800 MT? Read on to learn more about these two popular adventure bikes.

Have your eyes set on a 1,000cc naked bike? Read on to learn more about the Suzuki GSX-S1000 and the Yamaha MT-10.

Here's a rundown of five things we love about the new Ducati Monster, that's sharper and better than ever before.
---
Latest Features
Here's a rundown of 5 things we absolutely love about Yamaha's middleweight ADV bike, the Tenere 700

Here are our top 5 picks of the best premium commuter scooters available in the market in 2022.

Adaptive cruise control is a tech feature that's gradually making its way to more and more motorcycles. Let's take a look at how it works, what it's for, and what bikes have this cutting-edg...