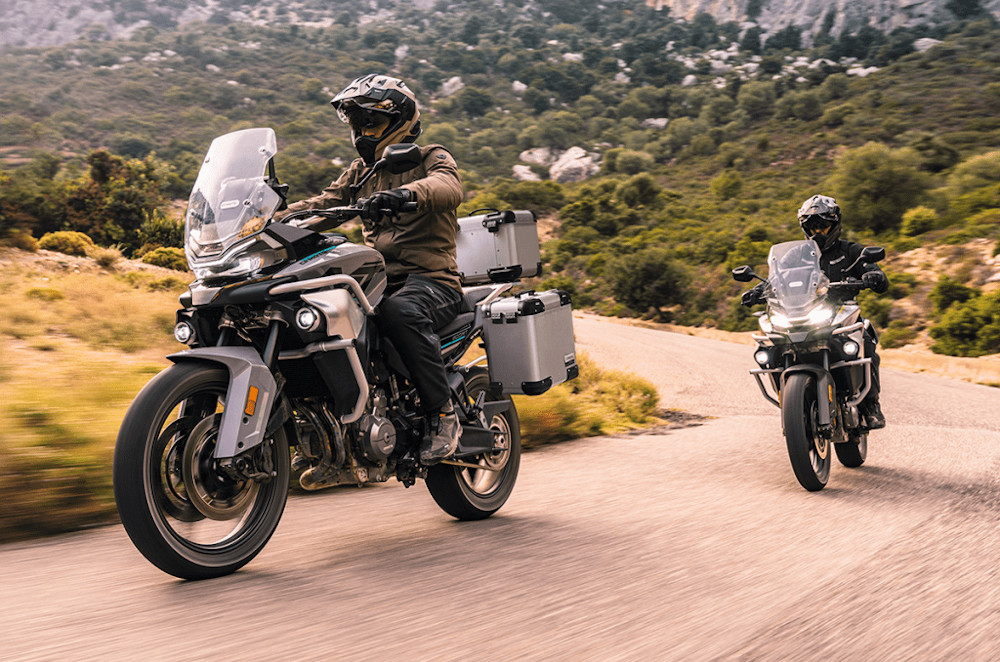 The CFMOTO 800MT, is in many ways, one of the most significant models to ever roll out of the Chinese motorcycle manufacturer's assembly line. It is, after all, the first fruit of the partnership between CFMOTO and Austrian motorcycle giant KTM. For those not in the know, the CFMOTO 800MT is based on the KTM 790 Adventure, a bike which has garnered global acclaim thanks to its versatility, performance, and overall value. That being said, with the CFMOTO 800MT being based on this heavy-hitter, chances are it'll be even more affordable, and as such, appeal to a larger number of riders, especially in the Philippine market.
Now, the CFMOTO 800MT has been launched in China and Malaysia, the bike's launch is also imminent in parts of Europe, Australia, and the remainder of the ASEAN—including us. That being said, there's a lot to be excited for when it comes to this middleweight adventure-tourer. Here are a few reasons why we think this bike will change the middleweight ADV game if and when it makes its way to the local market.
Performance
Back in 2018, CFMOTO purchased the rights to KTM's first-generation 990cc LC8 V-Twin motor. On top of this, the agreement between the two companies was such that the Chinese motorcycle manufacturer would produce the 800cc parallel-twin motor found in KTM's 790 range—an engine which makes use of similar LC8 technology as that of its bigger sibling. It wasn't too long after the partnership was officialized that we begun seeing concepts of the 800MT. Now that the bike is well and truly a reality, we know that it'll be rocking the 800cc parallel-twin found in the 790 Adventure. This engine, equipped with an eight-valve cylinder head and electronic fuel injection pumps out 95 hp in KTM's tuning. Expect to see a similar power output from the 800 MT.
Technology
CFMOTO isn't one to shy away from integrating cutting-edge technology into its models. With its entry-level 400 NK boasting impressive tech in the form of Continental ABS and Bosch electronic fuel injection, the techie bits get even more impressive as you move up the model range. The 700 CL-X, for instance, gets beautiful LED lights and even self-canceling turn signals, a feature found on bikes costing twice the price. As such, with the 800 MT well and truly being the most feature-packed bike in CFMOTO's stable, expect to see flashy bits and bobs such as a full-color TFT display, and maybe even riding modes and programmable ABS.
Versatility
The middleweight adventure bike segment is undoubtedly one of the most versatile classes of bikes currently in the market. It occupies a sort of goldilocks zone when it comes to big bikes, in a sense that they're big enough to take you anywhere with confidence, yet just the right size to be decent commuters in the urban setting. As such, we can expect the same from the CFMOTO 800 MT. Complete with the KTM 800cc LC8 motor, there's no denying that the 800MT will prove itself as one of the most versatile middleweight ADVs in the market.
Reliability
Contrary to the stigma surrounding made-in-China motorcycles, CFMOTO has proven time and time again that it's capable of keeping up with its Japanese and European counterparts in terms of reliability. While the bikes themselves may be made in China, vital components such as the suspension, brakes, and electronics have been sourced from reputable name brands such as J.Juan, KYB, Continental, and Bosch. As such, we can expect nothing short of industry-standard quality and reliability from CFMOTO, even more so with the 800 MT, which is set to be the company's flagship adventure model.
Styling
From a styling perspective, the 800MT employs distinctly unique aesthetics. It sets itself apart from the other adventure bikes as it features a more boxy appearance, giving it the illusion of size and heft. Additionally, its aggressive lines and angular bodywork give it a sporty appeal, making it look equally at home attacking trails and gravel roads, and carving canyons and twisty mountain roads. The bike's full LED lighting, tall windscreen, and upright riding position give it imposing and menacing road presence.
---
Related Articles
The BMW F 900 R is one of BMW Motorrad's most popular bikes, and for good reason. Here are a few things that make this bike one well-rounded machine.

Here are a few things that Triumph has remarkably executed with the Street Triple RS naked street bike.

The motorcycle world is full of new and innovative technology. Here are a few tech features we can expect to see more of in the near future.

If you're in the market for a middleweight adventure bike, chances are you're looking at the KTM 790 Adventure. The CFMOTO 800MT has a lot going for it, too, so you may want to consider it.

Struggling to decide what type of adventure bike is best for you? Well, let's look at the most popular types and determine which is the best fit for your lifestyle.
---
Latest Features
Is a riding jacket an essential piece of riding gear, or can you get away with just any old jacket in your closet?

The BMW F 900 R is one of BMW Motorrad's most popular bikes, and for good reason. Here are a few things that make this bike one well-rounded machine.

Here are a few things that Triumph has remarkably executed with the Street Triple RS naked street bike.