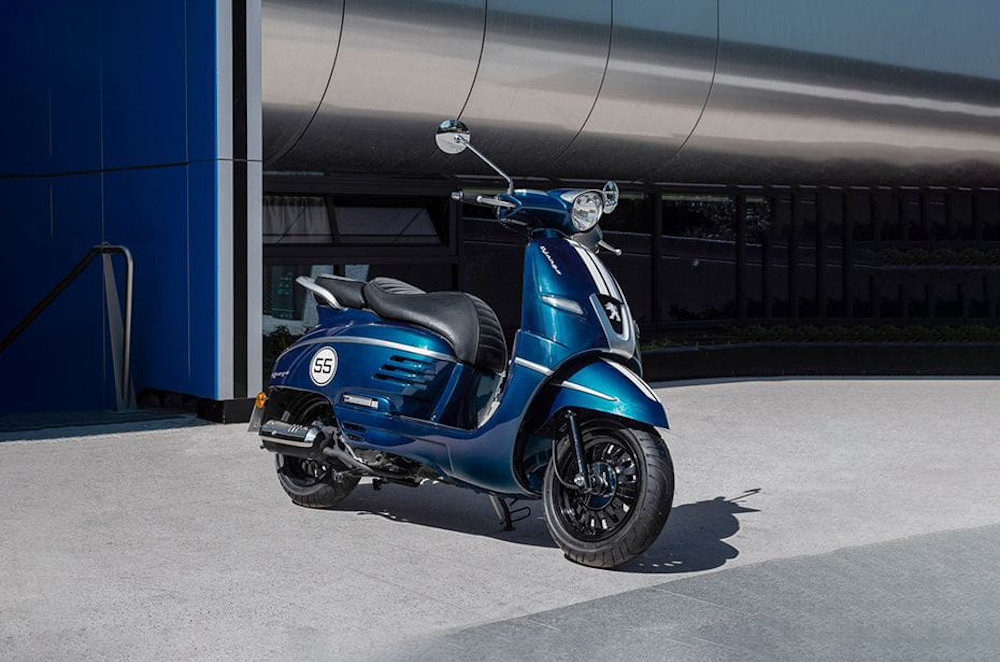 You may be acquainted with Peugeot, the French automaker that has recently seen a comeback. Did you know that Peugeot also produces bikes and scooters under a whole independent company that Mahindra, a large Indian company, owns globally? It is true that Peugeot Motocycles—without the "r"—exists, and it is sold in the Philippines. A few months ago, the company made its local debut through the distributorship of Motostrada.
It goes without saying that the French brand is in capable hands given that Motostrada also manages brands like MV Agusta and CFMOTO in the country. That said, the Django 150 is the first model Peugeot introduced in the local market, and it's a scooter that deserves your attention, especially if you're a practical motorcyclist searching for a flexible and reliable two-wheeler to be used every day. Furthermore, the Django also has a ton of retro-inspired charm and character, making it more than just your run-of-the-mill commuter scooter.
Laid-back performance
The Peugeot Django 150i's relaxed demeanor makes it evident that it prefers to take things slowly when it comes to performance. A 150cc, four-stroke, SOHC, twin-valve, air-cooled engine powers it. The engine generates 11.3 horsepower and 11.2 Nm of torque, and sends power to the rear wheel via aCVT. The scooter also has standard ABS and disc brakes on both ends, along with a pair of 12-inch wheels. The bike's 770mm seat height and 8.5-liter fuel capacity allow even some of the shortest riders to swing a leg over.
A comfortable ride
The Django's comfort level is comparable to, if not somewhat superior than, that of the rest of its rivals thanks to its standard scooter suspension. Although it rides quite well over bumps, rough roads, particularly metro Manila's pothole-laden streets are still too much for the scooter to handle. This is indicative that the suspension travel is rather limited. Its plush seat, nevertheless, will more than make up for the limited suspension travel because it's comfortable enough to be ridden all day long. You can easily move around on it because it is ergonomically sound and well shaped. In addition, the passenger seat is very broad and has plenty of space, so your pillion is sure to like it.
It keeps its features simple
The Django 150 offers all of the advantages and practical additions of the dependable scooter, in addition to its timeless, classic design. To mention a few characteristics, it boasts a semi-digital dashboard, a 12-volt power outlet hidden in the lockable glove box on the right side, and a level footboard for comfortable riding. You get a digital trip meter and fuel gauge in addition to a traditional speedometer.
Classic styling
Peugeot has a particular competitive advantage thanks to its distinctive, contemporary yet retro design. The Django's bodywork takes design cues from cars from the 1950s. Thanks to its rounded shapes, chrome, and vibrant colors, the Django appears to be an instant classic on two wheels. The bike's attractiveness is enhanced by superior build quality and materials, as well as luxury bodywork that gives the bike its shape. In reality, the Django 150i sports a vintage scooter look that is similar to Vespa but with a modern flavor.
Attractive pricing
Depending on the color you choose, the price of the Peugeot Django 150 will vary. Examples of solid hues are gray and blue, both of which cost P199,000. The P205,800 red and blue Sportstripe variants are more costly. The two-tone collection, which has a starting price of P216,800, combines an ivory white with either blue or red, and is perhaps the collection's most beautiful colorway. Overall, Peugeot has priced the Django in the premium sector, sure, but it's clear to see that this scooter sets itself apart from the crop of budget-focused, appliance-like commuters. As such, you could say that this scooter is up there with the likes of Vespa and Lambretta in the lifestyle scooter segment.
---
---
Related Articles
The KTM 790 Duke is one sharp-looking motorcycle, but its looks also tell you of its performance and potential excitement.

Scooters are growing tremendously in popularity. Here are a few reasons why you should get one.

Aprilia's SR GT 200 scooter is quite probably one of the best urban scooters in the market. Here are a few reasons why we think this is the case.

Here are our top 5 picks for the best hyper naked bikes you can buy in the Philippines.

Here are a few reasons why hitting the road on a Vespa is an excellent idea.
---
Latest Features
Struggling to think of gift ideas for your motorcyclist friends and family? Read on to get some inspiration this gift-giving season.

Motorcycle riders are often faced with the decision of whether to get a leather or textile jacket. Read on to learn more about these jackets.

Here are a few reasons why cruisers are fun, laid-back machines, and why they may just be the right type of bike for you.